We're all aware that our credit histories can play a part when applying for mortgages, credit cards or loans.
But, our previous experiences with borrowing may also have a role to play when shopping for home insurance – particularly if you've had trouble managing credit in the past.
Sometimes having a poor credit history can act as a barrier to you taking out an insurance policy with certain insurers, but that's not to say you'll never be able to find a policy.
Do you already own a home?
The important thing to remember here is that if you don't already own a home and you have a poor credit history, you may find it quite difficult to get a suitable mortgage let alone insurance. If you haven't considered this yet, it's something you'll want to look into before you begin shopping for home insurance. There may be mortgages available to you but they'll likely be at a higher interest rate and require a larger deposit than the best deals on the market, so it pays to neaten up your credit history first.
If your credit history declined after you purchased your home, as it stands this should have little effect on your home insurance policy. This is because you should already have adequate home insurance in place if you have a mortgage. But, if you're looking to renew your policy or scout out a better deal, you might find difficulty if your credit history has declined since you took out your current policy.
Specialist insurers
Should you be in a position where you're looking for home insurance but your damaged credit history is proving an obstacle, there may be some insurers that specialise in offering plans to those that have struggled with borrowing in the past.
You might be able to find insurers advertising insurance as "bad credit home insurance" or something similar, who may offer policies for people with less than perfect credit histories – even if you have been bankrupt or received CCJs in the past. But, do bear in mind that they are likely to charge a higher premium on top of higher interest each month if you are able to pay monthly.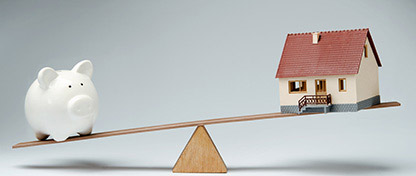 The perks of paying upfront
If you prefer to pay for your insurance policy in monthly instalments, there's a greater risk your application might be turned down if you have a poor credit history. This is because you are, to an extent, repaying your insurer for a policy that will protect your home from the moment you take it out even though you haven't paid for it all yet. This option of paying usually comes with more interest attached to it than paying upfront, which can make it more expensive (even though it's also more manageable).
That's why paying upfront, if you're able to do so, may allow you to take out an insurance policy that you may not qualify for if you were to pay monthly. As you've paid the fee already, your insurer doesn't have to worry about whether you'll keep on top of your monthly payments. And while you could still be accepted by an insurer and given the option of paying monthly if you have a negative credit history, they may charge you more interest.
Turn your credit history around
To get in good stead for applying for insurance – as well as all kinds of credit – you can make a start on improving your credit history.
Your number one priority should be to make sure all your bills and payments are made on time, and that you don't go over any credit limits you have – including your overdraft. Being late or missing payments altogether is likely to negatively impact upon your credit history, and these are the things that lenders and insurers will be able to see. It's a good idea to set up a Direct Debit or Standing Order to make your payments for you each month, as this way it's less likely you'll be penalised for missing a payment.
From here, so long as you make your payments on time and keep within your credit limits, your history should slowly start to improve. For more tips on improving your credit history, head here.
Disclaimer: All information and links are correct at the time of publishing.