If you're planning on carrying out some home improvements, new research from Zopa reveals which room will add the most value to your home and give you the best return on investment (ROI).
Zopa have found that property owners who took out a home improvement loan to fund the work typically added an average of around £30,000 to the value of their property, so it could be worth thinking about which room you want to tackle first. The average ROI was estimated at 80% - in other words, if you spent £10,000 on improvements the average increase in the value of your house was £8,000. Adding a conservatory is at the top of the list in terms of the return it gives (108% ROI) and updating a bathroom down at the bottom (48% ROI).
Below is Zopa's index, which shows you which home improvements give you the best return on investment.
| | | | |
| --- | --- | --- | --- |
| Top Home Improvements | Return on Investment | Profit (Median) | Average Cost |
| Conservatory | 108% | £5,750 | £5,300 |
| Garden improvements, such as adding decking | 88% | £4,000 | £4,550 |
| Exterior work, such as laying down a new driveway | 75% | £4,500 | £6,000 |
| Extension to add extra floor space | 71% | £14,000 | £19,750 |
| New roof | 63% | £2,600 | £4,150 |
| New carpets | 50% | £2,000 | £4,000 |
| Loft conversion | 50% | £12,000 | £24,600 |
| New kitchen | 49% | £4,750 | £9,600 |
| New bathroom | 48% | £2,350 | £4,900 |
Home improvements can vary from just painting a few walls to building an extension, and are carried out for a number of different reasons. Perhaps you want to spruce your house up a bit, getting rid of old wallpaper or carpets, or maybe you need some extra room for your growing family in the form of an extension.
Depending on the home improvements you're thinking of making, you may be considering taking out a personal loan or a homeowner loan. Ocean offer both types of loans, which are suitable for making home improvements - providing you keep up with the monthly repayments. To find out more, click here.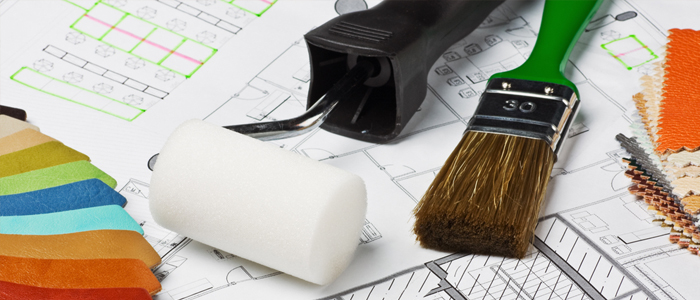 According to Zopa's research, eight out of ten homeowners said that despite improving their homes, they weren't planning on moving any time soon. Research from the Federation of Master Builders (FMB) supports this, suggesting that up to £6 billion is projected to be spent on home improvements over the next few years. 40% of the refurbishments being planned annually include home extensions, new kitchens and new bathrooms. Other projects such as conservatories and loft conversions account for close to four-fifths of planned home improvements. FMB put this down to expanding families and grown-up children staying at home for longer, rather than people wanting to sell up and increase the value of their property before they do.
With this in mind, it's worth considering which rooms to simply spruce up, and which might be worth spending a little more money on in the long-run. For example, you may already have a fully functioning bathroom, and rather than ripping it out and starting again after paying lots of money for a new suite, you could save money by just freshening it up with a lick of paint, or adding a new modern shower curtain to bring the room up-to-date. Likewise, rather than forking out on a brand new kitchen, you might be able to make the most of the one you've currently got – you could paint the cupboards to brighten the room, or buy some appliances to add a splash of colour. In contrast, a home improvement that may well be attractive to buyers is something that increases the space of your home, so your money may be better invested in adding on a conservatory or an extension.
Disclaimer: All information and links are correct at the time of publishing.