When taking out a credit card, it's important to get the right credit limit for you. That's why it's a good idea to sit down and work out what your ideal limit is.
Do your own maths
A good starting point is to pull out a calculator and your bank statements to figure out how much you can afford to pay each month.
If your budget is pretty stretched already, it might be best to avoid applying for a credit card now, or consider taking one out with a small credit limit. This is to prevent you getting into a situation where you can't afford to repay what you've spent on the credit card. Otherwise, if you have a chunk of spare income at the end of the month once all your bills have been paid, you may feel comfortable with a higher limit.
Your credit card provider should look at your income when you come to apply, so they may refuse you outright if you don't have much room for more outgoings.
If you're taking out a credit card as a backup in case of emergencies, then it's unlikely you'll need a big limit.
Don't be tempted to apply for too much
When you go to apply, try to avoid going in straight for the highest limit. The chances are you won't be given this straight away, and the lender may even turn your application down – leaving a mark on your credit history.
Some credit card providers won't let you choose the credit limit you receive, as it can be based on your own credit history and income. If you have a good credit history, you're more likely to be offered the higher end of their limit, but having a poor history of managing your borrowing may mean you're offered the lowest limit.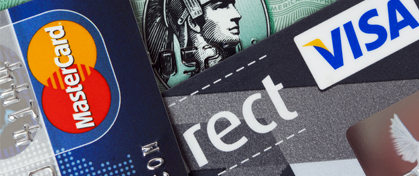 Stay in control
If you prove to be reliable with your credit card payments, you might be offered a higher credit limit further down the line. Your credit card provider should ask you before they extend your limit, but you don't have to accept their offer.
Sometimes, taking on a larger credit limit might mean you're tempted to spend more than you can afford. If you feel you might start spending too much if you had a higher limit, it's probably best to turn their offer down. If you are asked, consider if there have been times when your current limit has been less than you need. If you've been happy with how much it is, there's no need to extend it.
Your credit card provider might extend your limit without telling you. Again, you don't have to borrow up to this amount, and you should only spend what you know you can afford to repay.
How well have you managed credit in the past?
Have you missed payments in the past? If you have, it might be best to start low and see how you manage with a relatively small limit. If you're happy with how things are going, and you're reliably making your payments, you could consider upping your limit if you've got room in your budget at the end of the month for larger payments.
The Ocean credit card has a credit limit of between £200 and £1,500, and just what you receive will depend on a number of factors like your credit history and income.
If you still have quite a bit of outstanding debt on credit cards, you might want to reconsider taking on another credit card at all. Your priority is clearing your other balances before you take out a new credit card. Having a number of different outgoings at the end of the month can be difficult to keep track of, and it increases the chance you'll miss a payment.
If you're in this situation, a balance transfer credit card might be a better alternative. Here, you can move your other credit card balances to one card (usually for a one-off fee).
Disclaimer: All information and links are correct at the time of publishing.