Is your house lacking the homely touch? It doesn't matter how long ago you moved in, you might still feel like something is missing.
We want to help you turn your house into a home by providing you with lots of inspiration from some the best interior bloggers in the UK.
This week, we're looking at how Heledd from London has styled her home.
She says: "A lot of the furniture inside the house has come from eBay. It started as a bit of a thrifty way of decorating the house when we first moved in, almost three years ago. We'd stretched ourselves as much as possible to buy the house and to do the necessary kitchen extension, so there was very little money left to buy furniture. You know things like a dining table and chairs, mirrors, book shelves and coffee tables. The little things that make a house a home.
"We had sofas and beds from our previous house but as that was a much smaller house, so we didn't have all the other bits we needed to fill and furnish this new house. As soon as I started looking on eBay, I was hooked! For me it's the most addictive thing on the Internet (after Pinterest of course), I kept finding unique, beautiful items at bargain prices and once I'd 'won' the first thing, I was away.
"Almost three years on and I'm still 'over the moon' with all our eBay purchases."
Here are some of Heledd's favourite eBay purchases: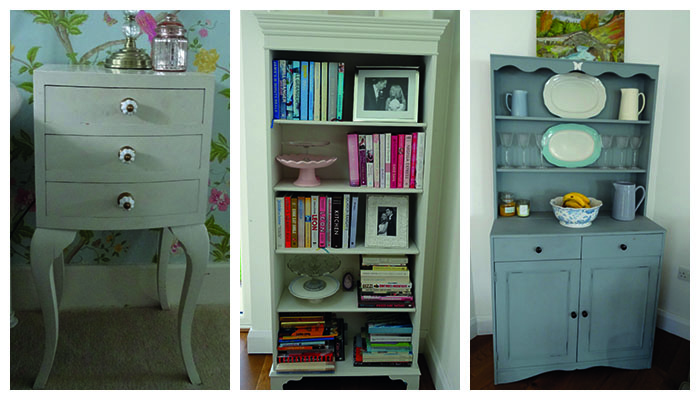 We love how Heledd has modernised the furniture by adding a fresh lick of paint and new knobs from Zara Home. The bedside table would cost a small fortune bought from a store but only set Heledd back £12 on eBay. Her floral wallpaper from Laura Ashley is beautiful and we love the trinkets she's got on display on her blue dresser.
Our favourite piece has to be the bookcase, arranging the books by colour is a nice touch, the cake stands are super cute and the wedding photos and heart frames definitely show that Heledd's home is one filled with love.
Next steps
Heledd's home is proof that you don't have to spend a fortune to create a home that looks great and has the personal touch. To find out more about Heledd and her style, check out her blog Running in Lavender.
If you're going to be undertaking some home improvements shortly you might want to check out our homeowners guide >
Disclaimer: All information and links are correct at the time of publishing.