We spend lots of time working and living indoors, so the garden is a great way to make our outdoor spaces perfect for relaxation and escape.
To coincide with the RHS Chelsea Flower Show and British Summertime, we bring you fantastic ideas for your garden.
Many of us think about transforming the interior of our homes, but neglect the amazing opportunity to rejuvenate our gardens. Your garden and the exterior of your home gives the first impression to guests and prospective buyers. It can add value to your property, and create an oasis of space for you to spend endless hours relaxing outdoors.
Ideas, style, inspiration

Urban
If you are a city dweller, you need to plan your relatively small area carefully to get the most out of it. Urban gardens can be functional or plant-filled. Think about how you can make small spaces look bigger. For example, mirrors and strip lighting give an illusion of space and create good shadows and mood.
If you want somewhere to eat or work outdoors, consider seating and tables that fold away. For greenery, a garden wall can be grown. These enable you to cover bland brick or grey concrete into a lush living area, but they'll need their own irrigation system. You could have great fun creating your own green wall, turning reclaimed objects such as wellington boots and straw hats into pots. Finally, why not add a small water feature that will create much-needed tranquility away from the hectic city?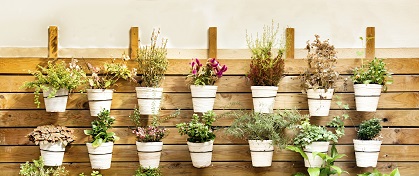 Wildlife
Turn your garden into a wildlife attraction by taking inspiration from country walks.
This look can work well with all garden sizes and doesn't need to be costly. You can create the look using reclaimed wood to make your own bee hotels, hedgehog boxes and vertical planters. Include feature plants and structures that attract native wildlife such as birds, beneficial insects and small mammals. Children will love spotting the visiting wildlife every day. You could even consider a green roof for your shed or garage. Many plants are attractive to pollinating insects, and your wildlife garden will keep pests such a slugs and aphids to a minimum. Think natural, colourful and wild.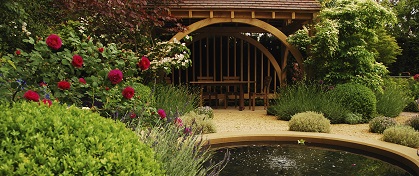 Mediterranean
This theme is all about the blue skies and lush green vegetation of the Cote D'azur, Italy and Greece.
Take inspiration from the wonderful shrubby vegetation of hot, dry climates. This style adapts well to the British climate, but some Mediterranean plants dislike wet winters and will need protection in a cooler climate. Red gravel paths set against the smells of lavender, rosemary and olive create a natural rustic experience. If your budget allows, you can complete your dream Mediterranean garden by adding a calming water feature or a pergola to create an outdoor eating and entertainment zone.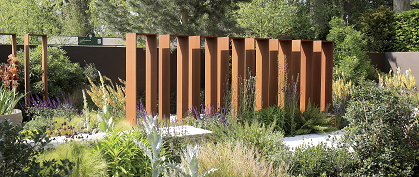 Contemporary
Contemporary living is all about simplicity and a clean look. Natural stone and slate, wood, clipped hedges, clean and crisp lines and simple blocks of paving are intrinsic to contemporary gardens. This garden style works well if you can open it up to your home: glass sliding doors can help create a seamless look, bringing the outside in. Outdoor lounge seating with log burners and integrated lighting will work in big or small gardens. Geometric, clutter and a fuss-free design creates a dynamic yet relaxing mood.
The size, budget, and type of garden you dream of will all influence your design. It's important to be clear about what you want to achieve with your new garden. Do you need space that's focused on entertaining? Or perhaps an outdoor haven, a relaxation area, play zone, more greenery, or a more manageable garden? These are all things to consider before you start on your project. If you want a designer garden, you should sit down with a landscape architect to help draw up plans and realise all those fantastic ideas you may have – and if your budget permits, they can even do the hard work for you!
Take inspiration by looking out for news on Chelsea, Tatton and this summer's other flower shows. Revisit our blog for further ideas and updates on gardens, home improvements and money saving advice.
Disclaimer: All information and links are correct at the time of publishing.