Flooding, heavy snowfall and harsh weather all make regular appearances in the UK, and this can take a toll on our roofs.
We rely on our homes to protect us from the elements every day. In order to keep your home in good condition, you should routinely repair and look after it both inside and out. Doing this could help to prolong the life of its fixtures and help you avoid forking out for expensive and unexpected repairs and replacements.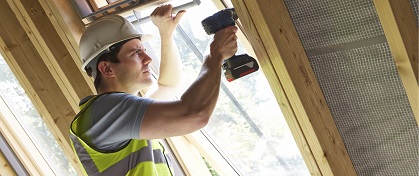 Maintenance - give your roof a health check
The roof is a very important part of any home. It keeps the elements out, the heat locked in and can even help keep the cost of bills down if you have good insulation.
Because your roof is so important, it's a good idea to regularly check it to spot any signs of existing or potential leaks. Try to conduct a simple health-check every so often, especially after a bout of bad weather. Below is a checklist for you to follow when you inspect your roof:
Start from the inside
Begin your inspection in your attic; look for sagging, water rings, dark patches, and sunlight shining through.
Check ventilation
Attics with poor ventilation can mean moisture builds up and causes condensation. This could damage your roof from the inside.
Look for fallen, loose or damaged tiles
It's common for roof tiles to become broken, cracked, or to move from their original position. The best way to see the damage is to gain access to the roof. However, this can be extremely dangerous so it may be worth hiring a professional.
Check the flashing
Chimneys, satellites, vents, and skylights can have weak joints at the point they connect to your roof. These joints are sealed with flashing to stop water seeping in. This flashing may become damaged and need repairing or replacing.
Keep gutters unblocked
If you have blocked or damaged gutters, rainfall can't escape easily and can spill on to your external walls. Over time, this damp travels down to the foundations of your home. To prevent this happening, regularly remove leaves and dirt from your gutters, and if you discover they're damaged, have them replaced to reduce a more serious problem further down the line.
If you discover that your home has roof problems, or a survey of a property you're planning to buy reveals you need a new roof, be certain to shop around for reliable and respected roof builders. It is quite rare that a home will need a completely new roof, but if you do need work done on your roof you should prioritise this, as if it's left the damage could be serious.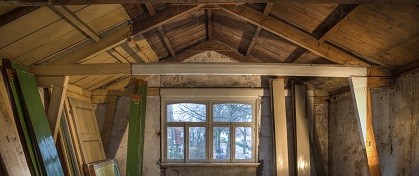 To make things more straightforward, we've broken down the different work and costs involved to re-cover a roof:
| | |
| --- | --- |
| Job | Approximate cost (including VAT) |
| Remove existing tiles/slates, battens and felt from roof | £18 per square metre |
| Fit new felt, batten and tiles/slate | £105 per square metre |
| Plain clay tiles | £151 per square metre |
| Interlocking concrete tiles | £106 per square metre |
| New ridge/hip tiles | From £70 per square metre |
| Pointing of verges/undercloak | From £10 per square metre |
| Double eaves courses pointed | From £14 per square metre |
Specialist roofs
If your roof is not of traditional slate construction, you'll need to speak to a specialist about any work that's required. Homes with thatched, flat and glass roofs are rare, so they may cost more in terms of materials and labour to repair or replace. This added cost may also affect your building insurance, so check your policy and get in touch with your insurance provider if you have any questions.
Disclaimer: All information and links are correct at the time of publishing.