This Thursday, our Tips are on fitting yourself a brand new kitchen.
One of the most common home improvements, a new kitchen can instantly transform your home and shift your family-life dynamic. And, as an added bonus, they can add up to 6% to your home's value.
Whether you're after a small, functional kitchen area or a wide, open-plan and sociable kitchen and dining space, your options are endless and will depend on your budget and circumstances.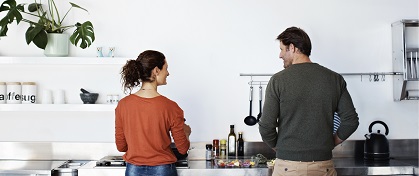 Let's get cooking
The first decision you'll have to make is whether you want a brand spanking new kitchen or you're happy with just revamping your old one. You should base your decision on how happy you are with your current kitchen layout and, most importantly, your budget.
Here, we'll go through your options, from the cheapest and most hassle-free, to the more expensive and lengthy improvement jobs.
Redecorating and revamping
If you don't want to go the full hog, there are steps you can take to refresh your existing kitchen into a space you're happy to spend time in.
This might be a better idea if you have plans to sell up at some point in the future. Although a brand new kitchen can add value, many people want to put their own stamp on things, so revamping it is a good way to make it appealing to buyers while leaving it open to further changes.
Giving it a fresh lick of paint, replacing worktops and cupboard doors and buying some new kitchenware can all make a big difference. You could choose a theme and pick new colours for your walls and cupboard doors in-line with this, or you might want to get adventurous and create something truly unique.
As you're only decorating, it's easier to keep costs down with this option, and you might even feel confident doing a lot of the work yourself.
Tip: Consider whether oil or water-based paints are best for your needs. Oil-based paint is tougher, which is good for cupboard doors, but water-based is easier to clean up if you make a mess!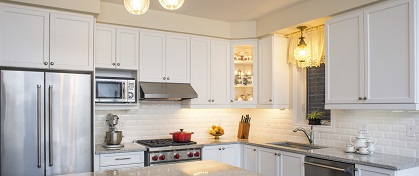 Refitting your entire kitchen
The next step up is to refit your kitchen entirely. This pretty much involves taking everything out and replacing it with newer alternatives.
You can often buy complete kitchen sets from retailers that include near-enough everything that you need. Things like cupboards, appliances, worktops, sinks, taps, floorboards and tiling may all be included, but you can usually customise what you include if you'd like to get some features elsewhere.
The retailer you buy the kitchen set from may offer to design your kitchen for you, taking into consideration your tastes and your family's needs. You don't have to take them up on this offer, but it may be worth considering if you can't find a cheaper alternative. They'll most likely offer to install your kitchen for you, too, but we'd always recommend getting quotes elsewhere first. The retailer may work out cheapest, or they may be happy to negotiate on the price if you choose a different fitter.
If you have the money in your budget, you may be able to add luxurious finishing touches. Things like heated floor tiles, soft-closing cupboards or an American-style fridge freezer might be important to you, but they're likely to push the costs up considerably.
Tip: Don't be afraid to haggle on your new kitchen. The chances are big retailers will budge on their initial price, so it's well worth trying to lower their offer. If you get cheaper quotes elsewhere, use these to your advantage and show the big retailer as they may compromise to keep you as a customer.
Changing the layout
The cost of your kitchen revamp will be influenced by whether or not you want to change the layout. Replacing the cupboards, worktops and floor will give you one quote, but if you want to move important features like the sink or the oven, this will push up the cost of the job – sometimes by quite a lot.
Moving items like these will mean rerouting things like the water and drainage pipes or the gas supply to your oven. Carefully consider whether you really need to change the layout of your kitchen, or whether a refit is all that's needed to breathe new life into it.
Tip: If you're planning to alter your kitchen's layout, use the 'Golden Triangle' to work out your new plan. This is a rule that covers where you place your kitchen's three most important features – the fridge-freezer, the oven and the sink. Try and make sure they are spaced the same distance from each other, as this will make preparing food a lot easier and more efficient.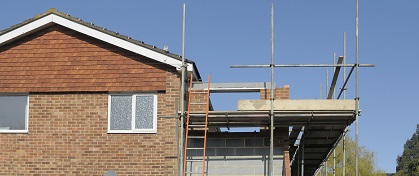 Extending to fit a larger kitchen
This is the biggie. If your current home doesn't have the room to create your dream kitchen, but you've got a garden or land outside your property, it could be worth extending.
This will be expensive, but it can help transform your house into a home for life. And while you're at it, it might be cheaper to add other features you've always wanted but not had the room for. For example, you might choose to pair it with a downstairs bathroom or water closet, or a spacious dining area.
Whether you choose to have an upper-level extension or stick to one floor depends on your plans to move out or stay, and your budget. Adding a second level to your extension plans can add a big chunk to your bill (typically an extra 50%), but if you need extra bedrooms or more space upstairs, it might be a worthwhile investment for you to get it done at the same time as your kitchen.
It's probably not worth doing this unless you plan on staying in your home for good, though, as it can be quite a high cost that might not return you the money you invest in it when you come to sell your home.
Tip: It's a good idea to get a number of quotes before you commit to one building firm for the work. Remember to check for any reviews online or to ask them for recommendations from previous customers.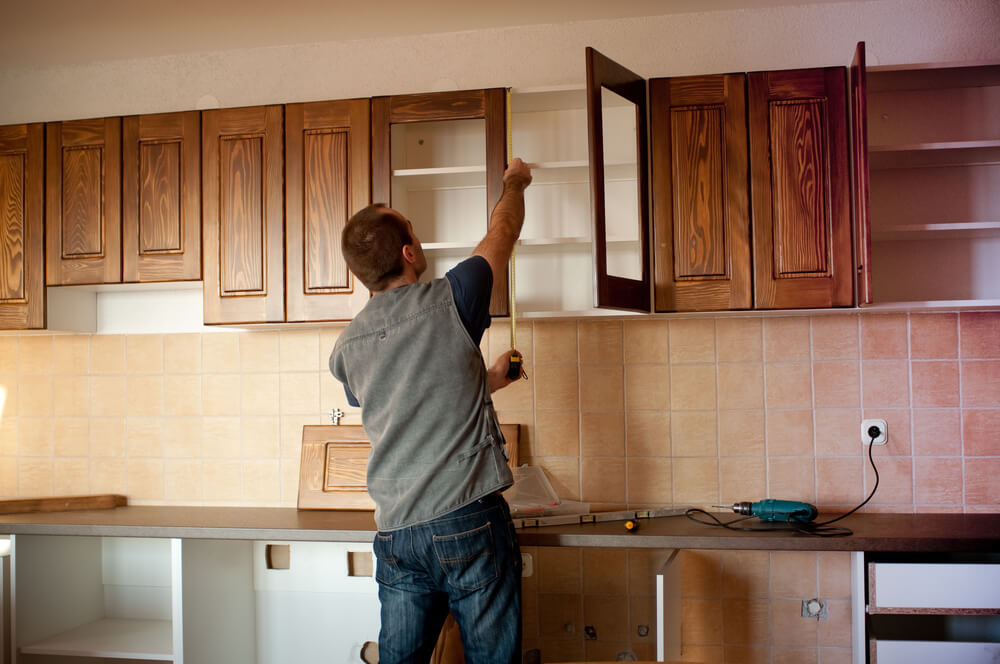 How much will it cost?
Costs here can vary quite a lot, as it will depend on the amount of work you're hoping to do. For example, if you need to extend your home to make room for a bigger kitchen, it's going to cost you far more than if you were just revamping your current kitchen.
You can splash out quite a bit on fixtures and fittings, and really, just how much you spend depends on your individual tastes. You may opt for more pricey work surfaces and fixtures if you use your kitchen quite a lot.
According to Which?, you can typically expect to pay between £1,000 and £3,000 for a standard, brand new kitchen with eight units. This doesn't include installation or appliances, so you can expect to pay quite a bit more than this, and much more if you have a large kitchen. A brand new kitchen with all the installation work included costs, on average, £8,000.
To be on the safe side, it's a good idea to put aside £2,000 - £3,000 for appliances if you plan on replacing them all.
If it's an extension you're looking to build, you can typically expect to pay around £1,000 to £1,500 per metre squared. This website puts the final figure at an average of £32,000 for a single-storey extension and £48,000 on a double-storey build.
You may be thinking of taking out a loan to fund the work if you're going to extend your home. With Ocean's Smart Search, you could find out whether you'll be accepted for a homeowner loan before you apply.

Are there any restrictions?
Generally, there aren't any major restrictions if you're just redecorating or fitting a new kitchen. If the retailer is fitting the kitchen for you, they should be qualified to fit electrics and gas, but if you're going elsewhere, you should check this before any work begins. These workers must be registered to carry out work on electrics or gas in your home.
Head here to find a list of government approved electricians in your area, and here to check for people who are Gas Safe registered.
If you're building an extension, you may need to apply for planning permission. It's important not to start any work until you have permission from your local council. You can find a full list of conditions for your extension that mean you will need to apply for planning permission on the government's Planning Portal here.
Disclaimer: All information and links are correct at the time of publishing.