Every Thursday, we're going to be dishing out advice on the home improvement jobs that add the most value to your home.
Kicking off with the number one spot, this week we're going to explore loft conversions. They regularly top the rankings when it comes to adding value to your property, and it's no wonder, as an extra room in your home usually ups your value by quite a bit – sometimes as much as 10%.
Spoilt for choice
If you're thinking of converting your loft, you might be happy to know there are a number of different options you could consider. Some loft conversion styles are cheaper than others, but you may find that your home isn't suitable for all of them.
You have a choice of four different types of loft conversion:
Roof light conversions
Almost always the cheapest type of loft conversion, as you won't have to alter the roof of your home. Generally, you can just expect to fit a skylight window and floor panels, so this will cause the least amount of disruption.
Mansard conversions
Usually the most expensive conversion you can get, but also offers you the most space. Your roof shape will change entirely as the extension makes the whole length of the roof into new space. You should be able to do this conversion on most properties, including detached, semi-detached and terraced.
Dormer conversions
This is the most popular loft conversion, and you should be able to convert your loft to one of these if you have a sloping roof. It involves an extension that sticks out from the slant of the roof.
Hip-to-gable conversions
This type of conversion will only work on a detached or semi-detached property. It involves extending the slope of the roof at the side of your home outwards to create more loft space inside. It's possible to extend on both sides of the roof if you have a detached property.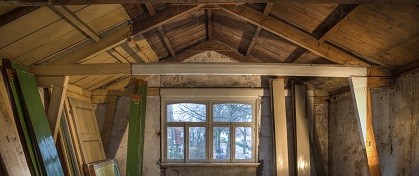 How much will it cost?
This will depend on a number of factors, including where you live, the contractors you choose to go with, whether you need planning permission, your home itself and the type of conversion you decide to have.
As a rough guide, you can expect to pay around*:
- £25,000 - £30,000 for a roof light conversion,
- £35,000 - £50,000 for a mansard conversion,
- £30,000 - £40,000 for a dormer conversion, or
- £35,000 - £45,000 for a hip-to-gable conversion.
*These costs are taken from rough estimates provided by Which?
Although you're free to choose the type of conversion you go for and how lavishly you choose to decorate it, there are some factors that might limit your choice or alter the quote you get. For example, you don't have control over where your home is, how old the building is or its roof shape. These can all affect how much you'll have to spend, so it's worth speaking to at least three different contractors for a quote so you get a better idea of costs.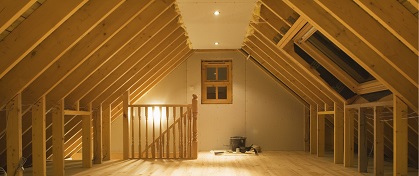 Are there any restrictions?
For the most part, it's unlikely you'll need planning permission for a loft conversion. But, there is quite a complicated list of conditions that you must meet to avoid having to apply. That's why it might be a better idea to speak with a builder or architect first.
The chances are you will be thinking of hiring one for the building work anyway, and they'll be able to tell you whether or not you'll need to apply for planning permission. An architect can draw up designs and plans for your extension if you don't have any already.
In some cases, your extension might affect your neighbour's joining wall. Here, you'll have to apply for what is called a "Party Wall Agreement". Both you and your neighbour have to agree that your building work won't affect your neighbour's home. You must send your neighbour a "Party Wall Notice", which includes a general summary of the plans.
As with all new builds, you'll also need to meet the relevant Building Regulations. This includes things like making sure the room is safe from fires, that the structure is secure and that the walls are relatively soundproof.
For a full list of Building Regulations you'll need to pay attention to, have a read through sections three to eight on the government planning portal website here.
Disclaimer: All information and links are correct at the time of publishing.