Need a bit of extra living space? Maybe now's the time to think creatively about how you can make better use of the space.
Converting a garage is one of the most cost effective ways of extending your home because you are just repurposing space you already have. Michael Holmes, author of Renovating for Profit, told the Telegraph that anyone thinking of converting their garage should firstly "work out the value of your home per square metre or foot as it is now and with the improvement. Research similar homes in your area online and talk to estate agents. Then look at the build cost compared to the end value - you'll soon see whether you'll make an immediate loss or not."
So, if you don't need your garage for your car and have lots of storage space elsewhere in your home, it could be a good idea to convert it.
What to consider
Converting a garage is a pretty quick process, with some companies taking just a week to do the work and 48 hours to get the building regs required. Cost wise a typical garage conversion costs between £6000 and £10,000 and can add up to 10% to the value of your home.
Planning permission isn't usually necessary if the work is internal and you're not planning on enlarging the building, however, if you want to change it into a living space, it's always a good idea to contact your local planning authority before you start any work to double check. If you live in a listed building, you may need listed building consent, so do your research. You can find out more about whether you'll need planning permission here.
So, now that the details have been covered, are you ready for some inspiration? Here goes…
1. Utility room
If space is a premium in your kitchen then converting your garage (or part of it) into a utility room is a great idea.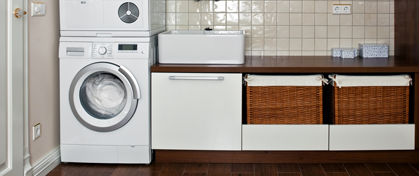 You could keep it separate or investigate whether you could knock through and make one big open space.
2. Cinema room
Pass me the popcorn! You don't need to be a Premiership footballer to have your
very own cinema room!
3. Home office
Create a stylish home office away from the hustle and bustle of the rest of the house and you'll get so much more done!
4. Music Room
With a music room, you'll be able to let your music-obsessed partner or teen make as much noise as they like!

5.
Craft room

Give yourself a room to get crafty in and you won't have to worry about packing things away. You'll have plenty of space to display your finished projects and work on new ones too!
Disclaimer: All information and links are correct at the time of publishing.