From the weird and whacky to the well-known and wonderful, research conducted on behalf of Ocean loans has revealed that us Brits love to christen our cars.
According to our study*, one in five car owners have given their vehicle a name. Women are slightly more likely to bring their motor to life with a name than men. And respondents aged 55 and over are half as likely to christen their car as the national average, with 25 to 34-year-olds the most likely.

And what's the most popular name, we hear you wonder? The results from our research put 'Betty' at the top of the car-naming pedestal. 'Betsy' and 'Lucy' occupied the second and third spots.
The complete top 10 break-down of titles are:

Many aren't quite so mainstream, though. Some of the more obscure names that came out of our study included: Frapuchini, Frugal, Gladys, Hoopla, Lord Thaodin of Rohan, Nooka the Nook, Snozzles, Custard and Toadzilla.
From the promiscuous – 'BJ' and 'Passion Wagon' – and the prominent – 'Beyonce', 'Pelligrino' and 'Nemo' – the odd and obscure car names given by Brits are plentiful.
Why?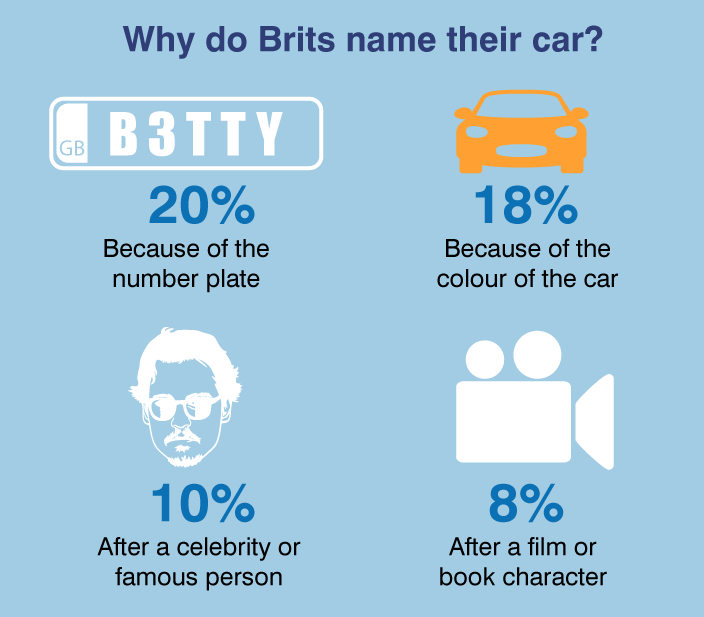 Of those who have given their car a name, one in five (20%) said they did so because of the vehicle's number plate. Men (26%) are much more likely to name their car based on this than women (15%).
Marginally fewer respondents (18%) said they named their motor because of its colour. Those aged between 25 and 34 (30%) are most likely to pick a name based on colour, and 45 to 54-year-olds are least likely.
Furthermore, one in 10 said they christened their car in homage of a celebrity or famous person – men (16%) are more than three times as likely to name their motor after a well-known personality as women (5%). Age-wise, 25 to 34-year-olds are most likely to name their vehicle after a celebrity or famous person, and 45 to 54-year-olds are least likely.
Last but not least, 8% of those who gave their car a title said they did so after a film or book character. 18 to 24-year-olds are most likely to name their motor after a fictional character, and 35 to 44-year-olds are least likely.
*Red Dot questioned a nationally representative sample of 2,000 adults aged 18 and over between 14th March 2016 – 17th March 2016, of whom 636 were Scottish residents.
Disclaimer: We make every effort to ensure that content is correct at the time of publication. Please note that information published on this website does not constitute financial advice, and we aren't responsible for the content of any external sites.