According to Brides magazine, the average UK wedding costs £24,716 nowadays.
This covers everything from the ceremony to the honeymoon. You might think this a crazy amount to spend or you might not, but however you feel, if you're currently planning your big day, this blog is for you.
If you are going over budget then you might be tempted to say "I do" to a credit card, loan or both - but is this the wisest move? In this blog we'll discuss the different ways you can finance arguably the most expensive day of your lives.
Wedding stress
Are you spending more than you planned to? When You & Your Wedding surveyed engaged couples in 2014 they found that 50% were expecting to spend more than they'd originally budgeted for. 1 in 5 brides admitted that they'd rather borrow money than compromise on their wedding day plans.
If you haven't set a date yet, you could consider saving for longer, rather than having to resort to borrowing money. If you don't want to postpone your wedding then you could consider making cutbacks or shopping around to see if you can get things cheaper.
Borrowing options
If you don't have enough in savings to pay for everything then you may be considering:
A credit card
If you have an excellent credit history then you may be able to get a credit card with a 0% interest rate, which would allow you to pay back what you owe over the term of the deal without paying any interest. If you have struggled in the past with your finances and your credit rating isn't very good then the chances of getting approved for a credit card with a 0% interest rate may be slim, whereas getting approved for a credit booster credit card might be achievable.
When you buy something between £100 and £30,000 on a credit card, you are protected under Section 75 of the Consumer Credit Act which means, for example, that if your florist, caterer or bridal shop goes bust you should get your money back as you can claim through your credit card provider.
If you did decide to get a credit card to pay for some of your wedding bills then you would have to be confident that you could make at least the minimum payment (and ideally more) each month, or risk damaging your credit history further and being charged extra for missed or late payments. You ideally would want to set yourself a target date to have the card off paid off by, so that you're not still paying for your wedding years down the line.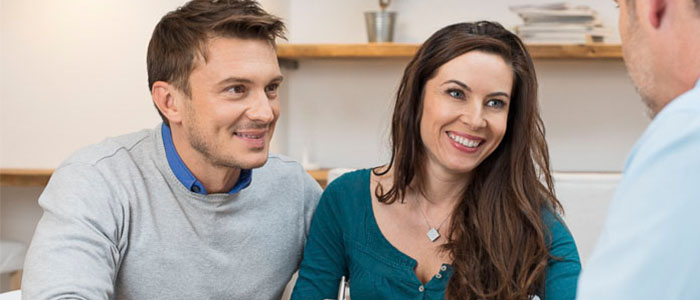 A personal loan
Ocean offers personal loans from £2,000 to £5,000. With a personal loan you would have a set date when you'd know the debt would be paid off – typically 2 – 4 years from when you take it out. You'd need to be confident that you could make the monthly payments over the full term as falling behind on your payments could have serious consequences and mean that you'd struggle to get more credit in the future.
Your overdraft
If your current account has a planned or authorised overdraft you may be tempted to dip into it from time to time as you buy things for your wedding. Before you do, check the charges – as well as the interest you'll be charged there may well be daily or monthly usage fees too. Try to avoid running up an unauthorised overdraft as these are likely to be a very expensive way to borrow.
The bank of mum and dad
Traditionally, a wedding was paid for in full by the bride's father but these days this is rare, although in many cases the parents of both the bride and the groom will chip in some money towards the total cost.
If you do need to borrow money to pay for your big day you could consider asking your parents for a loan, rather than approaching a lender for a loan or credit card, especially if your parents won't want you to pay any interest. If you do decide to approach your parents, make sure you don't put them under pressure to say yes. You don't want them to face financial difficulty just by helping you out. If they are willing to loan you some money it could be a good idea to devise a clear repayment plan so everyone involves knows when the money is due to be paid back. Setting this out clearly upfront should help to avoid misunderstandings and reduce the chances of bad feeling later.
Disclaimer: All information and links are correct at the time of publishing.