We all prefer it when life is faster and easier – high-speed internet access, being able to stream your favourite TV shows straight to your smartphone.
Contactless payments make it simple to pay for goods and services when you're on the move, and now you'll be able to use this feature with your Ocean Credit Card.
This means you'll be able to use your Ocean Credit Card to make smaller payments – up to £30 – much faster, just by touching your card to the contactless reader in any store where it's accepted. Don't worry if you're not sure about contactless payments – we'll tell you all you need to know.
Saving time
Making payments is faster when you use contactless. You don't have to put your debit or credit card into the chip and PIN machine and type in your number – all you have to do is touch your card to the contactless terminal and the payment will go through automatically.
This makes it easier too, especially if you're in a rush or holding all of your shopping bags. You'll never have to juggle what you're carrying to be able to type your PIN into the machine, as you'll be able to pay quickly, easily and without any fuss.
Safe and secure
Some people worry that their contactless card could accidentally make a payment when they don't want it to, just by walking near a contactless reader. In fact, this won't be able to happen – your contactless card can only make payments when it's held within a few centimetres of the card terminal.
It's also secure as contactless cards have layers of inbuilt security to prevent fraud, so you can be sure that your payments are protected. As an additional security measure from time to time when you make a contactless payment you will also be asked to enter your PIN. Contactless payments are only for small value transactions, currently up to £30 in the UK.
Ocean Credit Card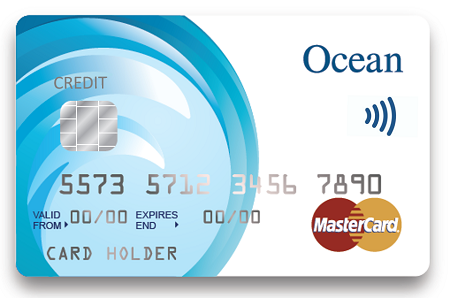 If you apply for an Ocean Credit Card, it will be sent with the inbuilt contactless technology as standard, you won't have to ask for this. Don't worry if you're already a customer – when your current card expires, your new one will be contactless.
The Ocean credit card has an APR of 39.9% APR representative variable, and comes with a credit limit of between £200 and £1,500. How much you'll get will depend on your credit history, so if you've had problems using credit in the past, you'll be accepted for a lower limit. Don't worry if you'd like a higher limit than you're accepted for – your credit limit will be reviewed regularly. If you use your card responsibly at its current limit, you could be offered up to two credit limit increases a year.
Disclaimer: All information and links are correct at the time of publishing.