It's well-known that your credit history can affect your chances of getting a loan, credit card or mortgage.
But, you may be surprised to hear that it can also have an impact on other aspects of your life.
For example, if you're thinking of renting a home, taking out insurance or applying for certain jobs, you may face a credit check when you do so.
When you're renting
When you go to rent, it's becoming more and more common for your landlord or letting agent to check your credit history. This is because they want to be reassured that you have a track record of reliably making payments elsewhere. Your credit history gives a good indication of how you've managed monthly payments in the past, so it's of interest to your landlord.
If you fall behind, it can spell trouble for both you and your landlord, so checking your credit history is a way for them to try and avoid this. Not all landlords or letting agents will turn you away if you have a damaged credit history, but they may ask for a larger deposit or more rent in advance.
You may already be renting, but your credit history could be acting as a barrier from moving into a new home. If you're in this position, head here to find out how you can improve your credit history just by paying your rent.
For more help on how to rent when you've a poor credit history, head here.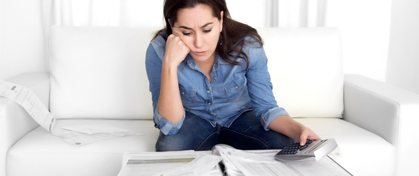 When you're taking out insurance
While a poor credit history might not mean you're outright turned away from an insurance policy, it might mean you're unable to pay monthly.
Insurers may view you as a risk to insure, as they could worry that you will fall behind on your payments. Again, your credit history is all they have upon which to base how reliable you are at repaying financial commitments.
If you pay up-front, your credit history is less likely to be an issue as you have already paid for the full protection. You can find out more about how your credit history affects your insurance application here.
When you're applying for a job
Although many employers won't be interested in your credit history, there are those that will want to credit check you before they agree to take you on. For the most part, these are usually companies in the financial sector, but it could also apply to any role where you have to handle money.
However, it's not as clear-cut as insurance, as whether or not you're turned away will depend on the employer themselves. Not all companies are the same, and you may be judged differently depending on the place you have applied to work. Not only this, but your employer may base their decision on your interview or personal qualities in special cases.
If you've ever been bankrupt or had a County Court Judgement (CCJ), an employer may view this more seriously. Of course, it depends on the job you're applying for, but many financial companies may see a bankruptcy or CCJ as a warning sign and turn you down because of it.
Although this all sounds a bit 'doom and gloom', try not to let it get you down. The best thing you can do is to turn your attention to your credit history and try to prove yourself a responsible borrower over time. Free services ClearScore and Noddle allow you to check your credit file for free, which is a good place to start.
Disclaimer: All information and links are correct at the time of publishing.