From today onwards, we're going to be making fact or fiction of some of the most common assumptions about credit history in our Monday Myth-Busters.
Today, we're kicking off by asking whether having a poor credit history is something you're stuck with for good. Well, you'll be happy to hear that a missed payment or CCJ won't be something you're burdened with forever!
Usually around six years
In most cases, red marks on your credit file will only stay there for six years. This means future lenders won't be able to see it when they credit check you if it happened longer than six years ago.
Lenders are typically only interested in how you've managed credit recently, so a missed payment from nine or 10 years ago is probably not that important to them.
But, there are exceptions when it comes to things like bankruptcy. If you've been discharged from bankruptcy, it should vanish from your credit history after six years from the start date. But, this will only happen if you kept to the terms and weren't dishonest at any point. If you're given a "bankruptcy restrictions order" – this is given if you have lied about your bankruptcy when applying for a loan or credit card – it may stick with you for up to 15 years.
Other debt relief solutions, like an Individual Voluntary Arrangement (IVA) and a Debt Relief Order (DRO), will stay on your credit history for six years from the start date.
Late payments and CCJs will almost always be visible on your credit history for six years. But, if you pay a CCJ off in full within 30 days of getting it, it won't have any effect on your credit report.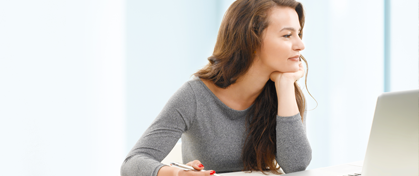 Start to rebuild your credit history now
Although six years may sound like a long time, there's nothing stopping you from starting to rebuild your credit history now. While your credit history is less-than-perfect, you'll find it harder to get accepted for the best deals on offer, but there are lenders who specialise in borrowers in your situation.
If you've missed a handful of payments or been given a CCJ, you should still be able to take out a credit-builder credit card. So long as you repay your balance in full every month, you won't have to pay a penny in interest and your credit history will slowly improve month-by-month. A way to make managing your money easier is to just make one or two small purchases on the card and set up a Direct Debit to clear the balance in full every month.
The Ocean Credit Card might be a good option if you want to start rebuilding your credit history. So long as you make at least the minimum repayment, your credit history will improve. It's important to remember that your credit history could be damaged if you miss a payment or fall behind.
Know if you're accepted before you apply with Ocean's Credit Card QuickCheck
Get credit - up to £1,500 - QuickCheck won't affect your credit rating - Get a response in 60 seconds.
39.9% APR Representative (variable)
Intelligent Lending Ltd (Credit Broker). Capital One is the exclusive lender
Check Now
If you are going through a bankruptcy though, you may find it difficult to find a lender willing to lend to you. And if you want to borrow more than £500, you must make the lender aware that you have been declared bankrupt. In this case, it may be best to wait until your receiver or trustee discharges you before applying, as taking on more credit at this time could stretch your finances too far.
So, in short, bad credit most certainly doesn't last forever. And, if you start rebuilding your credit history now, you'll be in tip-top shape in six years' time!
Make sure to check back at the same time next week when we'll be busting another common credit history myth – is there a credit blacklist?
Disclaimer: All information and links are correct at the time of publishing.