From creating easy-to-use calculators to implementing lightning-fast Growth Hacking changes, our Front End Developer Greg Clayton has got his hands full.
We caught up for a quick chat about his career so far and why having pride in your work is the key to success. Ever used the Ocean site? You've probably interacted with Greg's work already.
So, what do you look after here at Ocean?
My role consists of looking after the front end of the Ocean website and our journeys. This means I mainly focus on the customer-facing part of the website (kind of like a shop window).
More recently I have also joined the Growth Hacking Team, to assist with lots of fast-paced changes on a daily basis, to help further improve our products.
Tell us about your career journey - and what inspired you to join the Ocean family?
So, I started making websites and developing code back when I was just 16 years old - when everyone was using Freewebs and Yahoo Geocities for websites. Fast-forward 15 years and here I am, lucky enough to have turned my teenage hobby into a full-time career!
I was at a little bit of career crossroads before joining Ocean. I was in a job I didn't enjoy and saw that Ocean had advertised for a Front End Developer. I had actually worked for the parent company (Think Money Group) previously (almost 6 years before!) - and all those great memories came flooding back. I just made the decision then and there to apply for the role! Here I am one and a half years later, loving the decision I made to rejoin and couldn't be more grateful for the opportunity.
What does a typical day look like for you?
A typical day always includes our morning catchup with the team, to plan out what everyone is working on.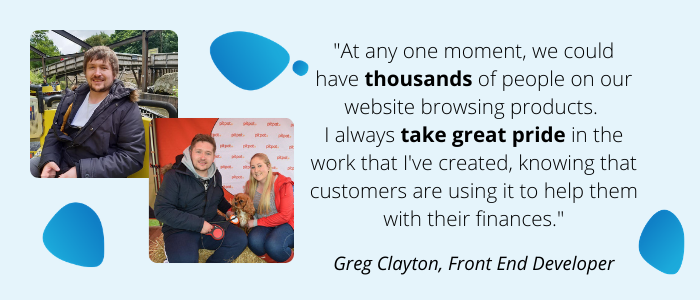 What's the best thing about working for Ocean?
The team. Everyone is so kind and so respectful and we all really do work hard to put our customers first. We have some of the hardest working people, ranging from Designers to SEO Specialists and Marketing, as well as our Project Managers and Testers! Being part of the team is great and I have learnt so much since joining.
Can you list three skills or attributes you need to be a successful Front End Developer?
Motivation - We have some amazing developers who work at Ocean and the motivation to keep learning new code and improving is at the forefront of everything we do. All of our journeys and products use the most up-to-date technology to provide our customers with the best possible experience. A key part of our job is challenging ourselves to learn new technologies, so we can put them to good use for our customers.
Communication - On a day-to-day basis, I will be working with 10-15 different people across lots of projects. Communication and keeping everyone up-to-date is key for project delivery. Especially as not everyone I work with is a developer, so I need to make sure my delivery notes are fit for purpose - and people can understand them and provide feedback where needed.
Pride - You need to have pride in your work. At any one moment, we could have thousands of people on our website browsing our products. As a Front End Developer, what I create is what the customer will interact with. I always take great pride in the work that I have created, knowing that customers are using it to help them with their finances.
How do you think your role directly helps Ocean customers?
People come to Ocean for help with their finances. This could be a personal loan, remortgage or a credit card - and as a Front End Developer, I need to make sure that it's easy and stress-free for a customer to do this and leave the website satisfied in the end.
What advice would you give any potential candidates looking to join your team?
Be a team player and be enthusiastic about the work that you do.
We have such a hard-working team, and we all come together to help our customers get the right product. Working together as a team is one of the biggest strengths we have here at Ocean.
If you're looking for a role that challenges you from a development perspective - but also gives you room to grow and learn all the other aspects of marketing and design - then Ocean is a fantastic choice.
What can we find you doing when you're not working?
Most days you can find me going for walks with my wife and our little dog!
I love to play golf when I get the chance - despite the fact I am utterly dreadful at it! I'm also a massive Manchester United fan and happy that Ole's red army are back near the top of the league again!
Interested in working with Greg? Email [email protected] to discuss our current developer opportunities.
Disclaimer: All information and links are correct at the time of publishing.
BACK TO BLOG HOME