For our latest challenge, we've hand-picked a selection of crafty bloggers to demonstrate what you can do with a simple bird house.
The challenge
We've sent our bloggers a lovely wooden birdhouse (and a £25 Buddly Crafts voucher so they can buy all the supplies they need) so they can upcycle it into something special. Why shouldn't birds in the garden have something beautiful to sleep in?
Bloggers chosen will create a post detailing how they've turned their bird house into a bird home.
An independent judging panel will choose one winner who will receive a £200 gift card for luxury homeware boutique Amara.com.
How to enter
Our bird house competition is full, but we have plenty more in the pipeline! Email [email protected] if you'd like to take part in a future campaign.
This challenge ends on the 21st September, keep an eye out here for a post detailing our favourite entries.
Good luck to all the bloggers involved!
To see the other competitions we are currently running, and to enter click here >
This competition was brought to you in conjunction with the homeowner loans team at Ocean Finance.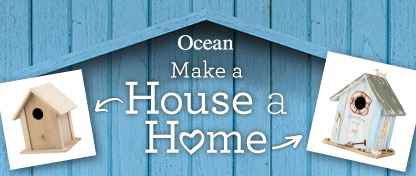 Disclaimer: All information and links are correct at the time of publishing.