Our needs change as time goes by – whether that's accommodating new additions to the family or simply needing a bit more room to breathe.
It's understandable if you wish your home was bigger from time to time.
Moving home can be expensive – with mortgage application fees, legal fees, estate agent and moving costs and, potentially, Stamp Duty. These can come to many thousands of pounds, which is money that you might prefer to put towards improving rather than moving.
However, you may be torn between buying somewhere larger and making improvements to maximise your existing space, and this can be a tough – and expensive – decision to make.
What's your reason for wanting to move?
First of all, it's a good idea to identify your reasons for wanting to move house. Is it because you want another bedroom, a larger garden or a better kitchen? Maybe you'd just like some more space? Well, in many cases you might be able to save both money and effort by simply extending your home rather than moving out altogether.
Of course, this depends on what you want from your property. If you're after a bigger garden, for example, this might be more difficult to achieve.
Ultimately, whether or not you opt for home improvements instead of moving depends on how much you love your current home and whether you want to move to a new location altogether. If you don't particularly want to move away but can't see how home improvements can give you the extra space you need, you might be surprised by what you can actually achieve by maximising what you have.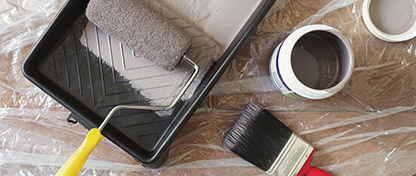 How home improvements could help
Other than transforming your house into a home for life, making alterations can add some serious value to your property and even increase interest from buyers if you plan to sell in the future.
If your home now feels too small and compact, you may be able to knock through some rooms (adding steel supports if you are moving load-bearing walls) to create a larger open plan space. Adding large windows or bi-fold doors can bring more light into your property too.
If you're after more space, you could consider an extension. Building an extension can open up your home to give you room to breathe – whether it's a larger kitchen, living room or extra bedroom you want, an extension gives you the freedom to do as you please. Consider a single-storey extension of your kitchen and incorporating higher ceilings to create an airy, open space. Alternatively, you could extend your living room to create a truly relaxing escape from the outside world.
But, if it's extra bedrooms to accommodate changes in the family that you're after, then you may want to think about a double-storey extension. Extending on both levels can be expensive, but it's one of the most dramatic alterations you can make if you want your home to have a completely new lease of life. Alternatively, if you have a room large enough, you could consider building a dividing wall to create two bedrooms from one. Although you'll be gaining no new space, it can be a cheaper way to create another bedroom.
If there's no room to build out, you may be able to go up or even down! If you have a largely unused loft space, converting this into a liveable room could be a worthwhile investment. You could choose to transform your loft into a bedroom with an en-suite, or into a second living area. Of course, the size of your loft and the type of roof your home has will affect whether or not this is possible or a worthwhile investment.
The option of digging out a basement extension has become increasingly popular, especially in urban areas where there is no room to extend in any other direction. But, here you'll need specialist advice about your foundations and do bear in mind that this can be an expensive option.
Head here to find out which investment – out of an extension, conservatory or loft conversion – is the best for creating more space in your home.

Things to bear in mind
There are many different alterations you could consider making to your property, but at the end of the day, the only person who can make this decision for you is you. It's a good idea to speak to a builder or architect to throw a few ideas around before you jump in and start committing to specific improvements.
Remember, you may have to apply for planning permission before you undertake alterations to your home. Often, double-storey extensions and loft conversions can require you to apply for permission first, whereas single-storey extensions and outbuildings like conservatories may not.
You could consider taking out a loan to fund your home improvements. Depending on the type of changes you're hoping to make, Ocean offer secured loans between £10,000 and £150,000 that are suitable for funding a wide range of home improvements.
Disclaimer: All information and links are correct at the time of publishing.