A gorgeous kitchen is something many of us want, and it's not surprising to learn that a new one can add up to 6% more value on your home.
So, it makes sense to consider fitting a new kitchen or refurbishing your existing one so you can enjoy it now and hopefully get a return on your investment when you sell up.
However, it's not all about looks. Before you decide on your kitchen, be sure it meets your needs and budget.
What are your options?
There are endless options available to transform your kitchen. You may only need to repaint, tile or get some new cupboard doors to create a fresh look. Alternatively, you may need to make better use of space, for example, by adding an island unit or freestanding second hand furniture in which to display crockery.
Full refurbishments, on the other hand, will involve more work and may mean the complete removal and disposal of the existing kitchen. If you decide to change the layout of your kitchen, you may need to consult a designer or kitchen company, in addition to hiring someone to carry out any necessary electrical wiring, plumbing and gas fitting – and you should include these extra costs in your budget.
Budgeting for your kitchen
It is important to budget for your kitchen carefully. Before you start the work, do your homework and create a spreadsheet or list of all the different parts that you plan to change.
If you're planning to use your savings to pay for your kitchen, budget for the project with this amount in mind. If you want to take out a personal loan, or use a credit card to pay for your home improvements, make sure that you can keep up with the monthly payments before you borrow. If you do pay for your kitchen or some of the work on your credit card you have the added benefit of Section 75, which can protect you financially for purchases over £100. If the company you bought items from goes bust or your purchases don't turn up, the credit card company or retailer are jointly responsible for refunding you.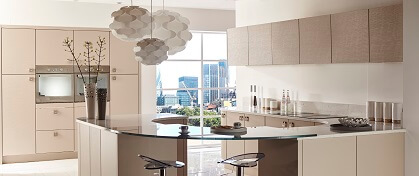 How to get the kitchen you want - without breaking the bank
Kitchens vary in price dramatically from one brand to another, so be realistic about what you can afford. Carefully work out your budget and all the different elements that will make up your kitchen, including appliances, decorative finishes and any electric or gas jobs
If you're confident in your DIY skills, you could save over £1,000 fitting the kitchen yourself. However, you risk losing that saving if you're not happy with your work and have to hire a professional to correct it.
Below we have broken down a kitchen refurb into the most important elements and included ideas to inspire and help you choose what is affordable for you. Don't be afraid to experiment and create a kitchen that's personal.
Kitchen units
Units are an important part of a kitchen and they are surprisingly long lasting. Unless you are thinking about changing the layout of your kitchen, you could save hundreds, or even thousands, of pounds by keeping them. Create a brand new look for less by changing the doors, painting the existing ones, or even adding new handles.
Doors and drawers
If you decide to change the units, go for a budget flat pack option and match them with more upmarket doors. Soft closing hinges and drawers add a high quality finish and will make your kitchen feel more robust.
Worktops
Worktops also vary in price considerably, and the price you pay will depend on the material you choose. A factory laminate may cost £50 for one length (approx. 2m), yet for the same length of worktop in a natural material, such as granite, the price could be closer to £500.
You can create a luxurious look for your kitchen by changing your existing worktops to a higher-quality material. Alternatively, keep the costs of a new kitchen down by opting for a laminate top – which is also easier to maintain than a real wood counter.
Finally, if you fit a new sink, choose one that can be mounted under the counter. A relatively inexpensive stainless steel sink and taps will still look fantastic.
Appliances
Appliances make up a big cost of any kitchen. You can pay £1,500 by choosing a washing machine, built-in oven, hob, cooker hood, dishwasher and fridge-freezer by a budget brand, or £5,000 if you opt for more expensive brands.
If you decide to keep your existing appliances, you will save substantially by not having to pay to have new ones fitted. However, be sure that your new kitchen plan has been worked out around the size and position of your current appliances.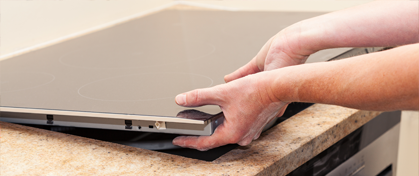 Installation and labour costs
Installation and labour costs will add to your kitchen refurb bill considerably. It is always a good idea to ask the tradesmen or fitting company to give you a clear breakdown of the different charges for the work you have planned.
You may save money by choosing to do some of the work yourself, especially if you have a particular DIY skill or know someone who has the skills to help. But be sure to clarify this with kitchen company first to avoid any confusion.
We hope that this information helps you with the planning and budgeting of your kitchen. Look out for our upcoming blogs over the coming weeks where we will give you more budgeting tips for other home improvement projects.
Disclaimer: All information and links are correct at the time of publishing.