As part of our new Home Improvements on a Budget series, we look at how you can achieve a fantastic-looking bathroom by thinking smart and spending less.
Are you someone who prefers a long soak in the tub, or a quick blast under the shower to freshen up? Whichever you are, an appealing bathroom can make those precious moments of peace much more rewarding. Not only this, but an extra bathroom in the home could also add up to 6% to its value. And, it usually costs much less than a loft conversion or new kitchen.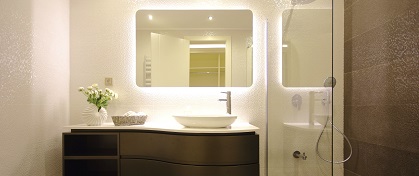 What are your options?
There are many ways to transform your bathroom. You may only need to repaint, retile or change the suite (bath, shower tray, sink and toilet), or you may consider adding a storage unit to keep laundry and toiletries stowed away.
Full refurbishments, on the other hand, will involve more work and may mean switching out your existing bathroom altogether.
If you're thinking of moving your bathroom to a different part of your home, or you've got a generous budget and are considering splashing out, it's wise to speak to a designer or specialist bathroom company for their expertise. You'll have to get someone in to carry out the necessary electric wiring and plumbing, too. Try to remember to include these extra costs in your budget - it might be worth setting aside an extra 20% to avoid going over budget.
Keep it light, bright and clean
Any changes to your bathroom should aim to make it more simple, bright and clean. If you have an older property with a chipped bath or a suite in an out-of-date colour palette like avocado, pink, or beige, you could consider replacing it with a neutral, modern and white design.
Neutral bathrooms tend to look brighter and cleaner, and it's easier to match coloured or patterned accessories to a neutral bathroom. To complement this clean look, you can freshen the walls with lighter paint in neutral shades, such as calming whites and cool greys.
There are some fantastic bargains to be found online nowadays, including places where you can buy complete bathroom sets for a decent price. It's always worth shopping around online to get an idea of what you can get for your money – but remember to check reviews and make sure you're buying from a reputable retailer.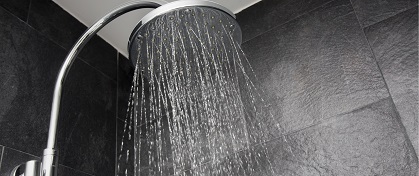 Showering is cool
With our busy modern lifestyles, many of us prefer to shower than take a long soak in the bath. If you don't have the space or budget to fit a new separate shower cubicle, why not consider the cheaper option of fitting one above your bath?
Be sure to get your plumbing system checked by a professional to ensure you fit the right unit. The type of shower you can get depends on whether you have a mains pressure system, a combi boiler system or the provisions for a power shower.
Floors and walls
By changing or refurbishing your bathroom tiles and flooring you can create a completely new look. You can use many different materials for this job, and this is where you might choose to experiment with textures and colours. Just make sure they are waterproof!
It's uncommon, but some homes still have carpets fitted in their bathrooms. It might sound desirable or luxurious, but the reality is it's not very practical as carpets absorb water, making a bathroom damp, smelly and unhygienic.
Instead, tear up the carpet or old tiles and replace them with a vinyl floor or new tiling. Vinyl flooring can be done on the cheap, and it's easy to maintain which means you save time and money when trying to keep it looking clean and fresh.
You may even be able to fit vinyl flooring yourself if you're feeling confident, as it's quite simple to cut to size and apply with an adhesive. Of course, it's a good idea to speak to someone who has some experience with the material if you're worried about making a mess of it. Tiling is more complicated and this is often best left to a professional. The extra time and effort taken is usually reflected in the fitting costs, which can start from around £20/m².
There are some fantastic waterproof paints on the market these days that will refresh your bathroom walls and help to achieve a new look for cheap. You may even find some reclaimed tiles or look to buy end-of-line or leftover stock to save further.
Always measure up how many tiles you need to create a single bold feature wall as a statement, or to cover the areas you want to tile. Tiling over the existing tiles is much cheaper than removing them and having to repair damaged walls. Leaving the ones you've got will give you a better tiling surface, which can save time and money.
Accessories help personalise your bathroom
Your bathroom can take on a completely new look just by changing a few simple things.
You could personalise your bathroom by using an accent colour scheme throughout. Try matching the colours of your bath towels, shower screen, window blind, and even your bath panel and toilet seat for that extra wow factor.
Small plants, artwork on the walls, a new toilet brush and toothbrush holders can be lovely accent details. You can find some quirky and unusual bathroom objects at reclamation yards and car boot sales for very little money.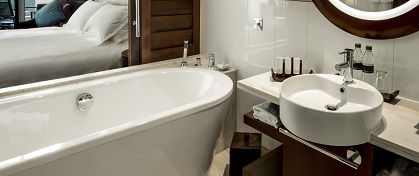 Installation and labour costs
If you choose to hire a professional to do the work, aim to get at least three quotes from local tradesmen. When dealing with suppliers that offer to fit bathroom fixtures for you, get separate quotes for the fittings and labour. This way you can shop around for cheaper fitting costs and make sure you're getting the best deal – which helps you to budget more carefully for your bathroom suite.
There are some fantastic bargain bathroom suites online. Be sure to shop around and find the one that suits your budget and style, but remember to keep it simple and neutral.
If your plumber or builder offers to supply all the materials and fittings for you, get a breakdown of costs and check the products they're offering to see if you can get them cheaper by buying them yourself.
Any electrical works, including the installation of lighting, fans, electric showers and sockets, must be carried out by a P-registered electrician.
If your budget doesn't stretch to pay for labour costs, it may be best to wait until you can afford this. Cosmetic work, such as touching up the grouting, replacing sealant, painting walls or over tiles are all jobs you could do yourself. Replacing fixtures and fittings or any plumbing work yourself may end up costing more if you get it wrong and it needs fixing. You should always leave dealing with any gas or electrics to the professionals – many things can go wrong and pose immediate risks to you and your family if fitted incorrectly.
Don't break the bank
To keep your budget tight, work out what needs doing now and what can wait. Shop around for bargains and have fun with unusual objects that can be adapted into storage, laundry bins, sink stands or simple decoration.
We hope you enjoyed our budget room blog. For more money-saving advice on home refurbishments and how to avoid running out of cash mid-project, check back with us!
Disclaimer: All information and links are correct at the time of publishing.