Planning a wedding – it throws up images of either idyllic, picturesque glamour, or flustered, tearing-out-your-hair stress and worry.
Whatever your view, there are certain expensive purchases you may see as vital to your Big Day. And if they later fall through, your wedding budget could be seriously impacted if you don't have any buyer's protection.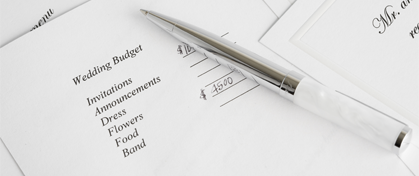 Protect your wedding fund with Section 75
Section 75 of the Consumer Credit Act protects you when you make purchases with a credit card that cost more than £100.
Should you buy something with your credit card and it doesn't show up, the company you bought it from goes bust and you don't get your item, or if it's not what you ordered at all, the credit card company is jointly liable with the retailer for refunding you. This means you can claim the money back from your credit card company if you have little success getting a refund from the seller or service provider you bought the goods from.
Below, we've given you a checklist of some of the services and goods you might be looking to purchase for your wedding. Where you can, using your credit card for some of these means you're covered by Section 75 should something go wrong.
Remember: If you're booking services, you only have to pay the deposit with your credit card to benefit from Section 75 – as long as what you're paying for costs over £100 (and less than £30,000) in total. Don't be tempted to spend more than you can afford: a credit card is useful for protection, but not if you're going to be struggling to pay it off a few months down the line.
Even if you pay for the services with your credit card but clear the entire balance in full straight away, you'll still benefit from the protection.
The dress and suit
Just how much you spend on these will depend on your budget and tastes, but in many cases, the wedding dress easily tips over the £1,000 mark – well over the £100 Section 75 threshold (although you can pick one up for far less too).
If you're getting the dress or suit custom-made, it's worth putting the deposit down with your credit card so you're covered if the company goes bust.
The venue
This is one of the most important things to get right, because if not, you may have to postpone your wedding by several months or longer while you look for another place. Not that we're piling on the pressure or anything!
Although your credit card isn't going to protect you from a moment of panic like that, using it does mean you won't lose out on the cash you've spent on booking the venue if the owners go out of business.
The catering
Some venues may include catering in the price when you book with them. But if they don't, it's a good idea to use your credit card for protection when you pay for your caterers – especially if you've got a lot of hungry guests to feed.
The rings
Ah, the rings. Arguably the most symbolic part of the entire ceremony, and if you believe the movies, often the one thing that's left at home by the forgetful Best Man!
In reality, the rings are important, but they don't have to be overly flashy and expensive. You shouldn't feel pressured into spending more than you can afford for these little finger decorations, but it's still unlikely you're looking for a set of two wedding rings that cost less than £100. If you're buying them as a pair, use your credit card for protection.
The florist
Many couples spend up to 10% of their wedding budget on bouquets and floral decorations. Of course, you don't have to get custom-made bouquets to have a wedding ceremony to remember. The chances are, your guests won't be raving about your flower arrangements years down the line, but you may still be paying for them.
It's wise to keep an eye on your budget and be sensible with your spending – why not try making your own flower arrangements using blooms bought a couple of days before from your local market? But if you're happy with your budget and you can afford to, it's a good idea to use your credit card to pay for the deposit on your flowers so you're protected if the florist goes bust.
The car hire
Again, you don't have to spend a fortune here, and it's definitely one of the areas you should be looking to cut back on if your budget is tight already. Using family and friend connections could work in your favour – you might be able to find someone with a fancy car that you're happy to travel to the venue in.
However, if you've saved up and are happy to spend a bit more on you and your partner's grand entrance, your credit card can be useful if you use it to pay for the deposit on your wedding day wheels.
The photographer
You and your partner's wedding is a time to make memories together and celebrate your love for one another. But those memories of the big day might get fuzzier as time passes, so it does make sense to hire a photographer to capture those priceless moments. Your personal connections work well here too, so it's worth asking around to see if anyone you know is a keen photographer.
Otherwise, if you're booking a professional photographer, your credit card will give you financial protection if their services cost more than £100.
The honeymoon
The hard part's over, and you're at the final stretch. If you've found planning the wedding stressful, now's the time to forget about your worries and relax with your new spouse on a trip away together. Whether you're holidaying in the UK or venturing further afield, your credit card can offer invaluable protection should the worst happen and your trip or hotel booking is cancelled.
You should be able to get a refund on cancelled package holidays and flights if you spent more than £100 on them – even if you just paid the deposit with your credit card. We've written in more detail about reclaiming your money from flights here, and from package holidays here.
Borrow carefully
While a credit card offers good protection on wedding purchases, it's important to only spend what you can afford to repay. After all, do you really want the first few years with your new spouse spent worrying about paying back what you borrowed for one day?
Keep in mind the future you want to have with your partner, and try to remember that your life together extends far beyond your wedding day.
Disclaimer: All information and links are correct at the time of publishing.