Are your Christmas costs snowballing? With UK households spending roughly £2,500 in December, you're not alone.
From lavish food to gifts, it's no wonder December is the most expensive time of year. Recent findings in the Deloitte's 2018 European Christmas Survey show that the average UK consumer plans to spend a whopping £567 this year.
So, we've done a bit of digging to see how exactly we're spending our cash.
What are we spending it on?
With that figure in mind, you might think it seems a tad extreme. But when you start to break it down, £567 doesn't seem too unrealistic.
By and large, most of our money is spent on gifts for our loved ones. The survey revealed that a large chunk of this cost (£299) goes towards presents. The rest of the money is spent on food and drink (£151), socialising (£66) and travel costs (£51).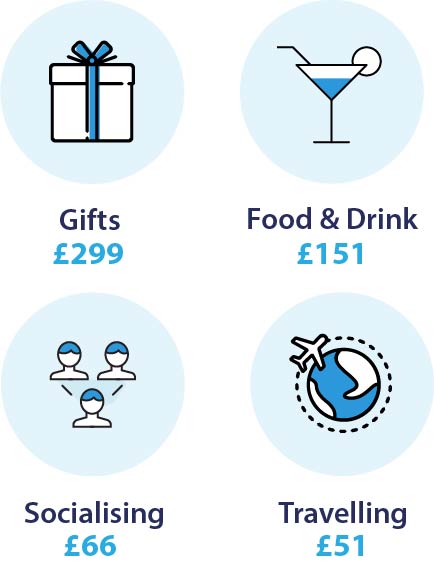 information from insider.co.uk
Many people only think about the price of gifts in December, but the cost of festive get-togethers and work dos can add up. When you factor in the cost of getting there and back, drinks or even a new outfit, it's not surprising that we spend more in December than any other month.
Plus, if you're travelling further afield to visit your family for Christmas, train or plane tickets can set you back a hefty sum – especially if you're not buying them in advance.
How does our spending compare to usual?
In December, our spending doesn't just increase full stop – it comes down to what we're actually buying. The Bank of England found that food sales increase by 20%, alcohol sales by 30% and, interestingly, book sales rocket by a massive 80% compared to a typical month.

information from edu.bankofengland.co.uk
How are we paying for it?
The price of Christmas isn't exactly pocket change, so you might be wondering how people stump up the cost.
Research from finder found that, in 2017, the majority of shoppers (81.5%) dipped into their savings to cover the cost. Second to this, two in five people (38.5%) chose to spread the cost with a credit card. Then, 12.6% planned to take out a payday loan to pay for Christmas, followed by one in ten (9.1%) opting for a personal loan and the remainder (8.9%) borrowing from family and friends.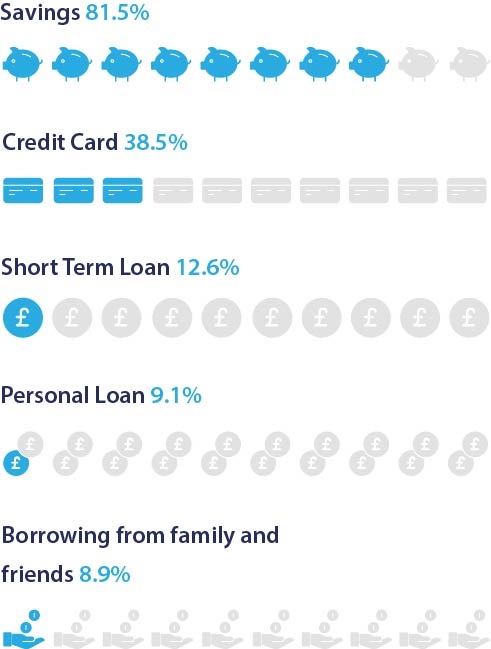 information from finder.com
Choosing to cover the cost of Christmas with your savings is a financially savvy option, as you won't need to pay any interest. Having said that, you could also avoid paying interest by using a credit card.
How? By paying back the amount in full the following month, you won't need to pay a penny in interest. This means, with a bit of planning, you could split the cost over two pay days without paying any interest at all.
Better still, with a 0% APR credit card, you could spread the cost of Christmas over a few months before the interest-free period ends.
The gender divide
The same survey found that there was a gender difference when it comes to gift-buying. Interestingly, men came out on top by spending an average of £410.85, compared to women who spent £373.18.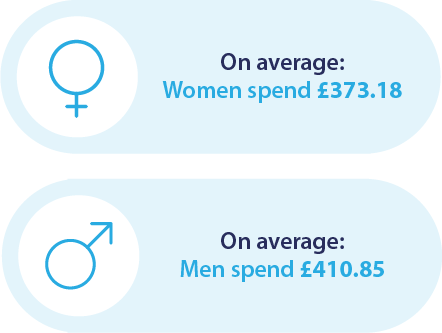 information from finder.com
How to avoid a financial hangover
The last thing you want is to spend half of next year recovering from the cost of Christmas. Take a look at these tips to save you reeling from a financial hangover:
Think twice before you buy
Sometimes we fork out for things because we feel like we should, not because we have to. Don't buy things for the sake of tradition – if you'd rather eat chicken, why pay extra for a turkey?
If you're flapping around on Christmas Eve, you could overspend if you buy the first things you see. Instead, start a little earlier and compare prices online. If you shop around or sign up to receive newsletters, you could receive discount codes to help you save.
Say no to unnecessary gifts
If you're buying all filler, you could end up wasting your money. Don't just buy gifts for the sake of it – your finances are more important!
You could spread Christmas over time to ease the strain on your wallet. For example, you could arrange to meet up with friends or family in January instead. This way, you could hit the January sales instead of paying for everything in December.
How do you cover the cost of the festive period? Let us know your ideas on Twitter!
Disclaimer: All information and links are correct at the time of publishing.