Here at Ocean, our goal is to help people around the UK create their dream homes. We do this by providing credit so people can get a mortgage, start their homes and make it into a place they want to live.
But one thing that could stop where you live being your dream home is loneliness – and this is a reality for many older people in the UK.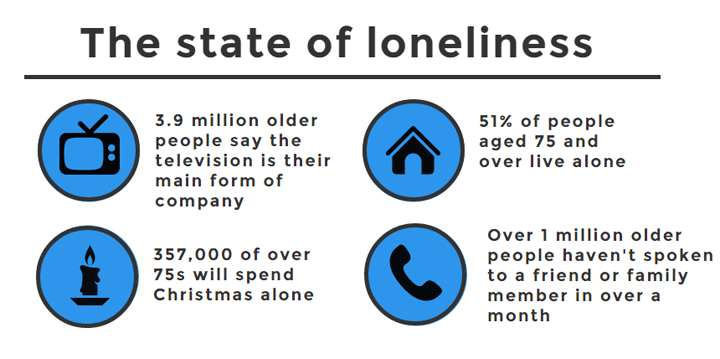 While being lonely is something that anyone can feel at any time, it's particularly common to feel isolated from community if you're living alone – and this is more likely to be the case for people who are older. According to ONS figures, more than half (51%) of all people aged 75 and over live alone.
And Age UK stats report that over a million older people say they haven't spoken to a friend, family member or even a neighbour for at least a month, with another 3.9 million of those in later life saying that the television is their main source of company.
Loneliness is particularly an issue at Christmas, the time of the year when families traditionally come together. But if you don't have someone to spend the day with, it's easy to see how you can feel cut off from the rest of the world. Over half a million older people say that they feel lonelier on Christmas Day than at any other time of the year, according to a Royal Voluntary Service report, with more than 375,500 over 75s saying that they'll spend this Christmas alone.
This shows just how easy it is for older people living alone to become socially isolated and lonely. And with an aging population, this problem is only going to increase.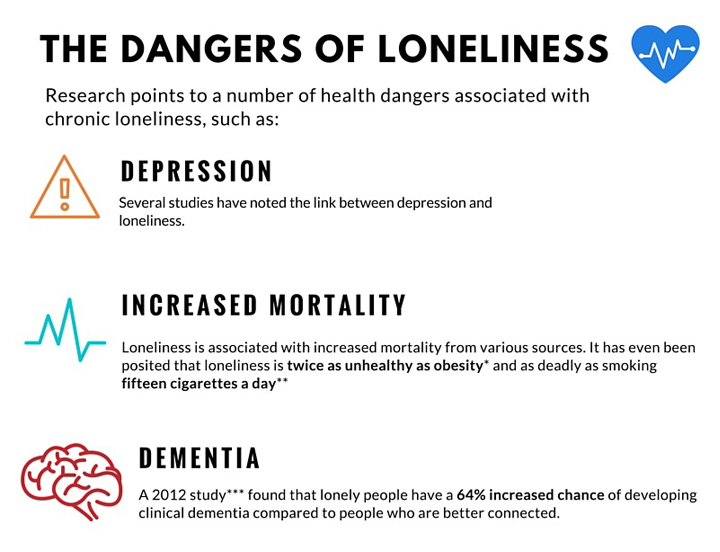 Loneliness is as deadly as smoking 15 cigarettes a day
It's easy to see how being lonely can make you feel shut off for the rest of the world, and it's not too difficult to imagine how this can lead to mental health issues like depression. It's proven that lonely people are more prone to depression (Cacioppo et al, 2006) but there are other mental health problems that are linked to loneliness, such as an increased risk of dementia and a decline in cognitive abilities.
In fact, a study (Holwerda et al, 2012) shows that lonely people have a 64% increased chance of developing clinical dementia compared to those who are better connected and have people to talk to regularly.
However, mental health issues aren't the only problems that can be caused by being lonely and isolated – it can also cause physical health issues. Research from the University of Chicago found that loneliness can be twice as unhealthy as obesity for older people; with those reporting that they were lonely having a 14% higher risk of dying.
It's also as deadly as smoking fifteen cigarettes a day (Holt-Lunstad et al, 2010) and could even increase the risk of high blood pressure (Hawkley et al, 2010).
Loneliness is a hard thing to deal with, but it can be even harder to get out of. One reason why it can be hard for someone to break out of the cycle of loneliness is that older people who are feeling isolated may find it difficult to reach out and not know who to turn to.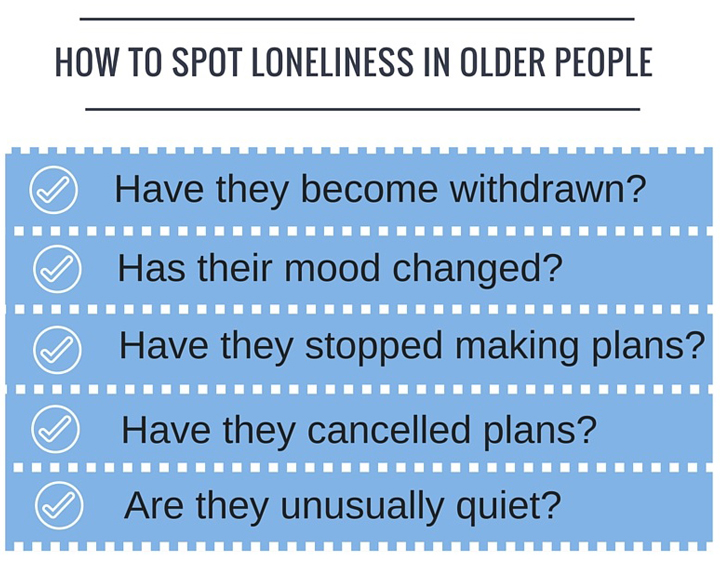 Five ways you could spot loneliness in someone you know
While for some it may be more obvious that they are struggling with loneliness, it can be much harder to spot in others. There may be people you know, or your local neighbours, who might not seem lonely at first glance. However, there may often be little warning signs that should trigger alarm bells in your mind – that's where this list could help.
A survey by Age UK found that nearly half of adults in the UK are fearful of being alone later in life, but for many people, this is the reality.
Being aware of the potential signs of loneliness so you can spot where it crops up might help you to make your family member, friend or neighbour's Christmas one to remember.
1. Have they become withdrawn?
If people stop carrying out their usual everyday tasks, this might show that they're suffering from loneliness. For example, if you usually see your neighbour at the local supermarket or taking a trip into town on the bus, but you haven't seen them for over a week, they could be feeling lonely. People who are feeling chronic loneliness will often withdraw from society and the things they used to enjoy, which in turn can make them even lonelier.

2. Has their mood significantly changed?
If they're usually quite noticeably happy, but you notice their mood has taken a swift turn, they could be suffering from loneliness. They may have become less talkative, optimistic or cheery, and this could be a warning sign.
Of course, loneliness isn't the only thing that could be affecting their mood in this way. They could just be feeling a little under the weather, or it could be an indication of serious mental health issues like depression.
3. Have they stopped reaching out to make plans?
As mentioned before, those feeling lonely are more likely to hide away and avoid social interaction altogether. So if someone you know has stopped making contact, and they haven't actively got in touch with you over a long period of time, now would be a good time to contact them.
Although other factors could be at play – such as a busy lifestyle or a new relationship – if they're usually in contact regularly, there might be something under the surface that isn't immediately noticeable. They may be feeling anxious or concerned that you will reject their offers to make plans, so decide not to reach out at all – which could be furthering their sense of loneliness.
4. Have they cancelled plans made with you or others?
It's normal to expect some cancellations every now and then from your relatives, especially if they lead busy lives or if they have other arrangements, but cancelling all plans or putting them on hold may indicate they are feeling lonely. One of the key pairings of loneliness is social anxiety, and they may feel reluctant to spend time with others if they are feeling down.
Putting plans on hold could also be an indication that they feel anxious to get involved in social situations. Although they could be for practical reasons, and they may in fact actually reschedule the plans, it's worth talking to them to see how they're feeling. However, try and be discrete about your reasons for enquiring, as asking them directly could actually have the reverse effect on some people and make them close up altogether.
5. Are they unusually quiet?
It's easy to get carried away in a good conversation, and it's understandable if you haven't noticed whether certain people are participating as much as they usually would – but if you're concerned, see how much they join in next time you're all together. When you're in a social group that's an odd number, or if it's made up of couples, then it's easy for someone to accidentally be excluded. It's usually not something we do intentionally, but it can happen so it's worth looking out for the signals.
Older people in particular may feel excluded – and as a result, lonely – if they feel they're not getting enough attention. The subject matter might not be something they can relate to, and they may not listen intently and instead wait their turn to talk about themselves.
For more information on loneliness, we've compiled a list of websites and charities that you can visit at the bottom of this page.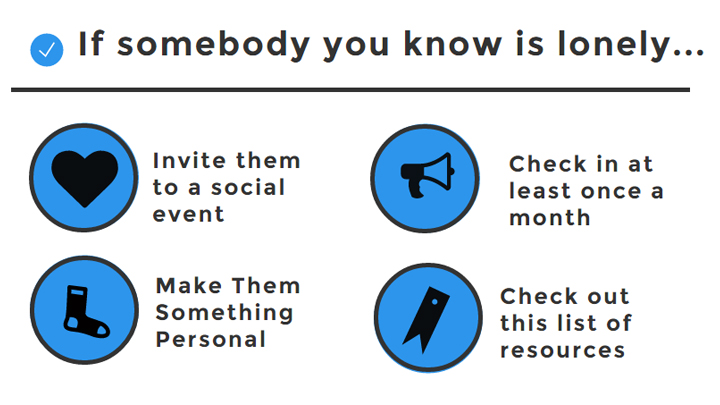 Five easy things you can do to help someone who is lonely
If after reading our tips on how to spot loneliness you suspect someone you know could be suffering from loneliness this Christmas, now's the time to think about taking action.
1. Invite them to a social event
Whether it's a family member, someone in your local neighbourhood or a friend, inviting them to a social gathering could help to make them feel less lonely. It doesn't have to be a big-scale event like a party –this could be overwhelming for them – but just inviting them round for dinner or a cup of tea is enough to make a difference. If it's a neighbour, why not have a small-scale barbecue and knock on their door to see if they would like to join?
These gatherings will give you time to chat to them and get to know them better. You can ask about their interests and find out if there's anything they have a passion for that they're not pursuing.
2. Make them something personal
Consider making something that you can take round to their home. If you bake, why not bake something for them? A cake, pie, cookies, bread or other goods are sure to bring a smile to their face. Or if you make other food or drink at home like jam, marmalade or pickle, these are sure to be a hit.
Rather than just showing up at their doorstep expressing your concerns, bringing a homemade gift softens your motives for coming over. You may be able to initiate conversation and if you don't know them already, it's a good way to start getting to know them better. Building a sense of community if they are your neighbour will also help to make them feel more included and valued.
3. Help them out
A good way to help an older person you know feel less lonely is to offer to help them with something they may struggle to do by themselves. Whether it's offering to drive them to the supermarket or doctor's, or pick up items for them while you are out. Driving may become more difficult or even impossible with age, and losing the freedom to travel distances as and when you want could enhance feelings of isolation and loneliness.
Offering your help with lifts or even just picking up items for them in town if they struggle with mobility is a nice way to help someone feel less able.
4. Get them tech-savvy
For older people, one of the most valuable things you can teach someone is to familiarise them with technology. If they're not already clued up on how the internet works, this can be a hugely valuable skill to teach. They may have lost contact with those they used to know, and some may have moved away and it could be difficult to keep in regular contact. Setting them up a social media account and showing them how to use it could be a huge deal to someone who is feeling lonely.
There are also plenty of social networking websites dedicated to connecting people with others who may share similar interests, or people of a similar age. If they have a passion for travelling, they could meet up with other travel-loving pensioners and form great friendships.
5. Be regular and consistent
Although it's all well and good helping someone you know out, it might have little effect if you only do this once. If you've invited them round for a brew or you've given them a lift to a doctors' appointment, try not to just leave it at that. Invite them round maybe once a week for a cup of tea or twice a month for dinner. This will give them a routine and something to look forward to. Plus, they won't feel like you've forgotten about them or that you simply didn't enjoy their company.
If you don't have the time to make regular visits, a simple phone call or even a text lets them know that somebody is thinking about them. The small details like this can often make the biggest difference.
Are you lonely or know somebody who is? These links may help
Disclaimer: All information and links are correct at the time of publishing.