It can take just seconds for you to decide whether or not you want to make a house a home.
If you're planning on selling your property, the sellers you're trying to attract are no different. If you've found the next home of your dreams, have arranged your new mortgage and all that's left is to secure a buyer for your current address, you could be waiting a long time if your house lacks curb appeal.
The thing is, the façade of your property is its front cover – it doesn't matter how spacious the bedrooms are or how modern the kitchen is, if the front of the property is a mess, buyers won't want to look inside. And even if they do get a foot in the door, they may have already been biased against it.
However, if you're planning to move out you probably don't want to spend a fortune sprucing up your current place. So what's the answer? Well read on for our tips to giving your home curb appeal, no matter what budget you're working with.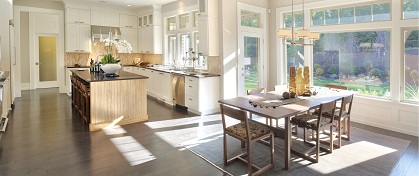 Windows
The windows of your house are like the eyes to its soul! They're also one of the first things you should look at if you want to improve your property's front.
If the paint on your window frames is chipped and peeling you should definitely rectify this by adding a fresh lick of paint. A bigger investment is having new double glazing fitted. While this may seem like a big cost if you're thinking of moving out, not having double glazing could be of significant detriment to your home in the mind of a buyer because it means the house is less energy-efficient. If you don't have it, buyers may even use this as motivation to reduce their offer.
Other simple ways to ensure your windows are looking their best include cleaning your net curtains if you have them, dusting your blinds and paying for a professional window cleaner to give them a polish if you're expecting potential buyers to visit.
Front door
As with your windows, the front door makes up a significant part of your property's exterior. If it's falling off its hinges, the paint is peeling or the letterbox is hanging off, it's not really surprising that this will put off any buyers. And it doesn't take too much time, money or effort to paint and varnish your front door – but it can give the façade of your home a whole new lease of life.
If you're not planning to move for a while it may be worth investing in a new front door. There are models available that are well insulated and extremely secure, which could be a plus point for future buyers. However, if this is a bit out of your budget you could update your door furniture – the letterbox, door handle and knocker – instead.
You should also consider your house name or number. While you may have been happy to simply paint your house name next to the door, purchasing some smart brass letters instead could provide a more attractive finish.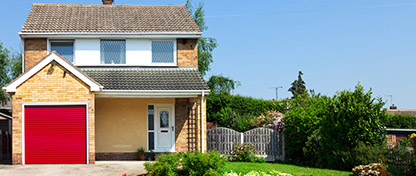 Path and drive
Not many front doors open straight on to the pavement – although some do – so it's likely you have at least a small path leading to your home. You may even have a drive. To make a good first impression on visitors and buyers alike, it's worth making sure these look their best.
It's not that expensive to do either, but it makes all the difference. If your path is tile, brick or cobbled, make sure you put weed killer down regularly. You could also consider hiring a pressure washer, which will leave your walk and driveway sparkling.
Finally, consider any repair jobs that need doing. If you have tiled steps and some of the tiles are split, it shouldn't be too big a job to replace these.
Green space
To catch the eye of a buyer, it's worth having some sort of greenery to welcome them to your home. Even if you don't have a lawn or front garden, you can add some greenery by fitting a hanging basket or placing a planter outside your front door.
If you do have a front garden, make sure it's looking its best if you're planning to sell. By doing a little gardening often, it should be an easy job to keep on top of. If you have a hedge, it's worth cutting it at the end of the summer and the start of the spring at least to keep it from getting unruly. And you should regularly mow the lawn, if you have one, during the spring and summer months so it doesn't look untidy. Now may also not be the best time to have your garden gnomes out on display, as – surprisingly – they could be off-putting.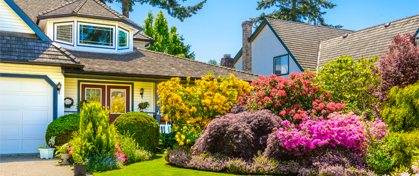 Boundaries
When a property can be the most expensive thing you'll ever buy, it's little wonder that you want to make its boundaries clear. This is usually done with a neat fence or a brick wall, and these too will require your attention if you're planning to put the property on the market.
Fences especially can start to look tired as the varnish fades and they become dappled with mildew and algae, but it doesn't cost a fortune to clean them up and re-varnish them. It's also a relatively simple job to replace any broken fence posts you notice, but it can make all the difference in the eyes of a buyer.
Tidy up
It sounds obvious, but you should tidy up the front of your home before you start promoting it to buyers. Any recycling containers you've been happy to store by the front door for convenience should be moved out of sight, and it's worth regularly checking that no litter has blown into your front garden.
Don't forget your kids' stuff either. If you're selling your house, now's not the time for them to be leaving their toys out on the lawn or locking their bikes to the front gate.
Be nice to your neighbours
While you're responsible for everything we've mentioned on the list so far, how attractive your home looks to visiting buyers could also be affected by your neighbours' properties. While you may have turned a blind eye to their overgrown lawn or collection of noisy wind chimes, a potential new homeowner may not be willing to do so.
Pop next door, explain you're putting your house on the market and offer to mow their lawn or weed their garden for them. They're hardly likely to turn down the offer of free work. The wind chimes may be a more delicate subject to approach, but if you have a good relationship with your neighbour it's still worth asking them if they wouldn't mind storing their ornaments for a few weeks.
We hope you've found this blog useful and that it's given you inspiration to improve your property's curb appeal. To find out what some of the most popular home improvement projects are, click here.
Disclaimer: All information and links are correct at the time of publishing.