Nothing screams New Year's resolution like the time-old tradition of getting fit.
And whilst plenty will valiantly commit to a healthier exercise routine, the reality is that for many it'll only last a week or two. All the good intent in the world isn't enough to haul some over the line.
One of the biggest barriers is cost. Gym memberships, prohibitive pricing on big items like bikes and the regular expense of yoga and pilates classes all quickly add up, and the sad reality is that they're easy expenses to trim.
Luckily, you don't need to invest too heavily to get fit - there are plenty of ways to do it on a shoestring. Not only that there are other financial benefits, because being healthy also is overall better on your wallet.
Even with the NHS readily available, the less active you are will lead to you being run down, which can mean time off work, extra pharmacy costs and even expensive trips to a physio or chiropractor.
Being physically fit greatly reduces the chances of these eventualities, as well as giving you more energy to be more productive (or start a side hustle). You should look at as an investment for your future, and luckily one that doesn't have to be expensive to do.
We've got together five ways to save money on the cost of getting fit, as well as three extra tips about how you can actually earn or save money on your standard costs whilst you do it. Good luck getting active!
1 - Workout in your own home
Flashy gyms do come with their advantages - high tech equipment, personal trainer sessions and luxury saunas - but they are also costly. Doing a home workout is a great way to start exercising before committing to a more expensive gym membership.
Classic exercises such as press-ups and sit-ups are easy enough for anyone to do at home, and a lot of the activities you do in the gym can be replicated there too (this straightforward seven exercise routine is a great way to start).
You can use large tins of food or fill large containers with water to work as dumbbells or kettlebells, and invest in relatively cheap equipment like resistance bands and rope.
2 - Start running
One of the best forms of exercise which you can do pretty much anywhere is running. Whether you are travelling, at work or at home, the only thing you really need is somewhere to shower afterward. This makes running arguably the ultimate cheap and free method of exercise.
If you are running consistently, you will need to invest in good quality trainers, which can often cost from £50-£150, but expensive running clothes aren't as important. Standard shorts or leggings, t-shirts and hoodies are all good enough for running up to 15-40 minutes at a time. If you do need to buy new clothes for it, then supermarkets or shops like Primark are a budget-friendly option.
You can also look to join parkrun, which a free organisation that coordinates local runs (usually 5k in distance) around the UK. And maybe listen to a podcast about your personal finances when you're out? Check out our seven podcasts to make you better with money.
3 - Get a bike on the cycle to work scheme
The government cycle to work scheme enables you to buy a bike, alongside any essential equipment such as helmets and clothing, and pay the full amount back in instalments. It deducts the amount directly from your wages, and you don't pay any tax or National Insurance as well. This can mean a relative saving of anywhere from 20-40% on the price you would pay in a shop.
Not every employer participates, and also it's worth checking whether you will actually own the bike until the amount is paid in full. But it's by far the most cost-effective way to get your own brand new cycle, and the recent scrapping of the £1000 limit means you can get any level of bike.
Alternatively, you could buy a second-hand cycle if you wanted to start on a budget. You could then potentially buy a more costly bike through this scheme once you are more ambitious with your cycling plans.
4 - Use the internet as your personal trainer
One-on-one support from a personal trainer is a great way to get fit, but it's also a huge drain on your finances. You can save on this by utilising the internet to give you all the advice you need, from everything from starting yoga or looking to build muscle definition.
Video tutorials for pretty much every workout exist on YouTube, whereas Pinterest is a great resource for searching regimes based on specific goals. Failing those, a good old fashioned Google search should provide you with plenty of research options.
Fitness apps are also extremely useful, with the likes of Strava, Myfitnesspal and Pear all offering free services. Many also do paid and premium options, so be mindful you don't inadvertently sign up for a subscription.
And if you still want that one on one support, buddy up with a friend and start training together. You can motivate each other and save both your finances at the same time.
5 - If you must join a gym, join a cheap one
Fully inclusive health clubs will drain your finances, even if they can come with saunas and other perks. You should always look to see if you can get a cheaper gym membership which fulfils your needs.
Your workplace may have its own or run concessions for a local one, and if you're unemployed check with your council about whether you are eligible for a free membership.
Gyms can also be competitive in January for all those people chomping at the bit to join with good intentions, so there may be cheaper offers available for trials. Don't be afraid to jump from gym to gym finding the best deal.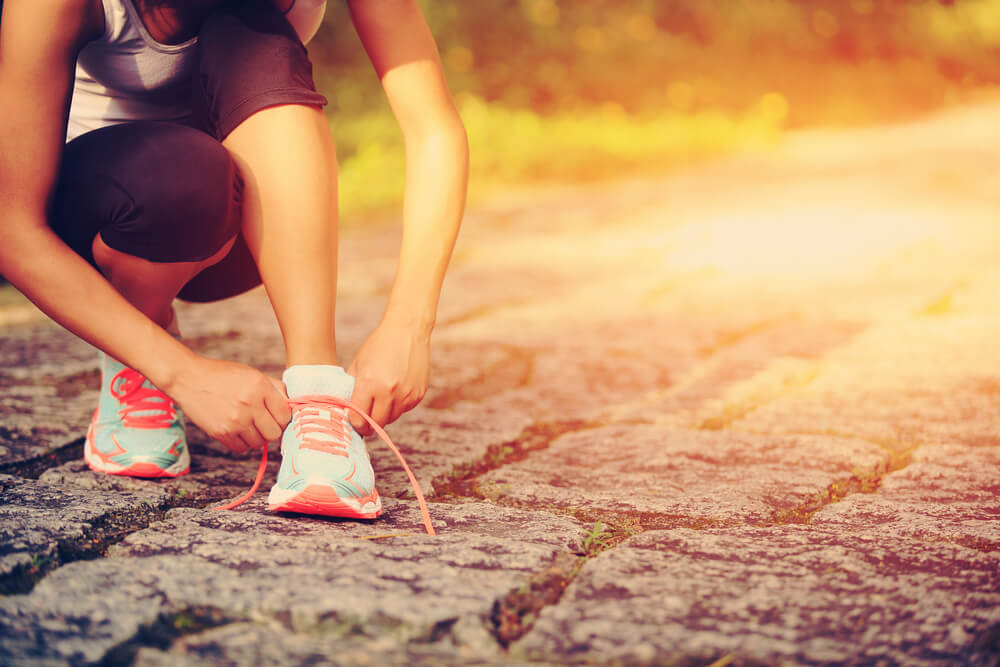 If you want to go one step further...
Never mind cutting the cost of exercise, do you know you can also use it to make you money or save on your other expenses? Well, it's easier than you think, with these three ways.
Ditch the Car
If you live within a reasonable distance from your office, you can start running, walking or cycling to work, which will save you a good wedge on car costs (and help the environment too).
You can also start walking to more places in general, including your local shops, visit friends and on nights out (although always try not to walk alone after dark). If you don't need to drive, don't.
Shower at work or the gym
OK, we're definitely not advocating turning up to the gym smelling but if you can utilise going to the gym or the office shower post-run without needing one at home, you will save money on your utility bills.
In fact, it's so common e that it even made it into the top 10 ways us Brits save money on a 2018 survey.
Incorporate it into your job
Getting fit and active can actually be part of your job as well. Certain jobs such as cyclist couriers, post office workers and landscape gardeners all incorporate a great deal of physical activity into a shift, meaning you get paid to get fit.
As with all employment though, research the pros and cons before taking up any position.
Disclaimer: All information and links are correct at the time of publishing.