These days, if you want to sell your home, you've got a couple of options as to how you do it - and you don't necessarily need an estate agent.
Of course, if you're a little unsure and need guidance, you might prefer to hire an estate agent to help you out, but you could surprise yourself by going it alone instead.
Taking the plunge
While it may seem like taking a dive into the unknown, opting to sell your home without the help of an estate agent means you also skip the fees that they would charge. This can save you quite a lot of cash in the long-run, so it's worth considering if you think you're up to the task.
Two of the first things you'll need to do is sort out a valuation and get an Energy Performance Certificate (EPC). Although you can do part of this yourself by comparing the prices of similar properties in your area on websites like Rightmove and Zoopla, it's also a good idea to get in touch with around four or five local estate agents to come and value your house for free. You don't have to commit to working with them, so it's perfectly acceptable to do this without spending a penny, and you can either contact them direct to arrange a viewing or do so through a website like Rightmove. For your EPC, you can find a Domestic Energy Assessor through the government register here.
Once you've done this, you can start to advertise your home to potential sellers. Without the help of an estate agent, this is where you will have to put the most work in. You should be able to list a description of your property along with high quality pictures and the asking price on some of the leading property websites, but you will likely have to pay a fee for this. There are some free alternatives – such as Property Sell and House Ladder – that open up your property to thousands of potential buyers, but these don't always allow you to upload photographs. You can also pay a small fee to advertise in the local paper or put up notices in supermarkets and other shops, so long as you have the owner's permission.
Once you have some interested buyers, you can start booking in viewings and showing off your home. It's important you give the potential buyer as much time as they need to view your home, so make sure you'll have a generous block of time free when you arrange the viewing.
Before your first viewing, you'll need to put in a bit of elbow grease so your property looks its best. To get your home in tip-top position for showing people around, there are a few steps you can take to maximise its appeal.
If someone who views your home is interested enough, they may make an offer over the phone. This can seem daunting, but keep a clear head and have a sum in mind that you won't take less than - although try to be open to offers below your asking price too. The minute you receive an offer you're happy with, you can get in touch with your solicitor to finalise the sale.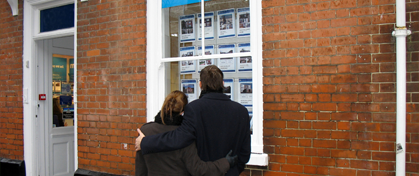 Playing it safe
If you don't fancy going it alone, there's nothing wrong with choosing to hire an estate agent - after all, selling a house is notoriously stressful so it's understandable if you feel you need a helping hand through the process.
With an estate agent, you'll benefit from help and advice at each step of the selling process, which can be invaluable – especially if you're a first-time buyer. Particularly when it comes to receiving offers and the buyers conducting surveys, an estate agent can be really useful as their expertise is unmatched.
One of the biggest bonuses of going with an estate agent is that they often have access to a wide range of websites and listings to advertise your home on. This might be something that appeals to you if you're keen for a quick sale. However, nothing is ever guaranteed and there are other ways to get your property out there.
Other alternatives
There are other options you could consider, including websites like Tepilo and Purplebricks, which allow you to advertise your home – complete with photographs – and to access help and advice from their panel of property experts. In exchange for this, they will charge either a monthly or one-off set fee depending on your postcode and their individual policy. It's likely to be quite a bit cheaper than going through an estate agent, who will charge you a percentage of your home sale for their services.
Ultimately, you could try selling your home by yourself and if it doesn't work out or you find it too much to keep on top of, there's nothing stopping you from progressing to one of these websites instead.
Disclaimer: All information and links are correct at the time of publishing.