Recent figures from the Society of Motor Manufacturers and Traders (SMMT) show that more than 460,000 new cars were sold in September, an 8.6 per cent increase on the same month last year.
Since the start of the year, more than two million new cars have been sold, making it the best year for car sales for over a decade.
According to SMMT, this is the 43rd consecutive month that car sales have continued to increase. Of course, not all of us are lucky enough to be able to buy a new car, but with all these new cars being purchased, now could be the perfect time to take advantage of the used car market. If you've been thinking about purchasing a second-hand car, here are some of the finance options available to you:
Dealer finance
When it comes to buying a used car through a dealer, you could be offered some form of dealer finance. Some dealers may offer you a car finance loan, which is essentially just a personal loan that you arrange through them. Although it may seem more convenient to sign up right then and there, these loans can be more expensive, so you should always do your own research and compare them to other personal loans available.
Alternatively you may be offered hire purchase by the second hand car dealer. As part of this, you'll put down a deposit (usually 10% of the value of the car) and pay the rest of the value in instalments over a set period of time. As you don't fully own the car until your last instalment is paid, the dealer has the right to repossess your vehicle if you fall behind with your repayments.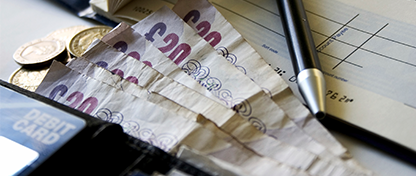 Independent finance
Loan
If you are buying from a dealer and don't want to use their finance, or if you plan to buy from an independent seller, then you will need to arrange your own finance. If you are buying from a private seller you'll need the finance in place before you start to view cars as, if you find one you want to buy, you need to pay fairly quickly. It may be that you have some savings that you can put towards the car, so you'll just need a loan to make up the difference.
One option is to take out a personal loan from a bank, building society or loan provider. Even if you've had problems with credit in the past, Ocean could still help you find a loan. When thinking about how long to borrow for, try to relate that to the age of the car and how long you think you might need it for. For example, if you are buying a clapped out, older car that you think might last a year or so, try not to take out a loan for any longer than a year. If the car does give up the ghost in 12 months, you don't want to have another 12 months of loan repayments to make!
Credit card
Alternatively, as second hand cars are relatively cheaper than newer models, you may even be able to use a credit card to pay for all or part of your purchase. Some credit cards, known as money transfer cards, allow you to transfer some of your credit limit into your current account. For example - at the time of writing - Virgin Money has a money transfer card offering 0% APR for 37 months on the balance you transfer to your bank account, subject to a 4% fee. So, if you had a card like this with a £1,500 credit limit and wanted to buy a car for £1,000 you could transfer that much to your current account to pay for the car. You would end up with a balance of £1,040 on your card (including the fee) and could then take up to 37 months to clear the balance, interest free. Remember that you must make at least the minimum repayment each month (if you don't you may lose the 0% offer) and, if you don't clear the balance by the end of the interest free period, the interest rate you will be charged could be quite high.
By using your credit card to pay for purchases between £100 and £30,000, you'll be protected under
Section 75 of the Consumer Credit Act. This means that if anything were to go wrong with your purchase (e.g. there was a fault with the car) you could claim your money back from your credit card provider.
Disclaimer: All information and links are correct at the time of publishing.