Once again, we've sought out this week's best deals, so you can save yourself time and money.
Save £110 on a pair of Beats Solo Pro headphones
If you like listening to music on the go or like to drown out the sounds of noisy neighbours, these noise cancelling headphones will go down a treat. Especially with 41% off the RRP. You'd usually pay £269.95 but they're currently on offer at Amazon for £159. All colours are eligible for this offer apart from dark blue.
Get 6 issues of Woman's Weekly magazine for £1
Woman´s Weekly magazine contains light-reading articles about health, fashion, days out, cooking, and more. If you want to try something new you can sign up to their subscription service. You'll receive a copy every week for six weeks for just £1 including delivery. Remember to cancel the subscription before the six weeks is up or you'll be charged the full price going forward. This offer is only valid for new customers based in the UK.
Get a McDonald's burger and fries (or salad) for £1.99
Just enter the "Food for Thoughts" code at the top of any McDonald's receipt on this website, and you'll fill in a quick survey. In return, you'll receive a voucher that you can use for a burger, filet-o-fish, or veggie deluxe plus a side order of fries or a salad. All for £1.99, saving around £2.
There's no minimum spend to receive a receipt with a code - a packet of sauce would do, just remember to keep the receipt and enter the code within 60 days.
Free NUXE skincare set worth £43
If you're a fan of the NUXE skincare range from M&S, then you'll love this offer. Buy two products from the NUXE range and you'll get a free set of NUXE goodies with a RRP of £43. The gift set contains six introductory sized products including Soothing Micellar Water, Body & Hair Dry Oil, and NUXE Prodigieux Floral perfume.
Simply add two qualifying NUXE products to your shopping basket and the free gift will automatically be added.
£35 Calvin Klein prescription glasses
On the market for some new specs? Valid until the 31st August, you can get your hands on a brand new pair of Calvin Klein glasses for just £35 from the online glasses retailer Low Cost Glasses.
Simply use the code MSELCGCK35 at the checkout and bag yourself a stylish new pair of prescription glasses. They also offer free delivery when you spend over £30 - so that's free delivery too!
Get £30 off your online shops at Waitrose
New customers can get £10 off each of their first three online shops of £80 or more with these discount codes. The orders have to be delivered by 31st August 2021 to be eligible. This offer is valid across the country, but in Wales, Scotland, and Jersey, alcohol will not count towards the £80 spend.
Use the codes in this order: AQ9357DD1, NQ5864DD2, and NQ2938DD3. Even if you only get to use one of the vouchers, that's still a good saving, especially as delivery is free with Waitrose.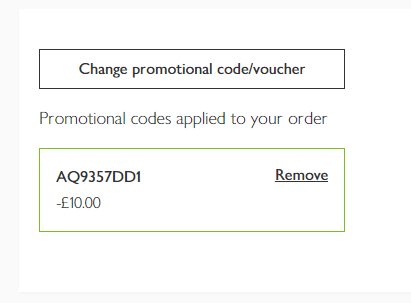 Keep reading to find out how you can save money on makeup too!
Disclaimer: All information and links are correct at the time of publishing.
BACK TO BLOG HOME