As many as 1.25 million couples live with their parents, with 1/4 admitting they made the tough decision to move home in order to save for a house deposit.
The same research from Churchill also reveals that less than a third of parents charge their child and partner rent, making the move back to the family home the perfect money-saving option for couples who want to buy a place of their own.
We analysed 347 areas in England from the latest ONS data to uncover how long you would need to move back home to save for the average house deposit - if you swapped your rent payments to live with your parents rent-free. Find your city in our database or read more about our findings below, with case studies from four couples telling their real-life stories, revealing the good and bad of living with parents.
The average couple needs to live with parents for three years to save for a house deposit
The average rent price in England is £725 a month, according to the most recent ONS report. With the average English house price climbing to £267,000, couples who save on rent by moving in with parents would need to live in the family home for just over three years (37 months) to save enough for the minimum 10% deposit of £26,700.
How long you would need to live with your parents to save for a house deposit
Explore our map of England below to see how many months you would need to live with your parents to save for a house deposit, based on the average rent price in each location.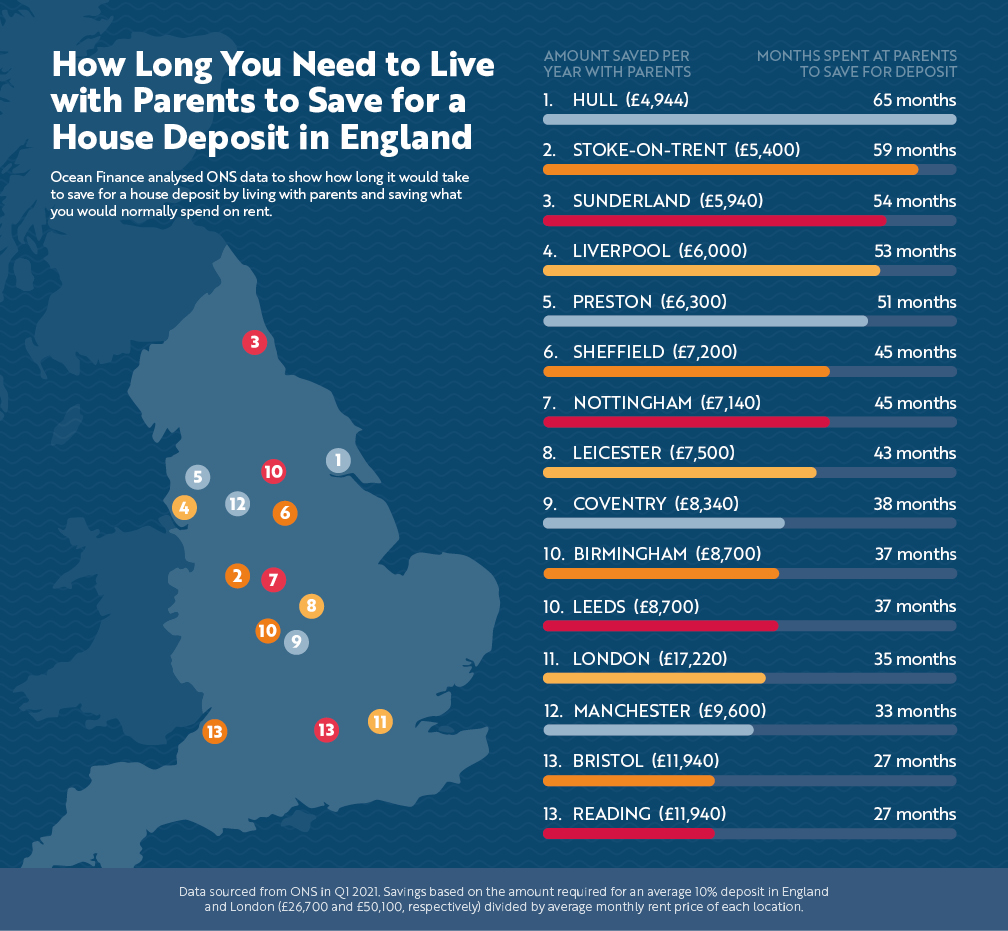 Couples in Hull would need to move in with their parents for the most amount of time to save for a deposit, on average, going back home for over five years (65 months). If they swapped their monthly rent payments for a rent-free stay, Hull couples could save an average of £4,944 each year.
Couples in Sheffield and Nottingham will also spend some time living with their parents saving for their home at almost four years (45 months), saving £7,200 and £7,140 respectively per year.
Those in Bristol and Reading are at the other end of the scale, having to live with their parents for the least amount of time at just over two years (27 months), saving £11,940 annually, on average.
London house prices have increased by 26k in just one year
If those living in the cheapest boroughs in London, such as Bexley and Sutton, could save their monthly rent payments by living at home, it would take almost four years (46 months) before they could afford a 10% deposit for the average £501,000 London home. This is likely to increase over time, as London prices rose by £25,926 since January 2020.
On average, Londoners would need to spend 35 months living with their parents to build their deposit, saving £17,220 per year. See how much you could save below, depending on where you live in the capital.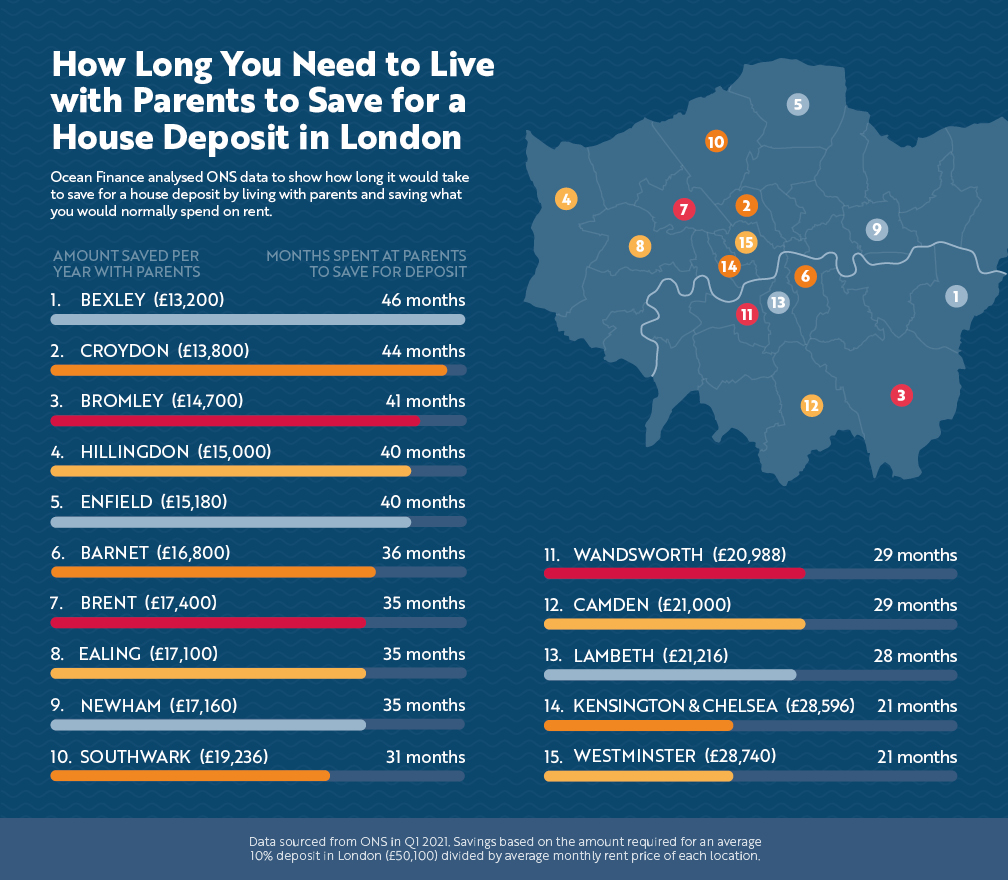 Couples living in Croydon will be waiting some time to save for a deposit - almost four years (44 months), if they live with their parents, saving an average of £13,800 annually.
Those who live in Brent, Newham and Ealing can expect to move in with their parents for almost three years (35 months), saving up to £17,400 each year on average by living rent-free.
If you're lucky enough to be able to afford a rented place in Westminster or Kensington & Chelsea, swapping your rent payments to live with parents could mean you would have a house deposit in under two years (21 months), saving up to an average of £28,596 per year.
Over 1/3 of relationships are hurt by couples moving in with parents
While saving money is essential to get on the property ladder, there are other costs to consider before couples move in with their parents. Research reveals that over ⅓ (34%) of parents say they had a negative experience after their child and partner moved in, with most arguments caused by the couple not doing enough housework.
But it's not all bad – we asked four couples to share their real-life stories, telling us the pros and cons of living with parents in order to save for that all-important house deposit.
Couples living with parents reveal their deposit-saving stories
Lewis & Chloe's story

Lewis and Chloe say, 'We both lived and worked in Wiltshire where we started a family, so we were looking for a house with a minimum of three or four bedrooms. Buying a family home down south would require a sizable deposit, but since our rent was so high, we couldn't save anything until our son turned three, which is when we'd be entitled to free childcare. So, we decided to temporarily move up to Sunderland, where Chloe's parents are from. Not only do we save on rent, but everything else is generally a lot cheaper in the north.
Pros and cons of living with parents
'The house feels very crowded at times, particularly on a morning when everyone needs to get ready with one bathroom! Changing jobs has been difficult, too. While Chloe managed to get a new job in Sunderland, Lewis has to travel for his and stays in a hotel during the week. It's expensive to pay for his accommodation and petrol, but we're still saving more than we could in Wiltshire. We also have free childcare thanks to my parents, which we're very grateful for.
How long do you think it will be before you have a deposit?
'If we stayed in the north, it would be about two to three years. It could be as long as five years if we want to buy in Wiltshire, so we're considering our options to find out what's best for everyone.'
Danielle and Cameron's story

Danielle says, 'Originally, I moved in with my parents to save money for a deposit for a house. I was previously renting with my boyfriend but we decided we wanted to buy and that would be the best option.
'I lived at home for around 18 months and over that time, I didn't end up saving as much as I'd wanted to. Mentally, I craved my own space and my relationship did really suffer. We'd gone from having a flat together and seeing each other every day, cooking meals together, having friends around, being able to come and go as we'd pleased, to then living back at home alone in a box room and a single bed, seeing each other on weekends. Sometimes, if one of us was busy it would be around a week before we saw each other, so we found it really difficult.
'In the end, we decided to move back in together and rent so that we could focus on our relationship over saving for a house. Ultimately, my quality of life came first at that point.
Pros and cons of living with parents
'Being able to save more than I would renting and seeing family was great, but there was a lack of freedom and impact on my relationship.
What are your thoughts on the UK housing market, availability and affordability?
'I think generally in the north, affordability isn't too much of an issue for most (compared to the south). It's the deposit that's the problem. Having to put down a 10%+ deposit on a house can be a huge amount of money. People that are renting are also often paying double what their actual mortgage would be if they had a house.'
Lydia & Matty's story

Lydia and Matty say, 'We had put an offer down on a house, so we eventually needed to move. Instead of renewing our tenancy agreement, we decided to try and save extra money by moving into my parents.
Pros and cons of living with parents
'We were able to move our furniture into my parents instead of renting out a storage space, so we saved a lot of money in that way. Lydia's parents charged us rent, but it was a lot cheaper than standard rent prices, so we were able to save money for renovation and solicitor costs.
However, it was very cramped! Lydia loves her parents, but spending that much time with them, and being that close to them, is a tad too much, especially considering we are all working from home.
What are your thoughts on the UK housing market, availability and affordability?
'It's certainly extortionate and doesn't reflect today's average wage. The government has made efforts to make the housing market more affordable, however, most of this is focused on new builds, which are already grossly overpriced.'
Alex & Will's story

Will says, 'We moved from Manchester to North Tyneside to live with my partner's parents in the house they own. We'd both been renting since finishing university, but over lockdown decided we'd like to relocate to the coast. As we were moving from one area to another, it made sense to move in with her family, so we didn't have to commit to paying rent before we had jobs lined up, and so we could benefit financially by minimising our outgoings. Moving in with family has meant that we are able to top up our deposit and give ourselves a buffer for emergencies.
Pros and cons of living with parents
'Finance and flexibility are the main benefits – we are saving money through not paying rent, and when we come to buy a house, the transition will be much easier. Aside from a lack of personal space, the only slight con is that Alex's parents live much closer to the coast, which we won't be able to afford when we buy. It might make me miss the beach more when we move!
Do you think the UK housing market is affordable?
'It worries us that property prices rise as quickly as they do. It feels unsustainable. Monthly mortgage payments seem generally reasonable, but deposits don't. Our deposit is self-funded, but we had to take a big risk by leaving our previous jobs and relocating during the pandemic. There must be so many people who could afford monthly mortgage repayments but can't get the deposit together.'
How moving in with your parents affects your mental health, according to an expert
We spoke to Environmental Psychologist and Wellbeing Consultant Lee Chambers to find out how living with parents as a couple can impact your mental health. He says, 'Moving back in with our parents is always a challenging proposition. There is no doubt the potential financial benefits can make it very appealing. Still, it does require significant intention to safeguard your wellbeing and a plan to ensure you can benefit from the savings you may make.'
If you are thinking about moving in with your parents to save for a deposit, here are five tips, with insights from Lee Chambers.
Five tips for couples living with parents to save for a house deposit
Moving in with parents causes the loss of social independence, which impacts self-worth and our identity. To help with this, set an endpoint to leave and become independent, so you then have the ability to plan to make the most of your time under one roof with your family.
Set boundaries. When moving back into our parent's house, we have to shift our expectations of place identity to somebody else, and this can be challenging as it might not feel psychologically safe to be yourself. It can also be an intrusive experience, with parents invading a couple's personal life in a way that makes you feel uncomfortable and on edge.
Communicate clearly, manage expectations and understand each other's needs. This applies to both you and your parents. For example, if you know your parents dislike mess, stay on top of your chores to avoid resentment. Equally, if you like your own space, ask your parents to avoid coming into your bedroom after a certain time in the evening.
Create a budget plan that shows how many months you need to save before you have enough for a deposit, so both you and your parents know roughly how long you need to live together.
Set up a Standing Order to save the amount you used to spend on rent to avoid an accidental splurge. So, if you used to spend £800 on your monthly rental payments, make sure to put that amount away in a savings account so you aren't tempted to spend it (and make sure your partner does the same).
Find more research and money-saving tips in the Ocean Finance blog, including the UK's best-value property hotspots and the credit score you need to buy a house. If you are a few months away from getting on the property ladder, you can build your score by using a credit card responsibly, which could help you get a cheaper mortgage rate.
Methodology
We studied 347 areas in England using the latest ONS data to find out the average monthly rental price in each location. Then, using the most recent ONS data for average house prices, we calculated how many months it would take to save for the average house deposit (10%), based on the couple swapping their monthly rental payments to live rent-free with parents.
Disclaimer: All information and links are correct at the time of publishing.
BACK TO BLOG HOME