Everybody loves a festive fact and we've got them by the bucket load! Take a look at these facts and impress everyone at the Christmas quiz.
Presents
Christmas is the time for giving, so it's not surprising that we spend lots over December. Here's the breakdown…
The average shopper this year will spend £597 on Christmas, with £299 of that spent on gifts
We'll buy 6 million rolls of sellotape to wrap our gifts in the run-up to Christmas
In the UK, 83km2 of wrapping paper is sold – enough to wrap the island of Guernsey!
According to the Centre for Retail Research, we'll spend £8.9 billion online this Christmas
We spend around £1.2 billion on unwanted gifts each year
If you added up all of the gifts mentioned in the song 'The Twelve Days of Christmas', there would be a total of 364 presents
The average parent will spend around £262 on gifts for their kids
When it comes to last-minute purchases, we usually spend a total of £33 each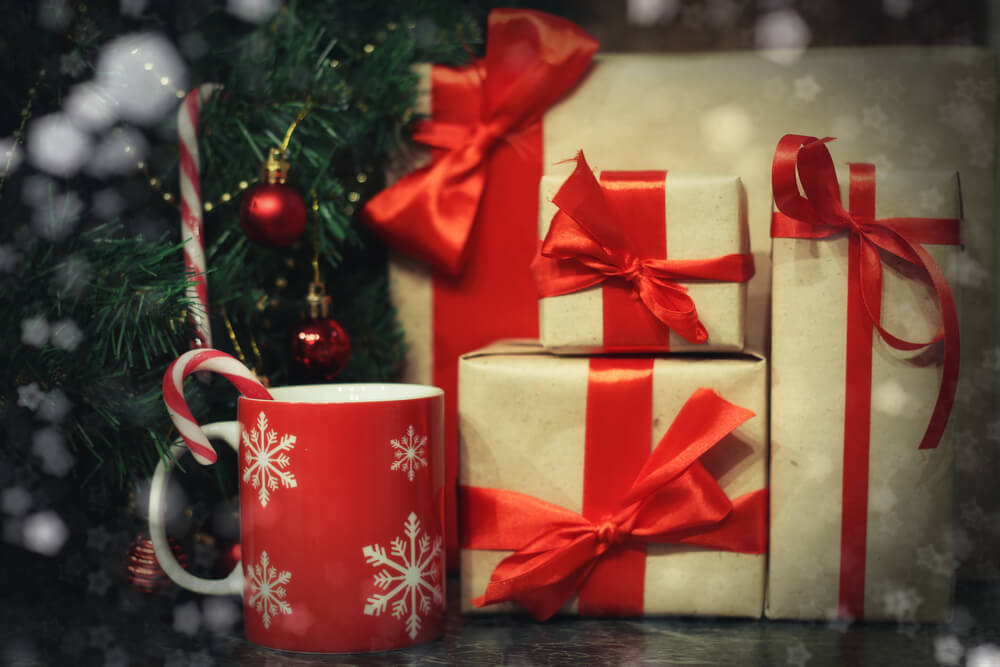 Food
For many of us, food is the most important part of Christmas. Let's take a look at the numbers behind our favourite festive treats:
5 million jars of cranberry sauce are purchased in the UK over Christmas
The average family spends £170 on their Christmas dinner
A typical Christmas Dinner usually contains a whopping 957 calories
300 million mince pies are eaten over Christmas
Around 10 million turkeys will be cooked on Christmas Day
Shockingly, 9857 tonnes of sprouts are eaten in December…which works out about 14 sprouts per person.
0 countries apart from the UK will tuck into a Christmas pudding this year
As a nation, we spend £1.6 billion on food and drink over Christmas… and around £275 million of that food will be thrown away over the festive period. Remember to save that turkey for your sandwiches!
Christmas traditions
From tucking into a Christmas pudding to watching the Queen's speech, we Brits love sticking to festive traditions.
13% of families in the UK will attend Church on Christmas Day
The Queen's speech was first televised in 1957… which was watched by a grand total of 7.6 million viewers last year
The average age of a Christmas tree is 15 years old
25% of our Christmas shopping time will be spent queuing
The largest Christmas cracker was a record-breaking 207ft long and 4ft wide… and the first Christmas cracker was introduced as early as 1845 by a London sweet maker called Tom Smith
Santa would have to visit 822 homes per second to deliver all the world's presents on Christmas Eve
The world's tallest Christmas tree was a jaw-dropping 221ft and stood in a Washington shopping mall in 1950
Films
Is there anything more festive than settling down to watch a Christmas film? Impress your friends with these A-list facts:
Disney's 2009 animated version of A Christmas Carol cost £190 million to make, making it the priciest Christmas film ever made
Bad Santa featured the 'f-word' a grand total of 147 times! Not one for the kids, then…
Will Ferrell turned down a jaw-dropping $29 million to make a sequel to Elf
In the Nightmare Before Christmas, each character had to have a total of 24 different poses per second of the film
Before filming The Santa Clause, Tim Allen adopted Santa's diet of milk and cookies to help him put on 45 pounds for his role
So, there you have our best festive facts. Think we missed any out? Let us know on Twitter!
Disclaimer: All information and links are correct at the time of publishing.
BACK TO BLOG HOME