Getting a mortgage can seem like a huge mountain to climb...
Even when you have saved a deposit and earn a healthy salary, it may feel that you still have hoops to jump through.
Always keep in mind that each lender has its own method of deciding who to lend to and how much they can borrow. This criteria will cover a handful of factors, including:
How much you want to borrow
The value of the deposit you've saved
Your monthly income
How long you have been in steady employment
Your monthly outgoings
Any existing debts you have and the amount
Your credit history

Keep an eye on your credit history
Once you decide to take that leap on to the property ladder, take a good look at your credit history and if it's less than perfect, start working towards improving this before you apply for a mortgage. It takes time to build it up, but a positive credit history can improve your chances of not only being accepted for a mortgage but also getting a better deal.
How can I boost my credit history?
One way to strengthen your credit history is to take out a credit card if you don't already have one. Providing you use it responsibly by making at least the minimum repayment on time, lenders can see you're able to borrow money and pay it back on time.
Be aware that because you're taking out a credit card for the first time, interest rates are likely to be quite high. However, you can see the card as a way to help you improve your credit history.
Use the card to make small purchases, but don't spend more than you can afford and always make at least the minimum monthly repayments. By sticking to this plan, your credit history should become much healthier.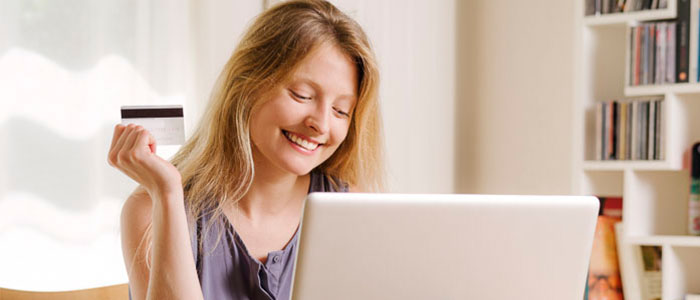 Credit-builder cards
At Ocean Finance, we have a credit card (39.9% APR representative variable) specifically designed to assist those with bad credit improve their credit history. As mentioned earlier, the key to building your credit history is to show responsible management of your borrowing. Keep within your card limit and always make at least the monthly repayments. Our QuickCheck tool allows you to check whether you're eligible before applying.
But I want the property now!
If your heart skips a beat whenever you think of a house you've had your eye on, and you don't want to let it slip out of your hands, you could consider other options. Speak with a reputable or recommended mortgage advisor to get professional advice and they can point you in the direction of lenders that specialise in lending to those with poor or a limited credit history. You can also research online to find out more about this type of lender.
When your credit history isn't in the best state, you will typically be charged a higher interest rate so the lender can offset the risk of lending to you. At Ocean Finance, we have experience working with customers who have less-than-ideal credit histories, so give us a call.
For more help with your finances and knowledge on credit cards, take some time to look at our blog.
Disclaimer: All information and links are correct at the time of publishing.