If your kid is moving out to go to uni, the thought of owning a property that you can rent out to your child and their friends might be something of interest to you.
But if you are considering this, recent changes to Stamp Duty taxes on second homes might make you think twice.
A big cost to buy a second property
If you're in a fortunate enough position to do so, renting out a property can bring in an extra source of income, and give you more control over the conditions your son or daughter lives in while studying.
However, these new Stamp Duty Land Tax changes mean you'll have to pay an extra 3% on the standard tax rate of any second property you buy. So if you already own a home (whether or not you actually live in it), you'll have to pay a higher Stamp Duty threshold for any additional property. You can find the new rates for second homes below:
| | | |
| --- | --- | --- |
| Property value threshold | Current SDLT rates | New SDLT rates |
| £0 - £125,000 | 0% | 3% |
| £125,001 - £250,000 | 2% | 5% |
| £250,001 - £925,000 | 5% | 8% |
| £925,001 - £1.5 million | 10% | 13% |
| £1.5 million and above | 12% | 15% |
This higher Stamp Duty charge may push up the house purchase from being affordable to stretching your budget too far. This is why it's vital you weigh up whether you can realistically afford to pay the fees before you make an offer.
Remember that you may have to budget for improvements and odd jobs around the property before you can begin letting it. All these costs add up, and when you factor in the extra Stamp Duty, you may soon realise it's simply not worth investing in a student rental property.
For example, if you buy a house for £150,000, you would have to pay £7,500 in Stamp Duty tax, which is £4,500 more than you would pay with the old rates.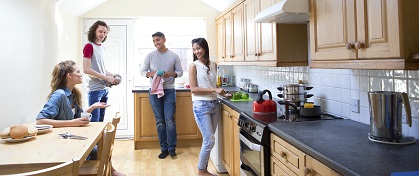 Do the maths first
Before committing to anything, it's a good idea to try to establish how much you'll need to spend on the property if it needs work, and how much you'll be charging tenants each month. Consider whether the amount you'll make back from this rent will be enough to make the property profitable.
Keep in mind that you might not start making money straight away, as it may take a while for your property to pick up interest from students. If you're letting it through a letting agent, you'll have to factor their fee into your budget too.
If you're taking out a mortgage to pay for the house, you have to remember to make your repayments each month. These new Stamp Duty rates may cost you far more in the outset than you anticipated, and if there's any indication your finances will be stretched too far, you should probably hold off for now.
And if you're still paying a mortgage for the home you live in, it's vital that you keep this as your priority. If you've struggled to meet payments in the past, it may not be wise to take on another mortgage at this time – and your lender may not be willing to lend you more anyway. Meeting two mortgage repayments in a month can be very tough, even with the extra income you receive from tenants.
Disclaimer: All information and links are correct at the time of publishing.