When we asked people from across the UK about their moving home costs, a third told us that they'd underestimated the total cost of the move.
In fact people said they had shelled out an additional £630 each on average when they moved that they hadn't budgeted for. With almost 13 million people moving home in the last two years, this means that cumulatively people have spent an extra £1.3 billion in unexpected moving costs.
If you're looking to take your first step onto the property ladder make sure you check out our guide to buying your first home >
Unexpected outgoings
1 in 5 of the people we surveyed admitted to under-estimating their moving costs by between £751 and £1,000, with a further 1 in 4 holding their hands up to underestimating the cost by more than £1,000.
Hiring a removal team seems to have caught many of us out, as this was the top reason given for overspending, with more than a quarter of respondents forking out more than they anticipated here. According to removalreviews.co.uk, the average removal costs for a three bedroom house move from Liverpool to Leeds, not including packing, would be around £600.
Most of us have probably experienced a stressful move or two in our time, and know that the thought of cooking a meal after a long day of unpacking boxes is often the last thing you want to do – so it's no wonder many opt for takeaways instead. Unfortunately these costs add up, and one in three movers say buying takeaways during the big move was an unexpected cost.
Those who downsized their home found paying for storage to be a costly affair, while other unexpected costs included hiring tradesmen to fix things like toilets and washing machines, and hiring a skip to dispose of all the rubbish.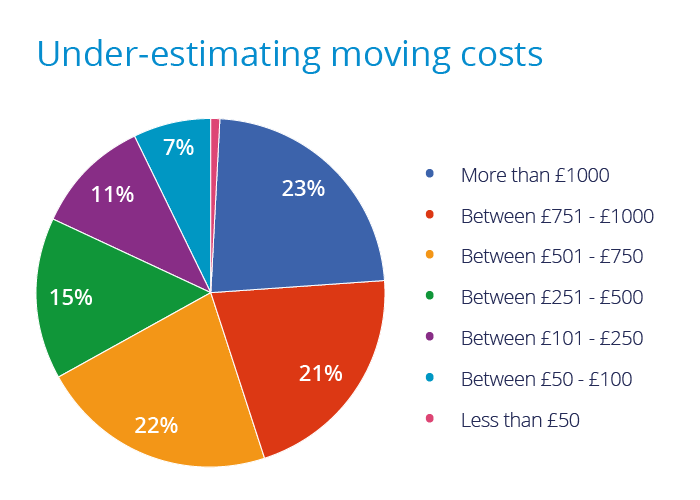 The top five reasons given for going over budget were:
1. Underestimating the cost of a removal company
2. Buying takeaways during the moving period
3. Having to pay for storage
4. Paying for a tradesman to fix things
5. Having to hire a skip
Click here to read our simple guide to mortgages >
*Red Dot questioned a nationally representative sample of 2,000 adults aged 18 and over between 31st July and 4th August 2015, of whom 641 were Scottish residents.
Disclaimer: All information and links are correct at the time of publishing.