Until today, Apple Pay was the only main smartphone payments service available for people in the UK.
For anyone without one of the latest iPhones, this might have been a feature you've been quite excited about.
Well, from today onwards, many Google Android smartphone owners will be able to pay for things without taking their credit or debit card out with them.
A handful of banks
For now, the banks that are on board with Android Pay include:
- Bank of Scotland,
- First Direct,
- Halifax,
- HSBC,
- Lloyds Bank,
- M&S Bank,
- MBNA, and
- Nationwide Building Society.
If you have a MasterCard or Visa credit or debit card with any of these banks, you should be able to activate Android Pay.
For those living in London, you'll be able to use this new service on the Underground when you need to buy tickets.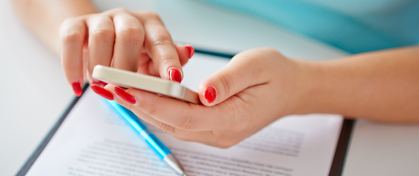 Most Android smartphones included
Unlike Apple Pay, which is only available to people who own a model from the iPhone 6 onwards, just over three quarters of Android devices support this pay system.
To start using it, you'll need to download the Android Pay app, and your smartphone must be running Android 4.4 KitKat or later. Your smartphone must have near field communications technology (NFC) too.
The majority of top and middle-range Android smartphones have NFC technology. If you're unsure, there's a complete list of all the devices that support this technology – you can head here to search for your smartphone.
Once you're all set up, you should be able to start paying for things using your smartphone. All you have to do is head to a store where Android Pay is accepted, and then tap your phone on the contactless reader while it's awake.
You can make payments over £30 with this technology, which is more than the standard contactless limit. There's an extra level of security here though, so you'll have to either unlock your smartphone with a pin, fingerprint or an unlock pattern.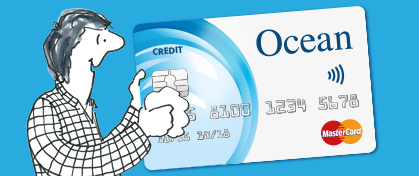 The Ocean Credit Card
The Ocean Credit Card doesn't support Android Pay just yet. Our credit card is provided by Capital One, and at the moment there are no timescales for when they are planning to introduce this technology (or Apple Pay) to their cards, but it hasn't been ruled out for the future.
Although we don't have Android or Apple Pay just yet, you can still make contactless payments with the Ocean Credit Card. If you haven't taken advantage of this feature yet, why not give it a go? Next time you pay for something under £30 in a shop, ask the shopping assistant if they take contactless (or keep an eye out for the contactless readers). Then, all you have to do is tap your card on the reader and your payment will go through. It's especially useful if you're in a rush!
Disclaimer: All information and links are correct at the time of publishing.