At the beginning of September, we challenged a number of bloggers and their children to decorate a cardboard home in the style of their 'dream home'.
We had some incredible entries, and deciding on the winner was certainly a tough job for our judge! However, after some serious deliberation, a winner has been picked, and we are pleased to announce that Tina from Trials and Tribulations of a Brummie Mummy takes our first prize and will receive a £100 Toys R Us Voucher.
Here is the feedback from our judge:
1st Prize of £100 Toys R Us Voucher goes to "The Halloween Haunted House" by "Trials & Tribulations of a Brummie Mummy".
"This wasn't just chosen as our winner because of how very apt it is for this time of the year: it's down to the sheer amount of imagination, creativity and hard work the children have put into this house. The props are a great addition and the lights at night time really bring this house to life. Spooky and fantastic! Well done."
2nd Prize of £50 Toys R Us Voucher goes to "The Christmas House" by "Catching up with the Clarkes".
"What a cute, sweet, perfect house this is! The snow and grass really add to the character of this house and I love how the children have used their own socks to put out on the windowsill for Santa to fill. The brickwork must have taken ages to complete and it looks cosy inside too with the light on. Well done elves, what a wonderful house."
3rd prize of £25 Toys R Us Voucher goes to "The Weather House" by "The Witt Family".
"What a brilliant idea, to use all four sides of this house to display the four seasons. I have to say that the tree won it for me. I LOVE the use of leaves in addition to this tree and how some of them are blowing in the wind. Very colourful, with imaginative use of handprints, paint and pens. A house for every season of the year. I love it."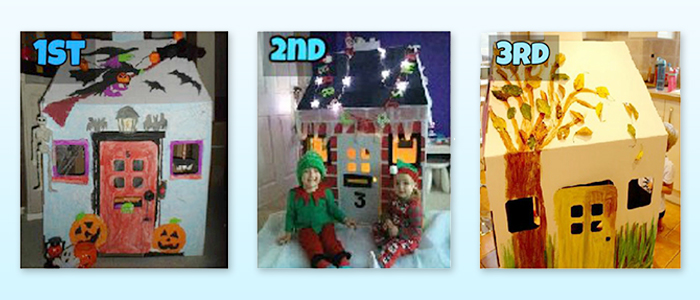 Thank you to everyone who took part in this campaign - we do hope you all enjoyed it. If you'd like to take part in any other campaign run by our homeowner loans team, please email [email protected]
Disclaimer: All information and links are correct at the time of publishing.