If you love looking at the gifts on notonthehighstreet.com and Etsy, but fancy making your own at a fraction of the price, our guide to the top 7 creative gifts for your mum might be right up your street!
10 Things I love about you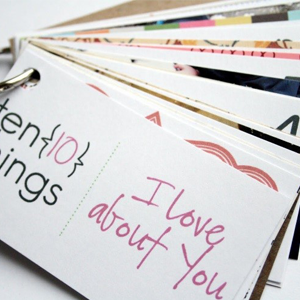 We love this Mother's Day gift idea from Ashley at the Creative Place's blog. If you feel that you don't tell your mum how amazing she is often enough, then why not make her '10 Things I love about you' cards. You just need to think of ten compliments you want to give your mum and write them on some pocket-sized pieces of card. Add in some interesting photos and images that bring back memories of the times that you've shared together, and then secure them with a jump ring from Amazon or Hobbycraft.
Here are some ideas to give you inspiration:
I love… how thoughtful you are.
I love… how you always listen when I need someone to talk to.
I love… spending time with you, watching chick-flicks.
I love… how strong you are and how you fight for what you believe in.
Teacup candles
If your mum loves afternoon tea, why not make her a teacup candle? You should be able to pick up a nice vintage teacup and saucer from a charity shop for less than a pound.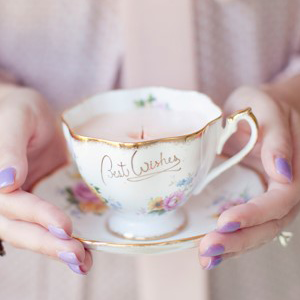 You'll need some eco-friendly candle wax flakes, a couple of wooden skewer sticks, a pre-waxed wick, sellotape, scissors, a pan, a bowl, oven gloves and an oven.

Place the top of the wick between the two wooden skewers and then tape them together. Position the wick into the middle of the cup so the metal base is at the bottom of the cup. Carefully pour in the melted candle wax (to find out how to do this click here), filling the teacup until only about 30mm of the wick is showing. All you need to do then is leave to set for a few hours and trim the wick, removing the skewers as you do so.
When presenting the gift to your mum, you could wrap it up in some tissue paper and put it in a box, alongside a packet of her favourite biscuits or some speciality tea.
Hand Painted Mug
We love these hand-painted mugs by mystudenthalls.com.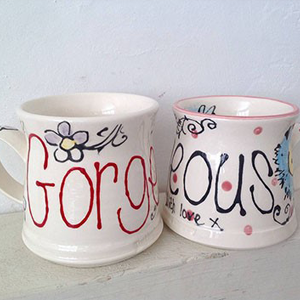 You can purchase a cheap, plain mug from a supermarket and then paint on your own design using ceramic paints or porcelain pens. You could write a special Mother's Day message or even draw a picture of your mum, if you feel up to the challenge!

Once you have painted your design, you'll just need to bake the mug in your oven for a while (for exact temperature and timings refer to instructions on the paints/pens you use).
Flower biscuits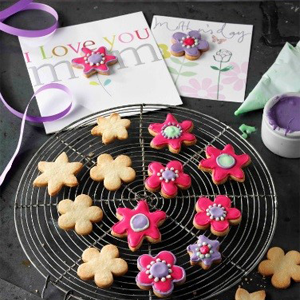 If your mum has a sweet tooth, then why not bake her some lovely flower cookies? If you hunt around your local card shops you may be able to find a card with a flower design that you can add a cookie to the front of to make it extra special.
We love these cookies by Anna from the In The Playroom blog. Check out her recipe here.
Alternatively, why not have a go at baking your mum's favourite cake? There are lots of great recipes and step-by-step videos on the BBC Food website. You'll be spoilt for choice, as they have over 500 recipes for you browse – so no excuses!
Handmade bath salts
Why not give your mum some handmade bath salts, rather than buying her the typical set of smellies? All you need is a jar or container, some Epsom salt, grapeseed oil and some essential oil. Simply add ¼ cup of grapeseed oil and 3 drops of essential oil to 1 cup of Epsom salt and then pour into your jar. For the label simply make your own and fix to the jar-easy!
It's totally up to you which essential oil you choose. Blogger Elli recommends chamomile, geranium, jasmine, lavender, rose and ylang ylan for their relaxing qualities and eucalyptus, lemon, orange, oregano, peppermint and rosemary for their reviving qualities.
Thread card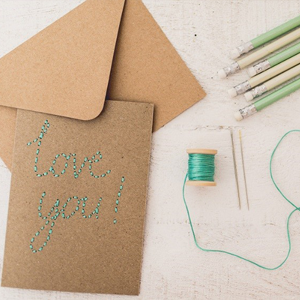 We love this thread card by rockmystyle.com. It is so simple yet effective! All you need to do is write the wording you want onto some card and then use a darning needle to punch small holes every 5mm.
Once that's done, simply rub out the wording and start stitching. Your mum is bound to love it more than a shop-bought card!
Wording wise you could choose to say anything you fancy – 'I love you Mum', 'You're One in a Million' or just 'Mum.'
Bath bombs
These heart-shaped bath bombs are super cute. To find out how to made them visit the Tiger Lilly Quinn blog.
You can make them in any shape you wish, as long as you have a suitable mould or ice cube tray.
Colour wise you could stick to one colour or mix it up and choose a few of your mum's favourites!
You'll need 68g citric acid, 136g baking soda, 96g cornflour, 34g sugar, 15 drops of essential oil, 6 drops of natural food colouring, wooden spoon, bowl, ice cube tray, spray bottle and a storage jar.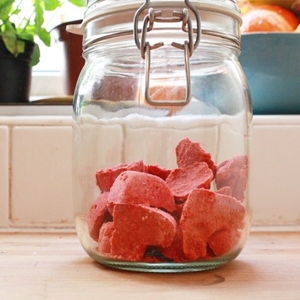 Firstly, mix together the citric acid, corn flour and baking powder in a bowl, then add the sugar. Spray water onto the mixture and 6 drops of food colouring – you don't want the mixture to be wet but it needs to stick together enough for you to put in the ice cube tray. Leave it to set overnight and then simply pop the bath bombs out of the ice cube tray and into the storage jar.
Whatever you choose to make your mum, she's bound to love it much more than a shop bought present.
Disclaimer: All information and links are correct at the time of publishing.