It's that time of year where we watch our loved ones say 'I do' and our bank accounts say 'Not again…!'
Weddings can be an expensive time – and not just for the bride and groom. With new outfits to buy and maybe even a hotel to book in the evening, wedding gifts can often tip your budget over the edge.
Well, look no further, because we've come up with some ideas which will win over your bank balance and newlyweds alike…
1) Honeymoon theme
Find out where the couple are jetting off to after their nuptials and you could surprise the happy couple with a gift to take on their honeymoon.
If they're planning on lounging by the beach for their honeymoon, you could find some travel accessories they could use on their trip, like matching beach towels. You could even look for personalised options for an extra thoughtful touch – check out these luggage tags!
Even if the couple are planning on staying on home turf, you could find some great honeymoon gifts. If they're an adventurous pair looking to camp in the great outdoors, they might love some Mr and Mrs camping mugs to take away with them.
2) Make it personal
Nothing says 'thoughtful' like personalised gifts and you won't need to spend beyond your budget!
By choosing relatively everyday items to personalise – like eggcups or champagne flutes – you could stick to your budget whilst impressing the bride and groom. There are loads of online retailers who offer personalised items for the couple to enjoy once they've tied the knot – but you could cut costs even more by getting arty and personalising items yourself!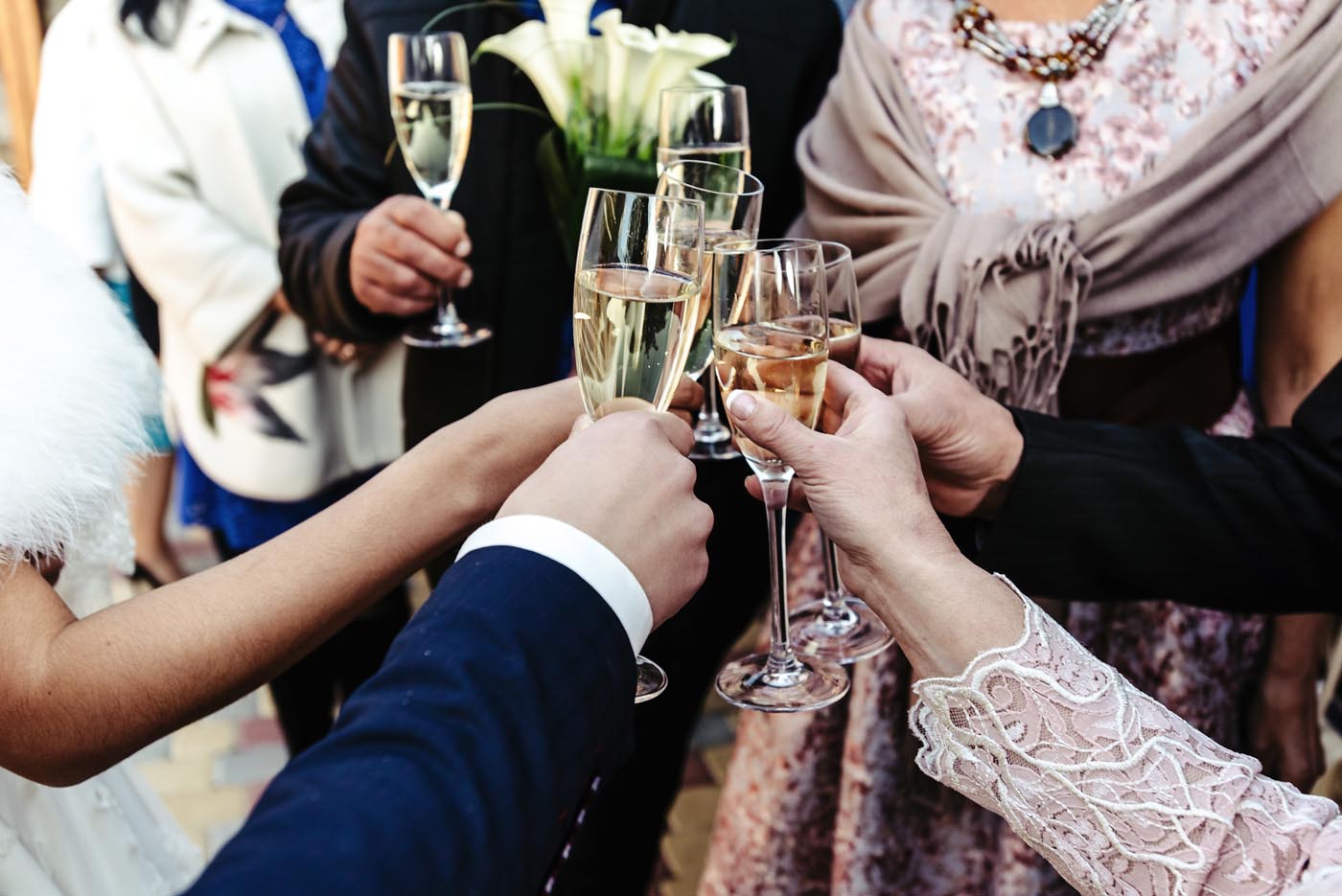 3) Get crafty
Speaking of which… you could embrace your crafty side and get stuck in making your own gifts.
For an easy but meaningful idea, you could find maps of their honeymoon location or the place where they got engaged and place them in a nice picture frame, so they can hang them up in style. Similarly, you could find their favourite song or wedding dance and frame the lyrics to help them remember their special day.
If you've got green fingers, you could look into making a homemade terrarium – which is like a tiny indoor garden – to add a bit of green to their home.
Don't take our word for it, though – think about what's close to the bride and groom's heart and you'll be sure to hit the nail on the head!
4) Night in essentials
After the stress of planning the big day, you could win over the newlyweds by giving them all they need for a cosy night in. A hamper or basket filled with things like blankets, popcorn, wine, candles or even a voucher for a takeaway could be the perfect gift without spending too much. They'll love you for it!
5) Experiences
For the couple who already have it all, you might be better off giving them an 'experience' present. Sometimes experience presents can be costly, but there are some ideas which won't break the bank.
You could think about where they like to eat – if they can't get enough of a certain restaurant, you could give them a gift voucher which covers all or part of the cost of their meal. Or, if they're film fanatics, a cinema voucher could be a welcome gift. Thinking about what the couple enjoy doing in their spare time may help you find the perfect wedding gift.
When it comes to weddings, we ask… who should foot the bill for the big day?
Links in article valid at the time of writing on 31/07/2018
Disclaimer: All information and links are correct at the time of publishing.