When it comes to cutting costs and saving money, little luxuries and treats like takeaways are often the first things on the chopping block.
But, cutting out takeaways doesn't have to mean missing out on your favourite dishes.
Today, we bring you four fresh recipe ideas that you can make for far less than the cost of takeaways.
Prices included for main ingredients are taken from Tesco's website and correct as of 22/08/2022. We've taken the lowest-priced items and divided them by the portions used in each recipe.
Japanese fakeaway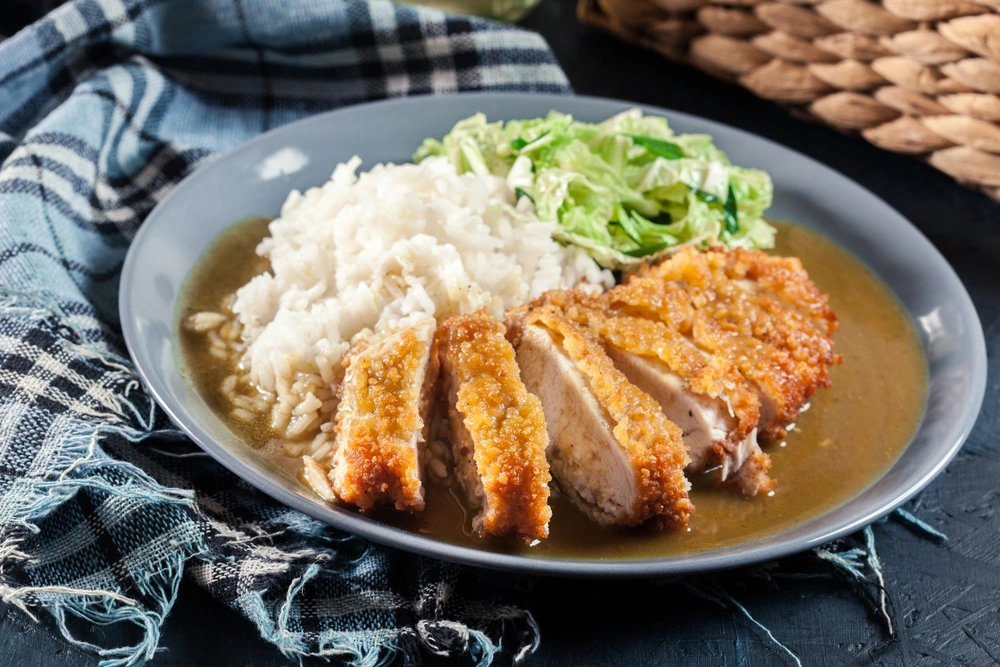 Katsu curry (serves 2)
Wagamama's katsu curry is the stuff of legends. And, because they've published their recipe, you can make a katsu as legendary as theirs in the comfort of your own kitchen! If you don't each chicken, you could use vegetables such as sweet potatoes and aubergine if you prefer.
1 onion
1 garlic clove
5cm piece of ginger
1 tsp turmeric powder
2 heaped tbsp mild curry powder
50g + 1 tbsp plain flour
2 eggs, lightly beaten
100g panko breadcrumbs
1 chicken or vegetable stock cube
100ml coconut milk
1 tsp light soy sauce
2 skinless, boneless chicken breasts
120g rice
40g mixed salad leaves
1tsp sugar
Total £5.58 for two (not including spices)
Top tip: If you don't have all the herbs and spices needed to make the sauce, check your local supermarket's World Food aisle for S&B Golden Curry blocks! Buying a pack of these could work out much cheaper than buying all the different spices needed for a katsu curry sauce.
Instructions:
For the sauce
Heat 2 or 3 tbsp of vegetable oil in a large saucepan and start to soften the chopped onion, crushed garlic and grated ginger. Add the curry powder and turmeric, then turn the heat down to low.
Add 1 tbsp of flour to the pan and cook for a minute with the spices. Add the stock cube with 300ml boiling water – slowly. Follow this with the 100ml coconut milk, the teaspoon of sugar, a dash of soy sauce and a pinch of salt.
For the meat
In a separate large frying pan, heat a bit more vegetable oil.
Split the chicken breasts in half and coat in 50g of flour. Soak each one in egg, then dip into breadcrumbs, making sure all sides of the chicken are fully covered. Fry them in the pan until the chicken is cooked through and golden brown.
At the same time, cook your rice according to the packet instructions.
Strain your curry sauce through a sieve if you like or leave it chunky.
Serve the chicken and rice drenched in sauce, with mixed salad on the side.
Mexican fakeaway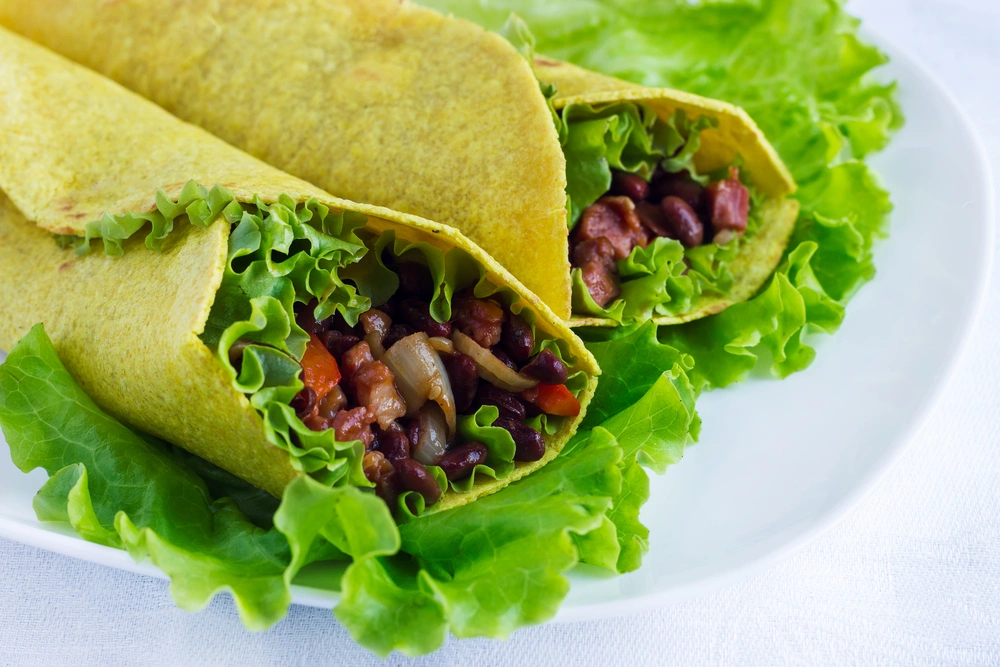 Banging veggie burrito (serves 4)
Tortilla wraps
1 red onion
3 peppers in colours of your choice
1 courgette
1 packet of fajita seasoning
1 can of black (or taco) beans
120g long grain rice
salsa
guacamole
sour cream
lettuce (optional)
Total: £9.93 for four
Instructions:
In a large frying pan, heat a small amount of vegetable oil.
Finely slice your red onion, peppers and courgette. Put all the vegetables in the pan and fry on a medium heat until soft and a little bit charred. Add the fajita seasoning and beans to the mix.
Meanwhile, cook the rice according to the packet instructions.
Assemble your burrito! Lay a wrap on a flat surface, and pile rice, cooked veggies and beans into the middle. Add a dollop each of salsa, guacamole, and sour cream. Then sprinkle some grated cheese over the top.
Fold your burrito – to make sure you don't get any filling leaking out, follow the technique in this video!
Italian fakeaway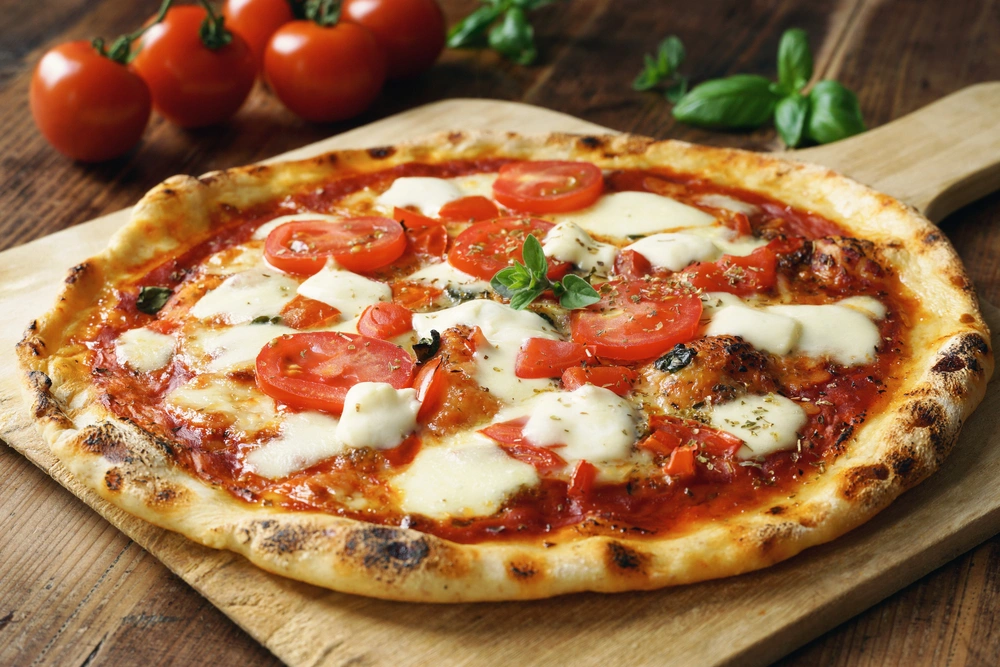 Homemade Margherita pizza (makes 2)
300g strong bread flour
1 sachet fast acting yeast
500g passata
1 ball of mozzarella
1 tsp salt
1 tbsp olive oil
Total: £1.22 for two
To make the base, put the flour in a large mixing bowl, then stir through the yeast and a pinch of salt. Make a well in the middle and add the olive oil and 200ml of warm water. Bring the mixture together with your hands until you have a soft, wet dough.
Lightly flour your work surface and turn the dough out of the bowl onto the worktop. Knead the dough for 5 minutes until smooth and stretchy. You might need to add more flour to your work surface as you go to prevent the dough from sticking.
Put the dough back in your mixing bowl and cover it with a tea towel. Set it aside and leave the dough to rise for a couple of hours, or until it's doubled in size.
When your dough looks ready, pre-heat your oven. Turn it to 240C, or as hot as it'll go.
Then, come back to your dough. Tip it back out onto a floured work surface and give it a light knead to knock the air out of it. Then, split it into two balls. One at a time, roll the dough into large circles about 25cm in diameter. It should be thin, but not tear when you lift it.
Place each pizza base onto a lined baking sheet or pizza tray.
Top your pizza! Start with a few spoons of passata spread over the base (remember to leave a generous crust!), then add some shredded mozzarella and any other toppings that take your fancy. What about some pepperoni or basil?
Pop your pizzas in the oven for 8-10 minutes until the cheese has melted and the dough has risen a little. Slice, and serve. Delicious!
Thai fakeaway
Thai green curry (serves 4)
3 shallots
1 jar of Thai green curry paste
1 red chilli
350g butternut squash
1 red pepper
150g mangetout
130g baby corn
400g can of coconut milk
250g long grain rice
Total: £9.33 for four
Instructions:
In a large, deep frying pan (the kind that comes with a lid), heat a small amount of vegetable oil.
Peel and chop the butternut squash into cubes about 2cm in size. Set this aside for now.
Finely slice the shallots and chilli and add them to the pan, frying until they're soft but not caramelised.
Deseed and slice the red pepper. Add the pepper and chopped butternut squash to the pan.
Add the curry paste and coconut milk, as well as 200ml water and stir through.
Pop the lid on your pan and leave it for 15-20 minutes, until the squash is tender.
Meanwhile, cook the rice according to the packet instructions.
When the squash is cooked, stir the mangetout and baby corn through the curry and pop the lid back on for another 5 minutes to make sure these are cooked through.
Serve your curry over a bed of fluffy rice and enjoy!
Don't fancy these dishes? Try the recipes on for size!
Disclaimer: We make every effort to ensure that content is correct at the time of publication. Please note that information published on this website does not constitute financial advice, and we aren't responsible for the content of any external sites.