With most children still off school and PE lessons on recess, parents are wondering how to burn off their kid's energy. So we've done some research into fun resources you can use to keep them active, without splashing out.
It's important to include some movement into your kids' day, at any age. It's good for their physical and mental health, general happiness - and helps them sleep better!
The NHS recommends 60 minutes of moderate physical activity per day for five to 18-year-olds. They suggest adding an extra two hours for young children aged one to four (spread throughout the day). Mix it up and include some aerobic exercises as well as activities to strengthen their muscles and bones.
To give you some inspiration, we've come up with over 20 fun activities for kids of all ages. (Some can be modified depending on ability).
Remember to always practice social distancing and personal hygiene when out and about. Check the Government website for in-depth guidance on this, as well as updates on the phased return of sport.
The playground (in England from 4th July '20)
You'll be able to take your kids to the playground from Saturday 4th July, which will be welcome news for many. You'll no longer have to avoid the swings and slides for fear of sparking off a tantrum. Instead, you can make visiting your local playground part of your family routine. You could always take a frisbee or football with you, to burn off even more energy.
Outdoor gyms (in England from 4th July '20)
Whilst indoor gyms will remain closed for now, older kids (and adults alike) will be able to use outdoor gyms from 4th July. The Government has deemed this safer than using indoor gyms and leisure centres at the moment.
You can find outdoor gyms in some local parks. The best bit is, you don't have to pay a penny!
Walking/cycling
This might sound obvious, but the kids could join you on your daily walk. You could make it more interesting by turning it into a treasure hunt. Get your kids to collect items like daisies and pinecones, for example. Or you could hop in the car and go hiking and cycling in the countryside if you're feeling more adventurous.
The reopening of many National Trust sites across the country means there are more ways to get away from it all. Whether you want to climb a mountain or head to the sea, some fresh air could be just what you need. Make sure you check the National Trust website before you go, as you may have to book in advance.
Gardening
If you prefer to stay more local, there are plenty of things the kids can do in your own backyard. You could get them their own tools, like little spades, watering cans and wheelbarrows. Then give them a job to do like watering the plants, to make them feel involved. Websites like eBay sell cheap second-hand versions, for example.
Older kids could start a nature journal. This will help them to stay active, whilst exploring nature and being creative at the same time. Check out this free printable nature journal to get started.
Water games
Summer is here and we're bound to have some scorching days ahead. If it's safe to do so, consider getting water toys for the garden. Smyths Toys are selling this twin pack of water guns for just £10. Or you could get a pack of 100 water balloons from Argos for £10 also. This will have the kids chasing after each other for hours!
Balloon games
Talking of balloons, there are loads of balloon games to get kids moving, such as:
Balloon tennis - using old kitchen rolls as batons
Keep it up - keep bopping the balloon so it doesn't touch the ground
Balloon race - kids place the balloon between their legs and race to the finish line
Balloon darts - pop balloons with your dart - this requires a good aim!
Balloon kick races - use it as a football but don't let it fly away!
Sports day
How about hosting a sports day competition for your household? The BBC has created a 'how-to' guide, which helps you to plan, and includes recipes for edible prizes. You could include classic activities like:
skipping
the 3-legged race
bean-bag throwing
the wheelbarrow race
the egg and spoon race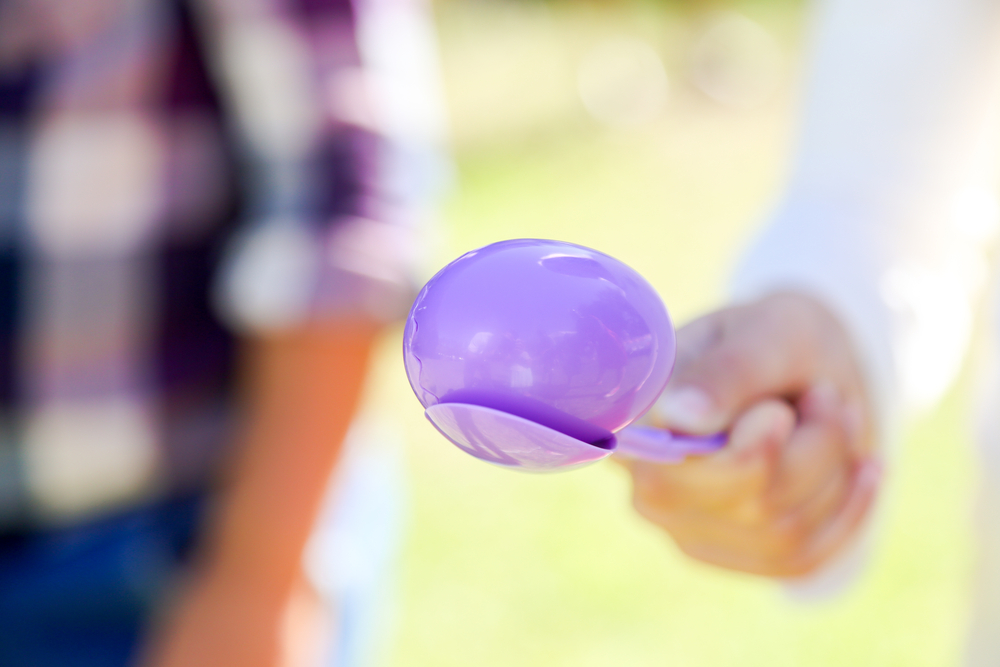 DIY obstacle course
Indoor play areas aren't open yet, but that doesn't stop you from making your own at home. YouTube has loads of videos to show you how.
We like this one by WhatsUpMoms, which has had over 6 million views. It gives you plenty of indoor obstacle ideas, from leaping over bean bags to throwing balls into washing baskets. (This may require some supervision to be on the safe side).
ABC hunt
We've all heard of 'eye-spy', but ABC hunt is a different alphabet game. Give your kids a basket to go around the house collecting items that begin with different letters (e.g. A for Apple, B for biscuit, C for cardboard). Have them cross off the letters from a list as they do so, and set a time limit to get them running around. Prizes will be given to the one who can collect the most!
Good old-fashioned chalk
Give a child some chalk and they can invent all sorts of things to keep themselves busy. For example, they could play hopscotch, create a giant Twister board or draw a chalk maze. They could even make their own circuit track, by marking out different areas on the pavement for different activities (like star jumps, hopping and skipping, for example). The options are (almost) endless!
10-minute Disney-themed shake-ups
The NHS has teamed up with Disney to provide 11 indoor games and activities. There's Anna's Frozen game, where children dance around and then freeze when the music stops. If they don't freeze straight away, then they must do 20 star jumps as a forfeit. Or Find Forky from Toy Story 4, where they make Forky, then someone hides it and the others go looking. Once they've found it, everyone has to do 10 star jumps in celebration.
GoNoodle videos
Have you heard of GoNoodle? It could be a game-changer. Over 14 million kids use their movement and mindfulness videos every month. There are fun aerobics classes for older kids. Plus games like "Zapp Von Doubler's Space Race" for little ones, where they need to collect stars and dodge space junk.
It's available online or via the GoNoodle app for FREE (available on iOS and Android). There's even a YouTube channel called Go Noodle Get Moving.
The Sworkit Kid Workouts
The FREE website and app are aimed at children aged between seven and 14 years old. It walks them through interval training. It includes a variety of warm-up and cool-down videos, plus ones that focus on things like strength and agility for muscles and bones.
Cosmic Kids yoga
How about something a bit more sedate and relaxing, like yoga? Yoga promotes physical strength, flexibility and boosts self-esteem, to name a few benefits.
Cosmic Kids YouTube channel is designed with little ones in mind, aged three-plus. It helps them learn yoga poses in a fun way, for free. Each colourful video has its own theme. For example, there's Super Mario yoga where the teacher is dressed as Mario himself, and Beauty and the Beast yoga, which is set in Belle's boudoir.
Dance tutorials
Consider hosting a disco/dance competition for your kids. Just stick on some music and join in. Dance like nobody's watching - because nobody is!
To keep it going, look up some free dance tutorials, like this video which shows kids how to dance to "Can't Stop the Feeling" by Justin Timberlake.
Want more ideas? Check out 10 cheap or free days out your kids will love.
Disclaimer: We make every effort to ensure that content is correct at the time of publication. Please note that information published on this website does not constitute financial advice, and we aren't responsible for the content of any external sites.