One of the most eye-catching giveaways amongst the government's responses to COVID-19 has been the announcement that everyone will be able to get 50% off food when eating out in August.
With many industries facing a struggle, Chancellor Rishi Sunak unveiled the Eat Out to Help Out scheme to allow people to support local food and drink businesses during August.
It entitles you to half-price dining when you eat out during August. There are some restrictions though, so here are the ten essential things you need to be aware of before you tuck into some half-priced grub.
1. You can get half-price meals up to a max discount of £10
Your bill will automatically knock 50% off, up to a maximum of £10. So if you are eating alone and your food and drinks cost more than £20, you will only receive a £10 discount.
2. It's £10 per person
Are you taking your partner and kids out? Catching up with friends? The £10 figure is per person, so this means your total bill can come down by multiples of £10 in line with the size of your party.
It goes off the whole food and drinks cost, rather than individual meals. So if the food and drink bill is £76 for four people, the discount will be £38 (half of that), providing all of that £76 is on eligible items.
3. You can get the discount on kid's meals and meal deals, but not booze
Kids meals are applicable, and they get a maximum £10 discount too. The discount isn't just on full-price items. You can apply it on top of any existing meal deals or discounts, so you can take advantage of whatever other offers are on the menu where you eat.
It also looks like this will be the case with discounts through membership schemes such as Tastecard. Tastecard stated this to Money Saving Expert (although the actual restaurants themselves are yet to respond), but we'd advise checking beforehand.
The discount does not apply to alcohol sadly or service charges. Standard tips are also separate from the scheme.
4. You don't need to download vouchers
The restaurant, if it's participating, will automatically deduct the amount from your bill. They will then apply for the money back through the government directly.
So there's no faffing around with downloading apps or printing off vouchers. Just make sure the restaurant is participating beforehand. Otherwise, you will have to pay full price.
5. It's unlimited
Fancy half-price breakfast, lunch and dinner? The deal means you can if you want three times a week; there are no restrictions on how often you can use the scheme. So gorge up.
6. What types of places where I can eat are eligible?
The government states that the following types of business are eligible to participate:
restaurants
cafés
pubs that serve food
hotel restaurants
restaurants and cafes within tourist attractions, holiday sites and leisure facilities
dining rooms within members' clubs
workplace and school canteens
Any food bought must be separate to other bookings, such as accommodation at B&Bs or as part of package holidays. So if you are staying at a hotel, you will need to order a meal separately to benefit from the scheme; you can't use it to get a discount off your total booking.
The business must "have the facility to offer dining on the premises", so takeaway restaurants, even if recently equipped with outdoor seating, will not count. Multiple restaurants that use communal eating areas, such as in shopping centres, are applicable though.
With regards to transport, if there is a specific eating carriage on a train, they will be eligible to offer a discount. Planes don't provide an eating area under the government's definition, so this doesn't fall under the scheme. The same applies to trains with trolley services.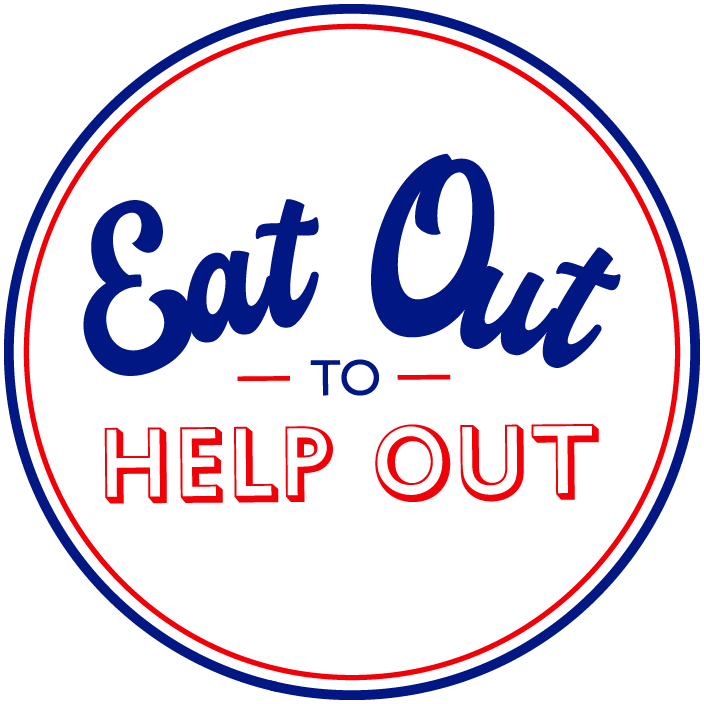 7. And which are participating?
The scheme hasn't been universally welcomed by the hospitality scheme, with one survey suggesting around 40% wouldn't be participating, a figure that goes up to just over 50% when looking specifically at pubs.
That said, some high profile businesses have confirmed they will sign up including Nandos, Burger King, Weatherspoons and more. This finder tool on the government's website allows you to search for participating restaurants within a 2-mile radius.
If you have a restaurant in mind, it's a good idea to call and check with them beforehand or keep an eye out for the above logo displayed in the restaurant's windows. We'd also advise you pre-book, with the restrictions on social distancing meaning many restaurants will have this as policy. Let the establishment know if you can't make it, as no-shows are having a more damaging impact than ever on bars and restaurants.
8. You can get coffee or just hot drinks on the deal.
You don't need to eat to benefit from the initiative. You can sit in and have drinks as long as they don't contain alcohol, so grabbing a couple of coffees at a cafe will be allowed under the rules (Starbucks will be utilising the scheme).
9. But not takeaways
You have to consume the food or drink on the premises, or at least intend to. So ordering takeaway will not be eligible. Therefore, it could work out cheaper to eat if where you are heading has both options, even with meal deals designed to reduce the cost of taking out.
However, if you order to eat in then decide to take away, you will still be eligible. And of course, you're free to take home leftovers too under the discount terms.
10. The scheme runs throughout August but is only applicable Monday to Wednesday
The following 13 dates are eligible:
Monday 3rd
Tuesday 4th
Wednesday 5th
Monday 10th
Tuesday 11th
Wednesday 12th
Monday 17th
Tuesday 18th
Wednesday 19th
Monday 24th
Tuesday 25th
Wednesday 26th
Monday 31st (August Bank Holiday)
Disclaimer: All information and links are correct at the time of publishing.