One in six Millennials say they're relying on receiving inheritance from a currently living relative to pay for their first home.
Almost half of 18 to 34-year-olds who are waiting for a windfall to come their way believe it will come from their grandparents. A further two-fifths are relying on the death of their parents for the cash, according to comparison website money.co.uk.
So how long will these would-be homeowners have to wait to get on the property ladder? Well one in 10 respondents believe they will get their inheritance in the next 10 years and a further 10% think they'll have to wait between 10 and 20 years.
Millennials, classed as people born between the early 1980s and mid-90s, face many problems when trying to get on the property ladder.
High living costs stop them saving money for a deposit.
More than half claim they struggle to cover their day-to-day living costs, so saving just isn't an option.
A further 40% say they can't afford to buy on their own and need extra help.
Meanwhile, a third of the young people surveyed said they're waiting to clear their existing debts before applying for a mortgage.
A fifth are waiting until they find love so there's someone to split the cost of buying with. And nearly a quarter believe that 'living for the moment' is more important right now than saving to buy a home.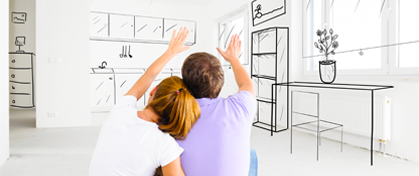 What's stopping Millennials who do want to buy?
53% can't afford to save
32% can't afford the area they want to live in
19% are scared of such a big financial decision
12% are worried about being turned down for a mortgage
12% worry about the impact of missed credit card payments on their credit history
12% don't know what to do first
9% do not have the discipline to save
7% have unauthorised overdraft blemishes on their credit history
4% have County Court Judgments.
Are you a first-time buyer?
If you are, we understand how complicated the buying process can be to get to grips with. That's why we put together our straightforward guide. It's split into three parts to cover each bit of the buying process, from looking for a mortgage to making an offer and choosing a survey.
Read part one here, part two here and part three here.
Disclaimer: All information and links are correct at the time of publishing.