We recently teamed up with 15 bloggers and challenged them to host a Come Dine with Me® style night with some of their loved ones.
We've already shared our 5 top tips for hosting a dinner party, and now we're going to take a look at some easy tricks to enhance your dining room.
Dining table
Jazz up your dining room table and make it more of a feature item rather than just a piece of furniture, by adding some gentle, decorative touches. Placemats and centre pieces – a candle or vase, for example – are a good way to do this. When choosing your table décor, make sure you're in keeping with the colour scheme and general tone of the rest of your dining room, so that everything matches and has its place.
Lampshade
People often neglect their ceilings because they feel it goes unnoticed, but you'd be surprised at the difference an eye-catching lampshade can make to a room. Lampshades can provide a decorative element, complement the rest of your room and add a noticeable colour accent to your dining area. Different lampshades have >different impacts on your room, so make sure you pick the right style for you.
Feature wall
Accentuating your dining room walls with something to grab peoples' attention can really bring personality and life to your eating area – feature walls are a great way to do this without going overboard. You could re-wallpaper or paint a single wall to differ it from the rest, or if you want a simpler job, you could just add to an existing wall with a feature mirror, map, clock, canvas or piece of artwork.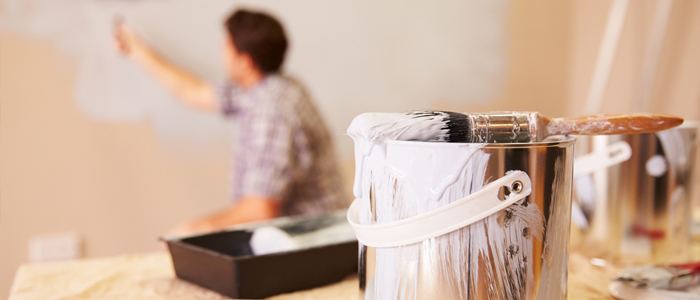 Adding colour
If you're injecting a whole new colour scheme into your dining room, or simply adding to an existing one, the >60-30-10 decorating rule could come in handy. To have the right balance of colours in any given room, there's a guide in the interior design world that colour breakdown should be as follows:
- 60% dominant: This is normally used for the larger areas of your room, i.e. the walls. Because dominant colours make up the bulk of the room, neutral colours, such as cream or beige, are recommended.
- 30% secondary: Because the secondary colour(s) are less prominent, you can be a bit more adventurous when selecting your shades. Secondary colours might be used for areas such as your windowsill, skirting boards or furniture.
- 10% accent: Because the proportion of your accent colour is minimal in comparison to the rest, you can pick something bold, stand-out and attractive, to ensure it's subtly accentuated throughout the room. Accent colours might be used for items such as cushions, vases and other decorative pieces.
For tips on how to revamp other household rooms, click here >
Disclaimer: All information and links are correct at the time of publishing.