More of us are looking for ways to help the environment by shopping organic - and it doesn't have to cost the earth. We've got 20 hacks to help you save on organic food.
1. Make small swaps
Try not to add organic items on top of your current shopping basket. Just make some simple swaps, otherwise, your shopping bill will soon shoot up. You could focus on staples to start with (which tend to be cheaper) like pasta, bread, rice and potatoes.
2. Sign up to newsletters
Get your hands on vouchers for organic products by signing up to newsletters. There's Yeo Valley for yoghurts or Soil Association for offers on big organic brands - as well as recipes and lifestyle tips.
3. Choose frozen over fresh
Frozen fruit and veg is often cheaper than fresh, so you can avoid waste and save money by shopping down the frozen aisle. Some research suggests that frozen fruit and veg contain more vitamins than fresh varieties, as freezing them preserves the vitamins.
4. Shop local
Bag yourself a bargain by shopping at your local farmer's market. It isn't always the cheapest option, but sellers are usually open to haggling. If you don't ask you don't get, as the saying goes. Better yet, go down to your local farm where you're likely to find plenty of organic eggs.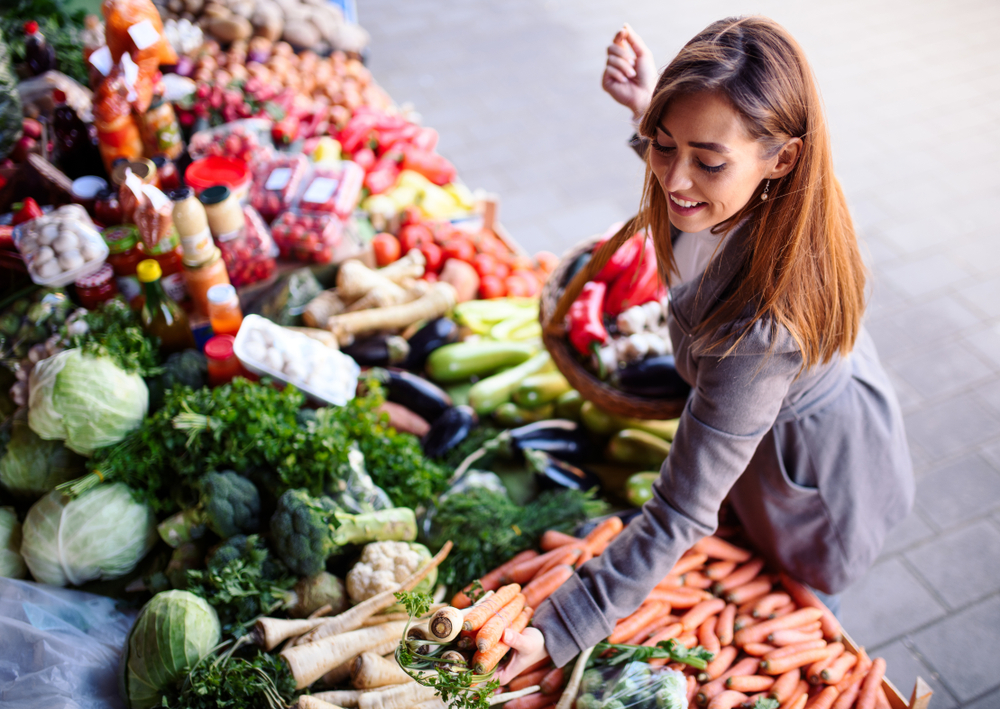 5. Grow your own
One of the cheapest ways to get your hands on organic fruit and veg is to grow your own. Gardener's World says July is the best time to grow lettuce, carrots, turnips, radishes and french beans. You don't need a big garden or a lot of experience - just a container, compost and seeds.
6. Buy in season
Seasonal fruit and veg tend to be cheaper than out-of-season goods because there's plenty of them. Check out this seasonal food calendar to find out what to look out for month by month. For example, July is good for buying:
Apricots
Cherries
Blueberries
Raspberries
Strawberries
Tomatoes
Aubergines
Broad beans
Carrots
Courgettes
Peas
Peppers
Rocket
7. Find food box deals
It's now easier than ever to sign up for an organic food box, with plenty of options around. You can get them delivered straight to your door without any fuss. The price you pay varies depending on the type of food you're ordering and how much you need.
For example, a small vegetable box with Able and Cole is £13.25 (plus delivery), and this includes eight seasonal veg options. Whereas a large fruit and veg box will give you eight veg plus three seasonal fruit options for £27.50 (plus delivery).
Check out the Soil Association to find a local scheme near you.
Tip: Remember to search for deals, as some companies offer discounts to new and returning customers. If you show interest but don't follow through with the purchase, then you may find you get an email with an offer enticing you back.
8. Shop around
Most UK supermarkets offer organic food nowadays. Shop around and note the food prices in different stores to see which ones offer the cheapest deals.
You could even use your receipts to create a spreadsheet if you're keen. Or find the latest deals online using the LatestDeals website and free app - without leaving the house!
9. Use loyalty cards
Although shopping around can pay off, loyalty can also reap rewards. (That is if you get vouchers for things you were already going to buy anyway).
Check out the best loyalty cards in the UK here.
10. Avoid convenience stores
Local supermarkets tend to charge more per item than large supermarkets, and they don't have much choice when it comes to organic food. Lovemoney has found that you could be dishing out almost 10p more for every £1 you spend at express stores, compared to supermarkets.
11. Try own-brands
Aim for own-brand organic food found in supermarkets, as it's often a similar price to branded non-organic items. Just keep your eyes peeled for the Social Association logo to point you in the right direction.
12. Get value for money
Weigh up the price per unit to make sure you're getting value for money. You can do this by dividing the weight (e.g 500g) by the price (e.g. £5). In this example, you'd get 100 grams for every £1 you spend.
You can then compare the price per unit to other items, to see which gives you the most bang for your buck.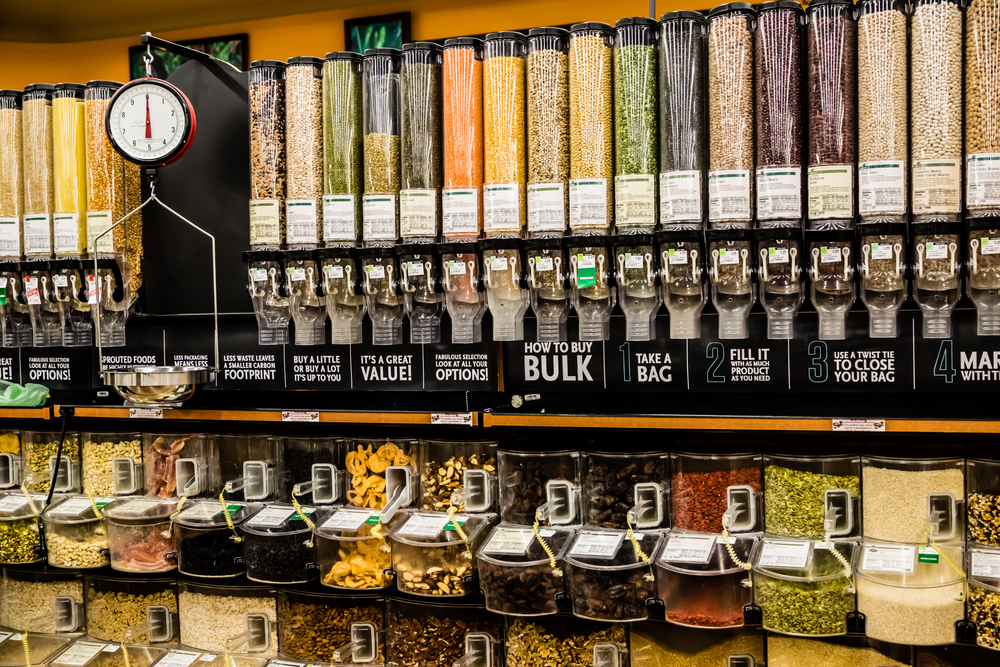 13. Avoid prepared and pre-packaged food
Loose fruit and veg are almost always cheaper than pre-chopped and pre-packaged varieties. Look out for food halls that are popping up around the country that serve loose goods like pasta and pulses. You just need to take your own containers to transport and store it at home. This helps to save those pennies and the environment at the same time.
14. Be savvy
Don't assume that deals always mean savings. For example, '3 for 2' deals could actually make you spend more than planned. Perhaps you were only going to buy one item, but you ended up buying two to get the third for free. This makes sense if you are going to get through the food in the long run, but it adds pounds to your shopping bill in the short term.
15. Plan ahead
Preparing meals in advance can save you both time and money. Think about what you and/or your family want to eat for the week in advance. Then create a shopping list of all the ingredients you need. It sounds simple, but it really will help to curb impulse buys and reduce waste.
Take a look at this meal planner template to get started.
16. Ask for money off
If you notice fruit and veg in less-than-perfect condition, don't be afraid to ask for a discount. Whether you're at the supermarket or your local grocers, they'd probably prefer to sell wonky veg at a discount, than risk it going to waste. Small savings soon add up too.
17. Look out for yellow stickers
Yellow stickers in supermarkets are a sign that food is on offer because it's nearing its sell-by date. You can make big savings on things like fruit, veg, dairy and meat, as the shops want to shift fresh stock as soon as possible. The best time to find these deals is generally in the evening.
18. Don't throw out food that's still in date
'Use by' date is the date you must eat the food by, to avoid food poisoning
'Best before' date is the date you should aim to eat the food by if you want to enjoy the best quality
'Sell by' date is the date the retailer must sell the food by - but you can still eat it until the 'use by' date (unless it's gone off)
19. Eat less meat
Organic meat is generally more expensive than vegetables and non-organic meat. To cut down costs, you could cut back on the amount of meat you eat and replace protein with vegetables like peas, beans, and lentils instead. Or you could make a little meat go further by adding it to stews and curries for example. Or look out for the yellow stickers mentioned above and freeze it for another time!
20. Buy in bulk
We're not promoting panic buying, but you might be able to get a deal from a wholesaler, like Costco for example. They sell organic food in bulk, but you need to pay £28.50 (plus VAT) for an annual membership. So you'd have to weigh up the costs and see if you'd shop there enough times over the course of a year to make a saving.
Read on for 100 money saving hacks you can start today.
*We don't get paid to promote food retailers.
Disclaimer: We make every effort to ensure that content is correct at the time of publication. Please note that information published on this website does not constitute financial advice, and we aren't responsible for the content of any external sites.