Is your food bill setting you back? Food shopping is an essential part of our day-to-day life, but it needn't be expensive.
With inflation pushing the price of both fresh groceries and cupboard essentials up, more and more of us will be feeling the pinch in our bills. So we've gathered some smart shopping tips, to help you get more bang for your buck.
Use supermarkets instead of convenience stores
It might be that your local shop is just down the road - but you tend to get charged more for the convenience. If you travel a little further, you could make huge savings at a larger supermarket. So if you're feeling frustrated by the amount you're spending on groceries, switching up where you shop could be the answer.
Don't be a brand snob
We all have our favourite brands. Whether it's a shampoo you can't do without, or those crisps you can't get enough of, you're likely to save money if you swap them for own-brand versions.
With the likes of Aldi, who've won awards for their own alcohol, grocery and baby ranges, it can be worth ditching the pricey brands. You could even challenge yourself and your family to see if you can tell the difference. Some people find they actually prefer the taste or quality of a cheaper, own-brand option!
Bargain shops are your friends
If you've got extra items to buy (like cosmetics, for example), then chances are you'll find them for much less in bargain stores like Poundland or B&M - or even your local marketplace.
Make a list – and a meal plan
According to the Money Advice Service, people who make a list are three times less likely to overspend than those who don't. Get your pen and paper out (or use your phone) and jot down everything you need for the week ahead. Plan it down to a tee, including ingredients for each meal you plan to cook. It's important to stick to your list and avoid throwing in any extras, to avoid splurging.
Don't shop on an empty stomach
It always helps to do your shopping after you've had a meal. If your stomach's rumbling, there's a high chance you'll give in to the hunger-pangs and chuck some tempting treats in the trolley. Of course, it's fine to treat yourself, but try to factor them in on your list, to curb impulse buying.
Spot the yellow stickers
You'll find the biggest bargains when you keep an eye out for those yellow stickers. Head to the shops in the evening, when major price cuts take place on fresh produce that's nearing the end of its shelf-life.
Compare prices online
Sites like Which? can help you decide where to shop. Which? compares the price of certain food or grocery products in different supermarkets, to find the cheapest deals. They rotate the items they check each month, to bring you up-to-date results.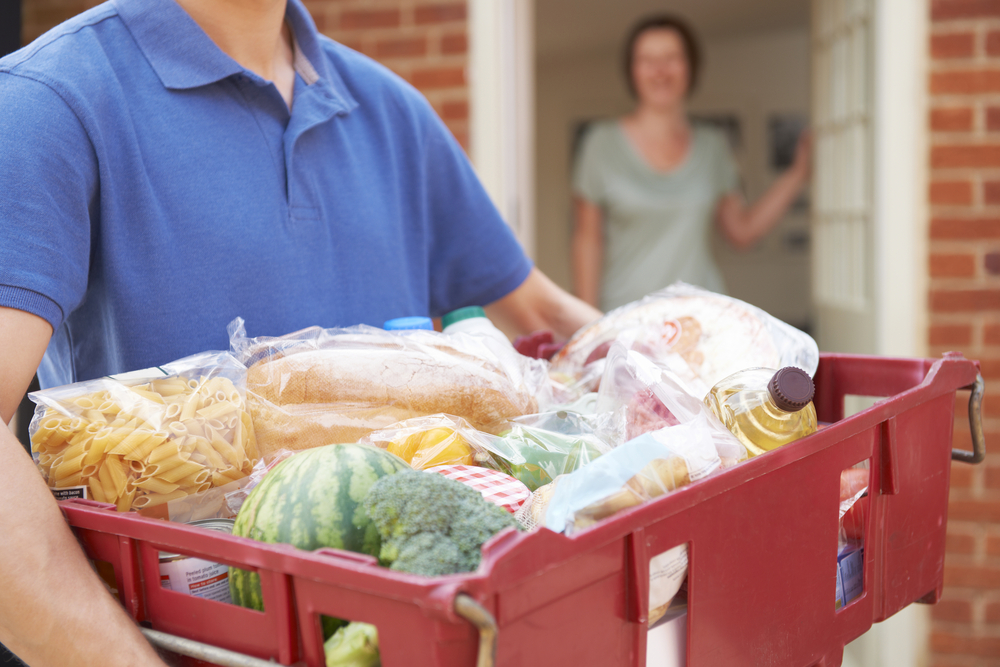 Don't be tricked by sales
We all love a good sale but sometimes the lure of a bargain means we're guilty of buying things we don't actually need.
When it comes to multi-buy offers,check if you're really getting a good deal, or you're buying more than you'll use. Plus, half-price sausages might sound appealing, but only if they were on your list in the first place!
Head to the frozen aisle
Fresh fruit and vegetables are great - but if you're on a tight budget, you can still get your five-a-day in frozen form. Also, if you're getting a week's worth of food in one go, buying frozen stuff means you'll have less problems with food going off before you can use it.
Have some meat-free days
With more and more of us considering a plant-based diet, there are lots of tasty meat-free recipes to try. With processed meat being among the most expensive thing on our shopping lists, you could make huge savings by swapping some of it with veg.
Use cashback apps
With cashback apps, you can claim money back on all sorts of things, including your groceries. In some cases, you can recoup 100% of the cost – meaning you can bag a freebie! Just make sure you keep your receipts to prove your purchase.
Take a look at these to get you started:
They are available to download from Google Play and AppStore for free - or you can sign up online.
Abandon your online shopping basket
There are pros and cons involved with online shopping, and especially when it comes to food shopping. More people have started using this service over the last few years for its convenience and to avoid trips out during the pandemic. But, one downside is that you may often find that the exact products you want aren't available when you place your order, or they get substituted for products that aren't appropriate when your delivery arrives.
One handy trick to saving money when online shopping is to leave your purchases in the virtual shopping basket for a day or so, without checking out. The retailer will more than likely contact you to encourage you to come back and complete your order. And, they might offer you a discount to tempt you back.
Start couponing
You could start collecting coupons to save money. They appear in supermarket magazines and on packaging (like crisp packets and cereal boxes). You could even write to manufacturers to tell them how much you like (or don't like) their products. You never know, they might entice you back with vouchers!
The trick is to only use coupons for things you'd normally buy anyway, or your shopping bill could soon add up.
Use loyalty cards
It's a good idea to shop around, but at the same time, loyalty can pay off. Loyalty cards can help you to rack up points at your favourite supermarket, which can lead to some juicy savings. Just make sure no deals persuade you into buying something you wouldn't normally purchase.
Check out the best loyalty cards in the UK.
Disclaimer: We make every effort to ensure that content is correct at the time of publication. Please note that information published on this website does not constitute financial advice, and we aren't responsible for the content of any external sites.