The cost of living is at its highest in 40 years, with price hikes across energy bills, groceries, fuel and more. But did you know that where you live may also affect what money you have left over each month?
You may assume that people who live in areas with the highest paying jobs are the best off financially; however, our research has found that this isn't always the case. In our latest study, we've calculated the average disposable income of residents of the UK's 50 most populous towns and cities.
We uncovered what the average full-time working homeowner is estimated to have in disposable income each month. This is the money that's left over from their salary after paying their mortgage and other essential monthly costs, including their food shop, utility bills, transport and more.
Depending on where you live, your disposable cash may vary greatly. Read on to discover how the average disposable income in your town or city compares to the rest of the UK. We've also shared our top tips on making your disposable income go further, to help you with the increasing cost of living.
Key findings
Our research revealed that:
The average full-time working homeowner has £862 left per month, after paying for their mortgage and other essentials

London homeowners, perhaps unsurprisingly, have the lowest disposable income, with on average £168 left over per month

Derby has the highest disposable income, with the average homeowner in full-time work being left with £1,210 per month once their mortgage and essentials are paid for

Renters are, on average, £143 per month worse off than homeowners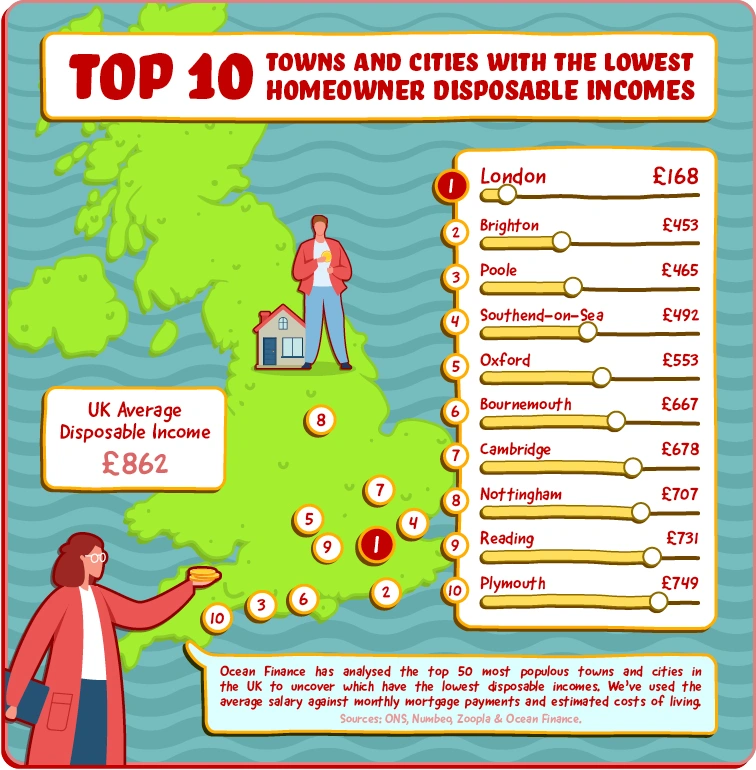 London's homeowners have the lowest disposable monthly income at £168
Above-average wages in London can't make up for the perfect storm of record high UK property prices and cost of living. While this may come as no surprise to most, a full-time working homeowner in the capital is left with £168 on average each month after paying for essentials.
Despite relatively attractive wages averaging £2,258 per month after taxes, the high cost of living in the capital reduces disposable income to the lowest in the UK. The typical monthly mortgage contribution for one Londoner responsible for half their mortgage payment is £1,099. For newer homeowners, this could be even higher. Costs for essential bills were also the highest, at £991 a month.
With the average property price in London reaching a whopping £722,668 in May 2022, it's no wonder that a significant portion of London's residents rent and would struggle to get on the property ladder while earning the average wage. After all, the average renter in London pays £815 per month according to SpareRoom, leaving them with £452 for non-essential spending, assuming they have an average salary and average essential outgoings. Saving more than £108,000 for a 15% deposit on an average property in London would mean squirrelling away all of that £452 disposable income for the best part of 20 years.
Assuming two people buy together, one person's contribution to an 85% mortgage on the average-priced property will mean shelling out around £1,323 per month. If they also receive an average income, this will leave them with no disposable income at all. In fact, they'll be £56 per month short for other essentials. A higher income or a larger deposit in the region of 25-30%, if not more, is often needed to balance the books, and saving this much money is no mean feat!
Brighton homeowners have the second-lowest disposable income at £453 per month on average
Brighton's typical monthly wage for full-time workers is about on par with the UK average at £2,076.01 per month after tax, but high living costs put the coastal city second from the bottom for disposable income. Homeowners are left with £453 per person per month to spend on non-essentials.
The average home in Brighton currently costs £461,821, making it the fourth most expensive city to buy property in the UK, behind London, Oxford and Cambridge. However, most homeowners won't have paid their home's current price when they bought it, so homeowners in Brighton may be paying around £703 per month on their mortgage in the seaside city.
Brighton is also the third-most expensive place to live for essential living costs, with an average of £825 per month needed to cover groceries, utility bills and other necessities. As costs continue to rise, Brighton's residents may be feeling the pinch more than others.
Poole homeowners have the third-lowest monthly disposable income in the UK, with £465 left over after bills
Homeowners in the southern seaside town of Poole have the third-lowest disposable income in the UK. The £465 per person left over after housing and essentials is due to a combination of relatively low monthly incomes for full-time workers (£1,869) and high outgoings.
The average Poole homeowner likely pays around £699 per month for their mortgage. Property prices in the seaside town have historically always been on the high side, explaining the higher-than-average mortgage costs that homeowners here face. The average home in Poole is currently worth £459,739, making it the fifth most expensive place in the UK to buy a home.
Living costs also contribute to the town's inhabitants having the country's third-lowest disposable income, with residents shelling out around £705 for their essential expenses, more than the UK average of £697.
Southend-on-Sea completes the bottom four, with the typical homeowner having £492 to spare each month
Closing out the bottom four, we have a third coastal spot: Southend-on-Sea. Homeowners here have, on average, £492 per month left once their essentials are paid for.
The town's residents having a lower disposable income may be due to wages for full-time workers here being lower than the UK's average – £1,859 after tax – while their essential living costs are much higher.
In fact, Southend-on-Sea has the third-highest living costs in the UK at £845, just behind York, where the average homeowner shells out £852 per month for necessities.
Mortgage repayments in Southend are also relatively high at an average of £522 per person, making it the ninth most expensive location to own a home in the UK.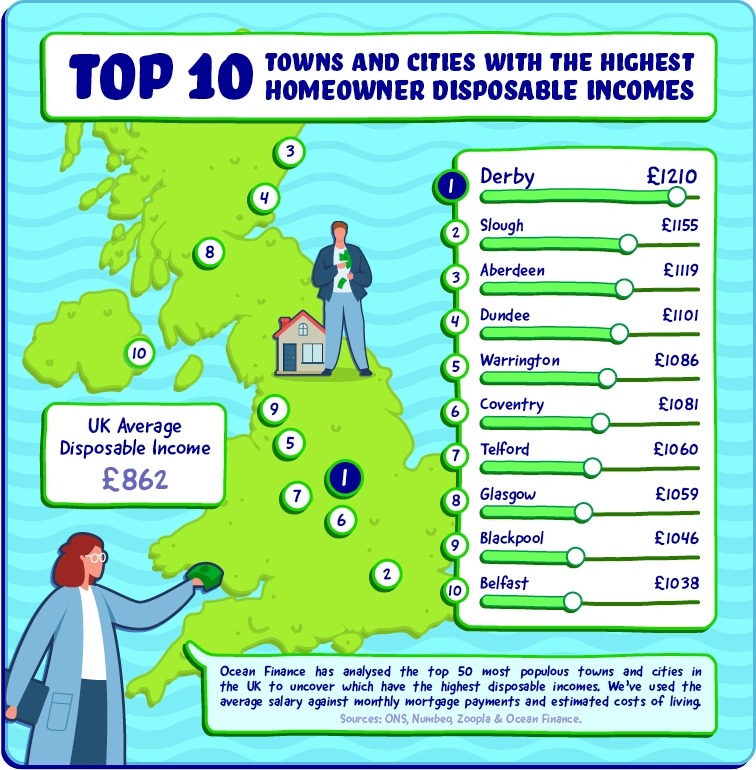 Derby's homeowners have the highest disposable income in the UK, with an estimated £1,210 each month
At the other end of the scale, Derby takes the top spot for the highest disposable income in the UK. This is thanks to an ideal combination of high average incomes for full-time workers, comparatively low mortgage payments, and average living costs. The typical resident in full-time employment here has £1,210 per month left over after paying for essentials.
Derby's residents enjoy the second-highest average salary in the UK's 50 most populous locations, just behind Slough. A typical full-time worker earns £2,277 per month after tax, £300 more than the UK average.
The high incomes, coupled with typical monthly mortgage payments nearly £100 cheaper than the average at just £328, give Derby the crown for the highest disposable income.
Homeowners in Slough have the second-highest disposable income, at £1,155 on average
Slough is in second place for the highest disposable income, with each homeowner in full-time employment having £1,155 left once their housing and essential bills are paid for.
Slough is the area with the highest income in the UK, with the average person in full-time employment earning £2,349 after tax. This is nearly £400 more than the UK's average. It's also, perhaps surprisingly, higher than the average salary in London, which is known for its well-paying jobs. Slough was named the best city for workers by Glassdoor for three years running thanks to its high wages and large number of job openings with companies like Telefónica UK and AkzoNobel, who are based in the area.
Despite higher-than-average monthly mortgage contributions of £583 per person, the town's generous wages and lower-than-average living costs of £611 a month put it in the second spot.
Slough may be a tempting prospect for those looking to get on the property ladder, too. Although the area has relatively high house prices, averaging £382,976, the generous salaries available and lower-than-average living costs mean that the average person buying the average property should still have a significant disposable income left once their mortgage and essentials are taken care of.
Third place goes to Aberdeen, where residents are left with £1,119 per month after bills
Closing out the top three is the Scottish city, Aberdeen, whose full-time employed homeowners have a monthly disposable income of £1,119 on average – over £250 more than the UK average of £862. Like Derby, the city's residents benefit from a relatively high average income of £2,076 after tax.
However, the real advantage in Aberdeen is the low property prices. A typical mortgage payment for a homeowner in Aberdeen is just £302 per person per month. Those looking to get on or move up the property ladder should find that the typical home in and around Aberdeen currently costs about £198,775.
The city also enjoys relatively low living costs compared to other parts of the UK. The average is £655, making it the cheapest place in Scotland, and 16th in the UK overall.
The average homeowner has £862 disposable income every month
We've discovered that the average full-time working homeowner in the UK has an estimated £862 left over after paying for their housing and essential living costs. This includes the average monthly mortgage payments, utility bills, food and other essential bills.
However, renters are not so well off
Among renters, chances are they'll be worse off than homeowners, with the average person being left with just £716 per month based on a couple splitting a typical rental property. This is thanks to increasingly high rents, estimated to be £1,127 per month on average. This is 9.5% higher than July 2021 and means homeowners in full-time employment are on average £143 better off each month than their renting counterparts.
Part-time workers and pensioners tend to fare worse
For those in part-time employment, the situation is even more precarious. According to Total Jobs, the average salary for a part-time worker is £24,449 annually. This could reduce their disposable income by as much as £350 per month, depending on where they live.
UK pensioners may be at risk of a lower disposable income, too. With an average income of £361 per week (£1,564 per month) it's thought that as many as two million pensioners could be living in relative poverty once their housing and essential expenses are taken into account.
Top 50 disposable incomes of UK towns and cities
See where your local city is in the full data list of the 50 most populous cities on the full dataset.
Five tips to boost your disposable income
Whether you want to gain more disposable income or make any spare cash you may have go further, why not try following our tips:
Change to a water meter -

some people can save money on their water bill by switching to a water meter rather than paying a set amount each month. If you live alone or with just one other person, switching could really help lower your bill, giving you more disposable income to play with. Larger households may find it most cost-effective to pay a set fee, though!

Switch or stay

- at the end of contracts for bills like your utilities and insurance policies. check whether you can get them cheaper elsewhere and add a bit more to your disposable income. If so, contact the company to negotiate or switch providers for the best price.

Consolidate your debts

– combining what you owe to multiple lenders into a single loan with one (usually lower) interest rate, could significantly reduce your monthly outgoings and give you more flexibility with your finances. Consolidating your debts could mean repaying them over a longer period of time, and therefore paying more interest in the long run, though.

Use supermarket apps

- supermarket apps like CheckoutSmart and Shopmium give you cashback on your shopping, helping to cut your costs. Supermarket memberships and loyalty like a Tesco Clubcard or a Nectar card can also give you access to deals – just be careful not to buy something you don't need for the sake of a discount!

Budgets are key

- setting up and sticking to a budget gives you control over your money and lets you know exactly how much you spend on what. They can be a great way to identify any opportunities you have to curb your costs and increase your disposable income.
If you are struggling to pay for your essentials, you could get in touch with a charity like Citizens Advice, StepChange or MoneyHelper, who can offer free, non-judgmental advice.
Methodology
We used ONS data for each local authority on the average weekly income. We then removed the tax using a wage calculator with a 5% pension added to the take-home wage.
To calculate monthly mortgage payments, we used Zoopla's estimates, with average property prices collected in May 2022. We then accounted for the length of time the average homeowner has lived in their home (8.7 years) and a 15% deposit to ascertain how much their mortgage was for. We then used the Ocean Finance mortgage repayment calculator with an interest rate based on the Bank of England average, sourced in May 2022 to calculate the monthly repayment, and divided this by two to account for the large proportion of people who jointly own their home with another person.
We also subtracted Numbeo's cost of living, with an additional 9.1% added to account for inflation as it was in May 2022 to estimate the disposable income for each location.
Disclaimer: We make every effort to ensure that content is correct at the time of publication. Please note that information published on this website does not constitute financial advice, and we aren't responsible for the content of any external sites.