Have you ever bought an item of clothing for a special occasion, worn it once and then never bothered wearing it again? You're not the only one! It's such a waste of money, especially when you could be renting similar clothes for much less.
Saving money isn't the only benefit of renting clothes. Fast fashion accounts for 10% of annual carbon emissions in the world and is a major contributor to the destruction of the environment. So, by renting clothes instead of buying them, you're also helping to save the planet.
How do clothes rental sites work?
All you need to do is go online, select the item(s) you want to rent, and the length of the rental period. Some rental companies allow you to pay as you go, while others may ask you to sign up for a monthly clothes subscription service.
Once you've chosen your outfit and checked out online, the clothes will be sent out to you in the post. Afterward, you can return them on the agreed date using pre-paid postage. There's no need to get the clothes dry cleaned, so you can put your purse away.
Find out some of the best, affordable places to rent clothes online, no matter the event.
Best for weddings
Wedding guests
Wedding attire is the perfect example of clothing that many people wear only once. Attending a wedding is expensive enough without adding in the cost of a new outfit. So, save yourself some money and consider renting your suit or dress instead.
A few sites that provide reasonably priced wedding guest outfits include:
Ourmoire – has a section specifically for wedding guests, with dress hire starting from £8 per day
Front Row – has designer wedding guest dresses from the likes of Versace and Dolce and Gabbana that you can hire for 3 to 5 days at a highly discounted price
Slater Menswear - a 3-piece dinner suit to hire will cost £72
Wedding dresses and accessories
According to Dress Code Nine, the average cost of a wedding dress in the UK is anywhere between £300 and £2,000. But it doesn't have to cost that much - if you're willing to hand the dress back.
We did a bit of research and found that you can get big designer names for less by renting your dress for the day. For example, you could rent this beautiful ivory Maggie Sotterro wedding dress for £100 a day from Ourmoire – with an RRP of £1,700! You could even rent a pair of Jimmy Choos for £11 a day from My Wardrobe HQ, saving you £484 on the RRP.
Alternatively, you could go for something like this simple, elegant gown for £29 - £56 from Hurr.
Wedding suits
When it comes to wedding suits for the groom and groomsmen, there are also big savings to be made. For example, Formally Yours offer any jacket, trousers, shirt, waistcoat, cravat or tie with matching handkerchief, all for £65.
If you're looking for designer brands, Moss Bros has a full tuxedo package with cummerbund from French Connection for £109.95. If you were to buy Moss Bros' own version, it would cost you more – around £179.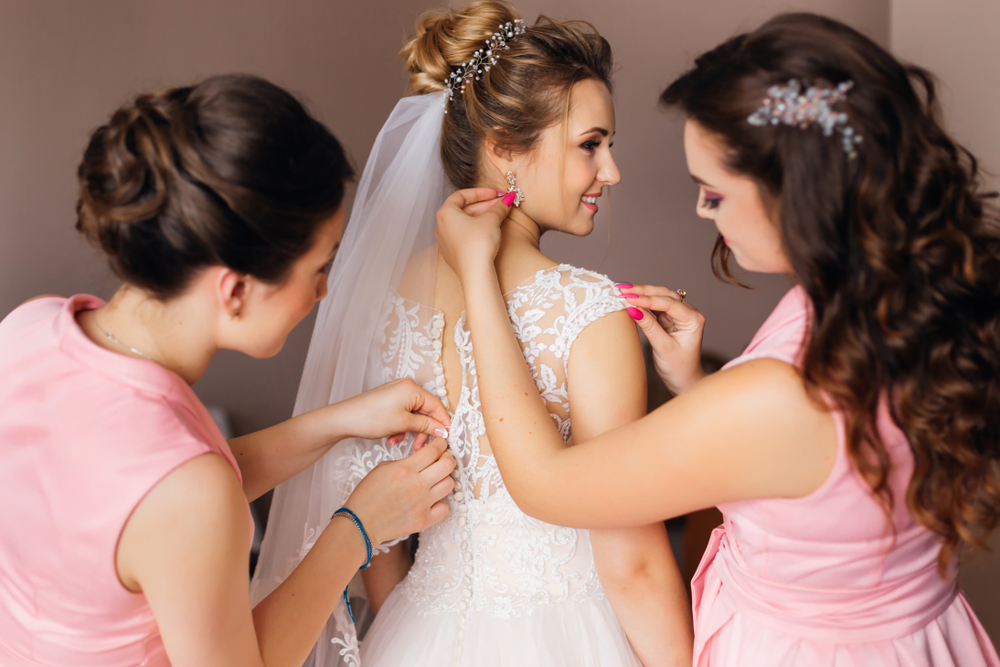 Best for designer clothes
Have you got a date lined up, or a fancy occasion that you want to dress up for? Well, now you can dress to impress without the price tag. Some of the best sites for renting designer clothes online include:
Selfridges Rental – caters for men and women, with prices starting from £20
My Wardrobe HQ – provides rental clothes for women, men, and kids. They have a Harrods section, showcasing designer dresses at a fraction of the retail cost, including this Victoria Beckham dress from £21 with an RRP of £1,199!
Hurr Collective – has rental clothes for women from a whole host of designers, such as Calvin Klein, Dior, and Jenny Packham, for example. Prices start from £20 per item
Best for budget fashion
If you don't want to spend a lot of cash on buying brand-new clothes, and you're also not interested in wearing designer labels, you could consider budget fashion rental or peer-to-peer clothing rental instead.
Here are some of the best sites for renting clothes on a budget:
Rotaro – allows you to rent clothes at a low cost.
Nuw - is a clothes-swapping app that costs £7.99 per month, with unlimited access to renting pre-loved clothes
Wear My Wardrobe Out – is perfect for those who want to wear vintage fashion, without breaking the bank. Check out this cute floral dress for just £12
Best for kids
Kids grow very quickly, which means having to constantly buy them new clothes – unless you choose to rent them instead. Here are some great websites for renting clothes for children:
Bundlee – offers various subscriptions to choose from, the cheapest is £24 per month and includes 15 items of clothing
The Little Loop – has different subscription plans to choose from, starting from £18 per month. £18 gives you 100 credits, which is an average of 6 items
Graceful Changes – caters for children ranging from newborns up to the age of six years. Their cheapest package comprises of five items for £12.50 per month
Best for prom dresses
Prom is a big day for any young person and prom dresses play an important role, but there's no need to break the bank.
For prom dresses try:
Disclaimer: We don't profit from any of the companies mentioned above.
Disclaimer: We make every effort to ensure that content is correct at the time of publication. Please note that information published on this website does not constitute financial advice, and we aren't responsible for the content of any external sites.