Shopping season is here! Because everyone loves a bargain, we've found the best deals, so you don't have to.
Ocean Finance signed up to 100 popular online retailers' newsletters and marketing emails to see which shops have the best sign-up savings. We recorded data from 1,000 emails over a three-week period and ranked each store according to its sign-up deals, the discount for leaving an item in your basket, the number of offers sent and the average discount offered.
Shoppers can get 20% off by leaving items in their basket
Our research found that online shoppers can get an average discount of 20% by simply leaving items in their basket, as long as you've subscribed to marketing emails.
Discounts normally arrive in your inbox just a few days after leaving your virtual checkout, so it's worth waiting. However, just 7% of retailers actually sent a shopping basket discount, including Missguided and Buyagift, so you have to be lucky to find this type of deal.
1 in 3 shops will chase you for leaving your item at the checkout - but won't send a discount to entice you
One problem with leaving items in your virtual basket is that some shops won't send you a discount at all. We found that 1 in 3 stores sent emails to remind you that you didn't check out, but didn't send any offers to encourage you to make a purchase.
Ann Summers sent the most chasers, emailing four times to remind us of a forgotten basket, but with no discount.
Top 10 online retailers with the best subscription discounts
The best shop to bag a bargain is Sports Direct, as we found you can get up to 70% off after subscribing, with 3 deals sent each week, on average.
The Works, Dolls Kill, Cult Furniture and H&M follow, typically emailing offers with up to 50% off certain items.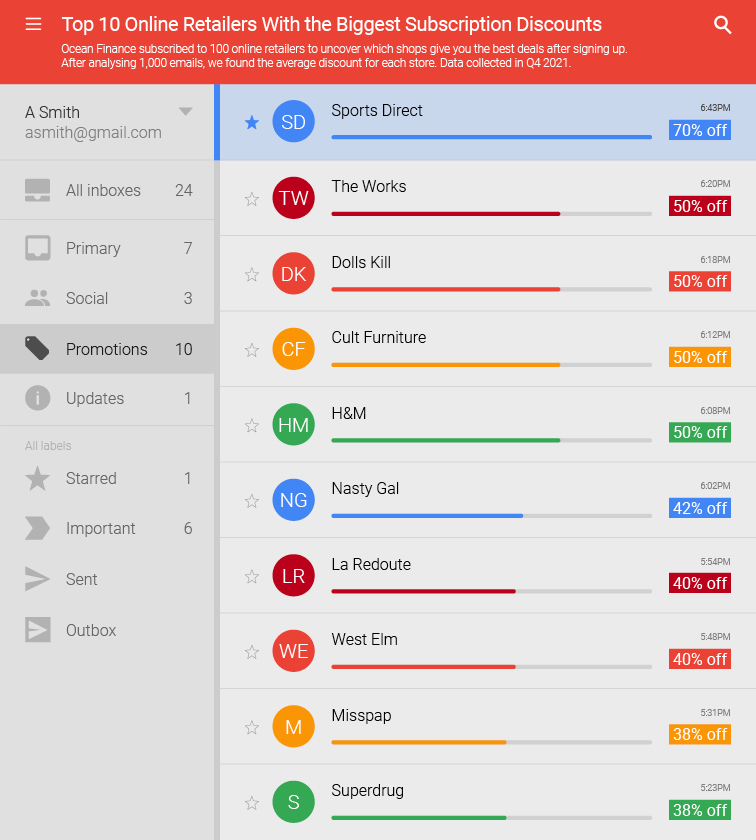 Beauty retailer LOOKFANTASTIC sends the most deals - 1 every day
Our research found that certain shops email discounts frequently, making it easy to bag a bargain. Beauty store LOOKFANTASTIC sends the most discounts, averaging at 1 per day or 7 per week.
Following in second place is Missguided, typically emailing 6 discounts every week. ASOS and Warehouse are joint third, putting offers in your inbox 4 times a week, on average.
The top shops that clog your inbox - sending up to 9 emails every week with no deals included
If you don't like a busy inbox, there are some retailers you might want to avoid signing up to. We studied which shops send the most emails but without any discounts included.
Sports Direct takes the top spot again, sending 9 emails per week on average - that's on top of the emails which include a discount. The Works follows, emailing you 6 times a week typically without a deal included.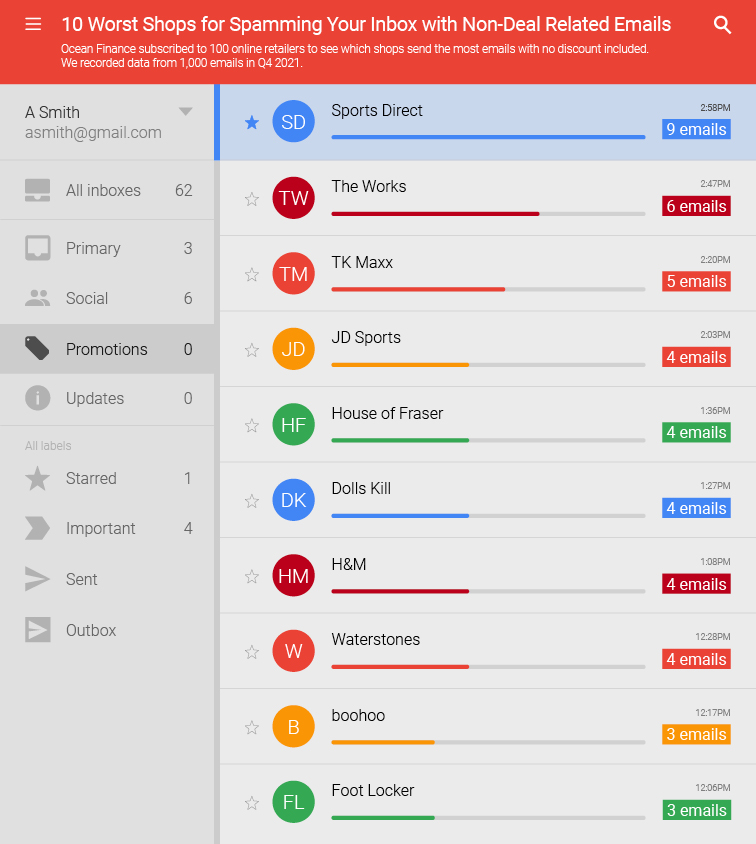 Of course, if you're not subscribed to these stores, you won't receive their emails when they do send offers, so that's for you to decide. Plus, if you like reading about the latest product releases and company news, you can stay subscribed.
Shoes & clothing shops net you the best discounts - up to 22% off, on average
Our analysis of 100 online stores shows that shoe retailers like Clarks and Vans give you the most money off, offering an average of 22% off when you sign up to their emails.
Clothing shops follow, giving you 21% off on average, including Missguided, ASOS and New Look.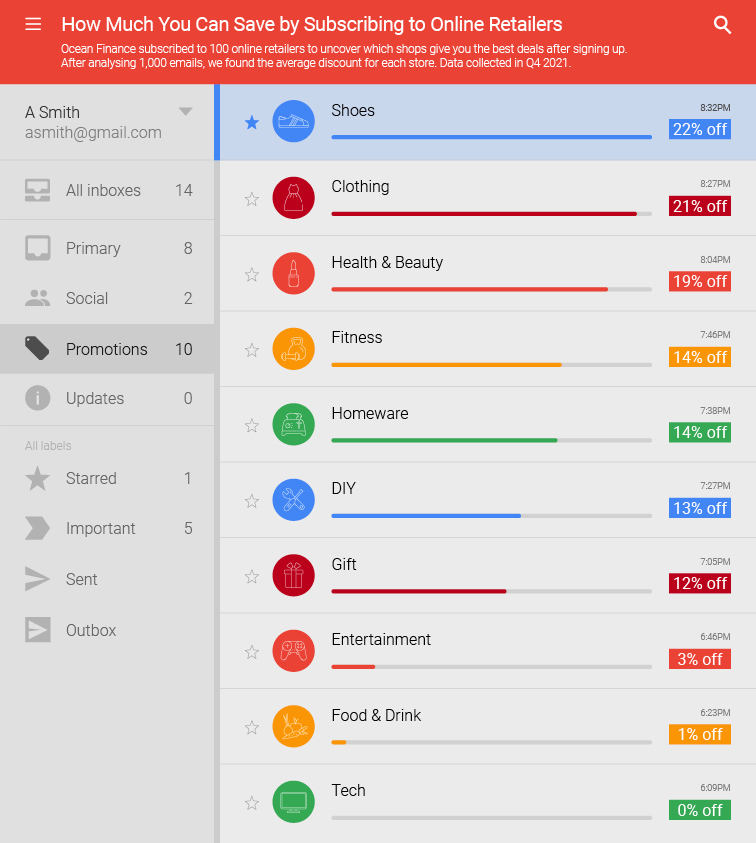 Food & drink stores offer just 1% off, while you get no deals from tech retailers
Signing up to some shops might not get you any discount at all. We received no offers from subscribing to tech stores like Apple. Plus, our research found that you can get just 1% off food and drink shops, on average.
Just 15% of retailers give new customers a sign-up discount
New customers can get money off when subscribing to shops for the first time - however, these are few and far between. We found that only 15% of online retailers sent a discount for a new subscription.
But with an average sign-up offer of 15% off, it could be worth your while. New shoppers can try PrettyLittleThing, LOOKFANTASTIC and Made.com to get money off.
Find more money-saving tips in the Ocean Finance blog, like ways to rent your clothes. You can also spread the cost of your online shopping by using a credit card for large purchases, although you should always use it responsibly. Plus, it's a good idea to stick with buying the things you wanted before they were discounted to avoid a splurge.
Methodology
Ocean Finance subscribed to 100 online retailers to see which shops give you the best deals via email. We recorded data from 1,000 emails to find the average discount by sector. Figures are intended to provide a snapshot of online retail, as all offers may vary and discounts may be for limited items or require a minimum spend. Data collected in Q4 2021.
Disclaimer: We make every effort to ensure that content is correct at the time of publication. Please note that information published on this website does not constitute financial advice, and we aren't responsible for the content of any external sites.