Thinking of taking some time out from the UK? If you need a break from Britain, we've uncovered the best-value countries in Europe to spend a year in.
Ocean Finance has analysed the most recent cost of living data to find out the cheapest places in Europe to live for one year. We studied 11 typical expenses – from rent to a supermarket shop to an after-work pint – across all 49 European countries (excluding Vatican City) to reveal which place is the most affordable to relocate to.
See our findings below and compare how the UK measures up against the rest of Europe: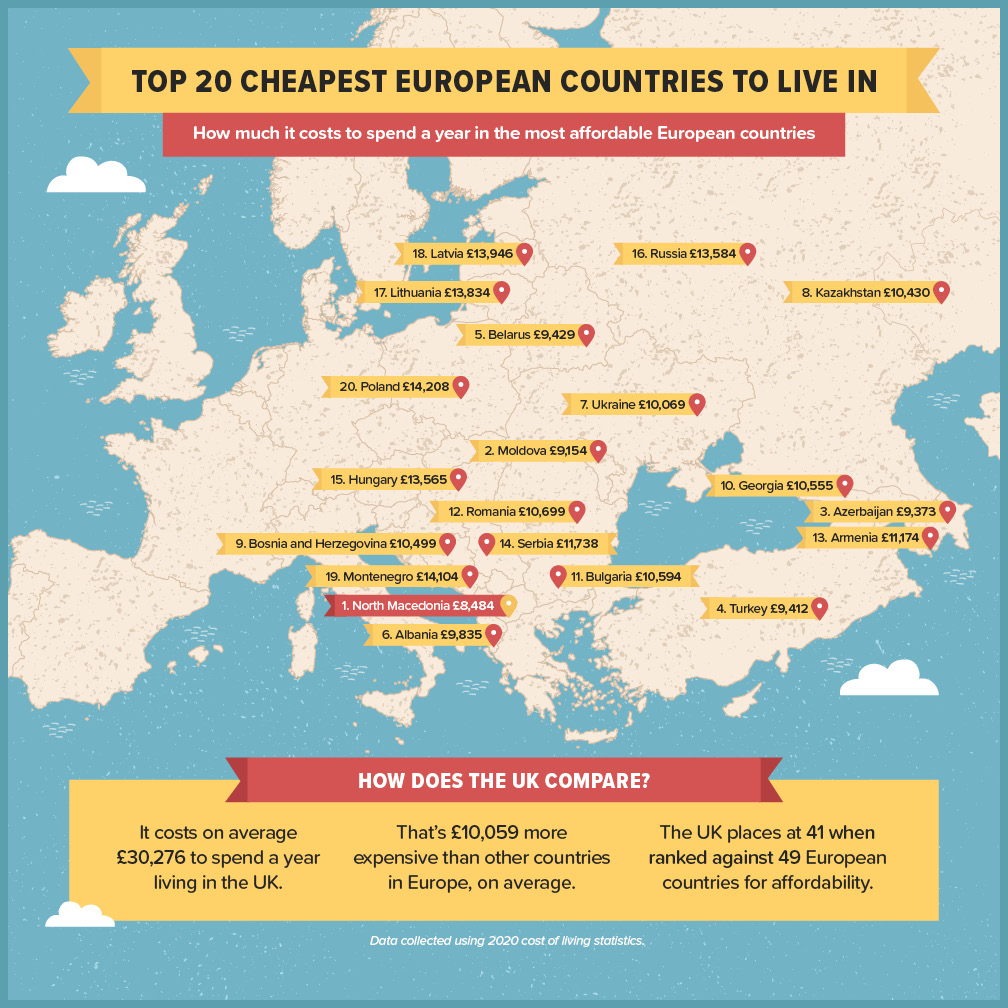 North Macedonia is the cheapest European country to live in
If you're considering some time off from the UK, Eastern Europe has the most affordable areas to move to, with North Macedonia coming in as the cheapest European country. Our study shows it would only cost £8,484 to spend a full year there, where you can explore scenic mountains, see incredible lake views, or tour bustling cities that are packed with history.
As the cheapest place to live in Europe, you'll have more cash to spend on sightseeing. Find a pint for as little as £1.49 or enjoy lunch for just £5.85, on average. According to our analysis, you'll also only spend £2,496 on a full year's rent in a standard 2-bedroom apartment.
The UK is 50% more expensive than the average European country
How does the UK compare to the rest of Europe? It costs £20,217 a year to live in a European country, on average. However, our study shows that UK is 50% more expensive at £30,276 per year.
What's more, we found the UK actually ranks as one of the priciest places in Europe. Out of 49 countries, the UK placed at 41, proving to cost more than Nordic countries Finland and Sweden.
So if you are thinking about saving money and moving abroad, here's a breakdown of costs for the cheapest countries in Europe.
Top 10 cheapest European countries for rent and bills
We looked at six typical expenses to see how the cheapest European countries compare, on average. Plus, you can find out how the UK measures up when it comes to our monthly bills, including rent, utilities, internet, supermarket shopping, transport and a gym membership.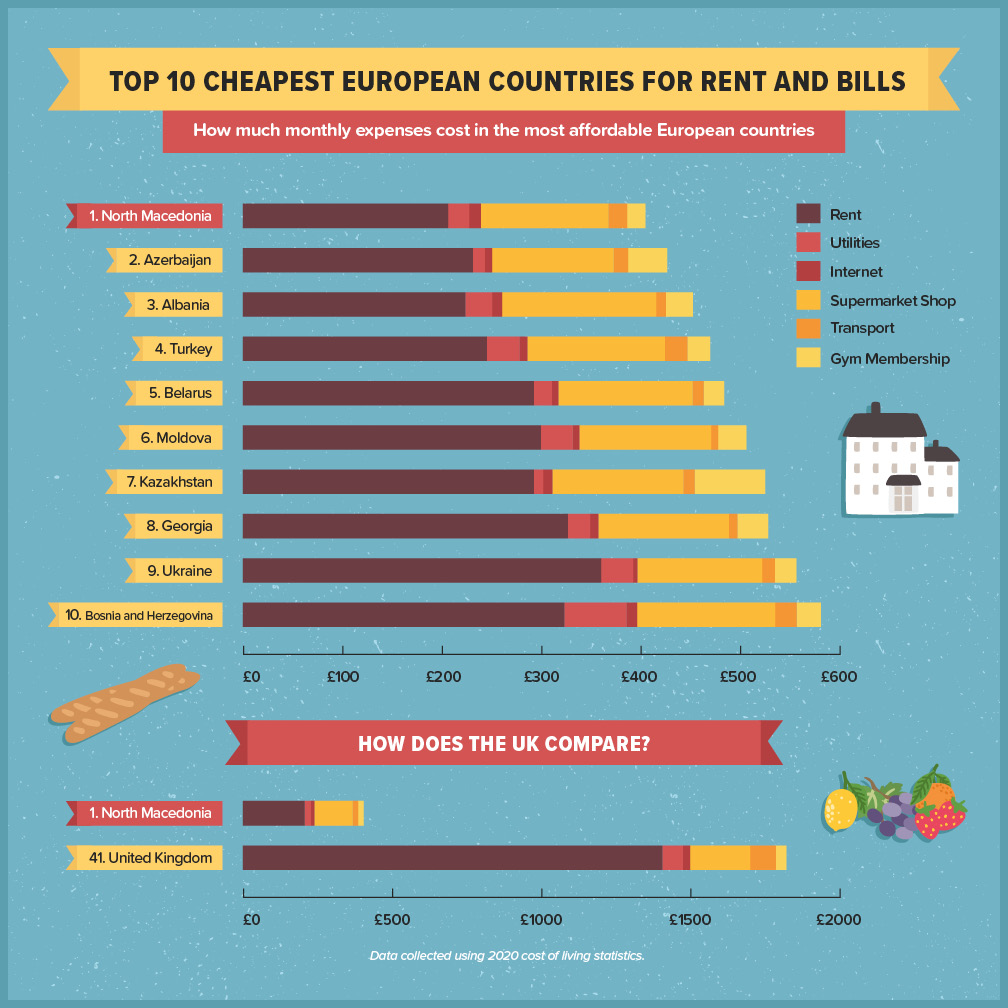 Top 10 cheapest European countries for socialising
After the essential bills are paid, you'll want to know how much you can spend on socialising across the cheapest countries in Europe.
We studied the average price of everyday expenses like a cup of coffee or lunch away from the office. If you're partial to a pub lunch or an after-work pint, you can compare the cost of those too. Not forgetting those weekend plans, we've covered the price of a night out for two, including cinema tickets, a restaurant meal, a cocktail each and your taxi home.
Explore our findings below to see the cheapest countries in Europe for socialising.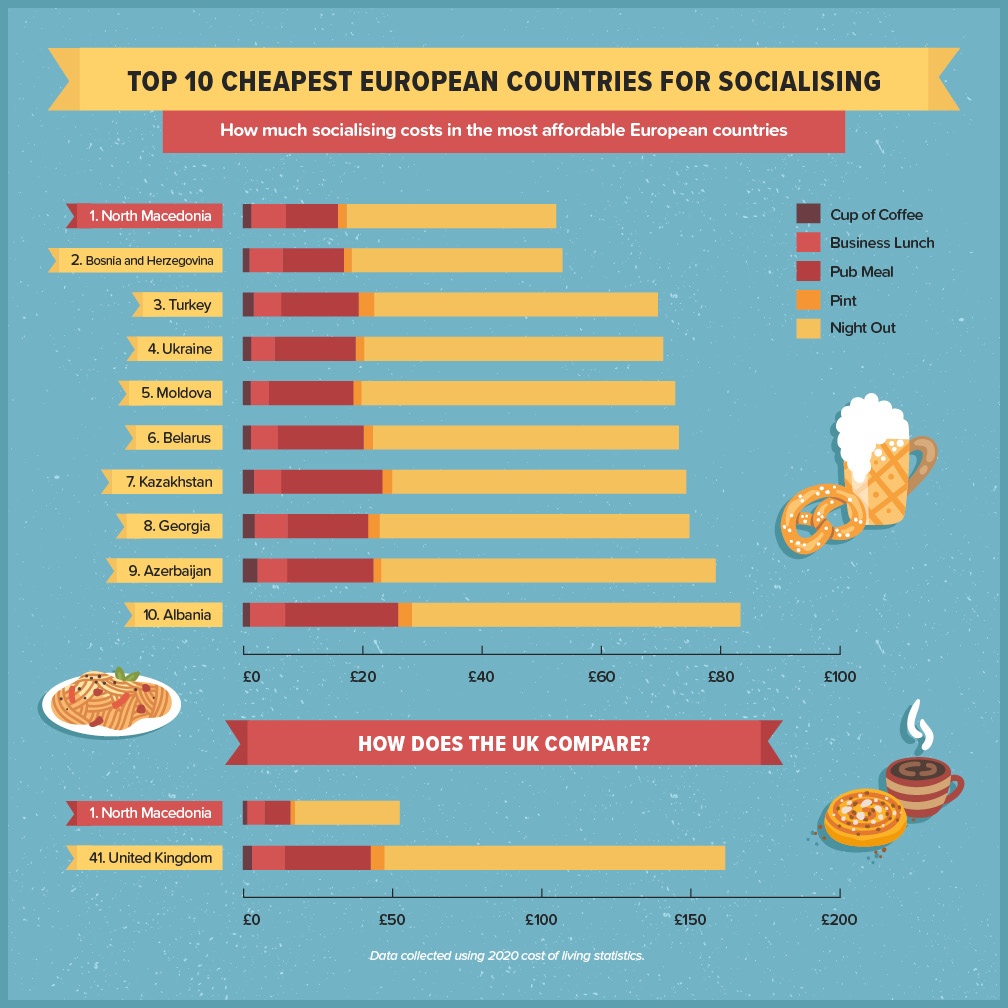 UK salaries are 60% higher than the average European country
While the UK is more expensive than most other countries, our average salary is also 60% higher when compared to the European average.
Our investigation shows that in the UK, a typical annual salary is £21,712 after tax, whereas the average European country's salary is just £13,602.
Although, we aren't even close to making as much as other parts of Europe. Topping the salary scales is Liechtenstein, where average earners can expect to bring in a huge £52,054 post tax, closely followed by Switzerland at £51,531.
Depending on where you relocate, it's worth considering if the salary matches up to the cost of living. But if you're moving from the UK for work and will still be paid your GBP salary, you're more likely to be better off.
Cheapest property prices across Europe
If you're serious about relocating permanently, buying a property is something you might have considered. Eastern Europe once again proves to be the most affordable area, with the cheapest being Moldova, costing just £43,000 for a 2-bedroom flat.
Compare the top 10 cheapest areas to buy a property in Europe below.
1. Moldova - £43,000
2. Georgia - £45,000
3-4. Kazakhstan and Turkey - £46,000 (joint)
5. North Macedonia - £50,5445
6. Ukraine - £51,000
7. Bulgaria - £55,000
8. Azerbaijan - £57,000
9. Russia - £58,000
10. Bosnia and Herzegovina - £63,000
A 2-bedroom flat in the UK is a huge six times more expensive than Europe's cheapest country to buy, costing £254,000 on average.
Of course, that's still much better than Monaco, where you can expect to shell out more than £3 million for Europe's most expensive properties.
If you want to move abroad but can't decide on a location, why not take a trip first? We've uncovered Europe's best-value winter breaks, so you can see where's cheapest for a weekend away. Check out more money tips and advice in the Ocean Finance blog.
Methodology: Data collected from the most recent cost of living statistics from Expatisan and Numbeo, including prices of average rent, utilities, internet, supermarket shop, transport ticket, gym membership, cup of coffee, business lunch, pint of beer, restaurant meal, cinema tickets, cocktail drink and one-hour taxi. Salary statistics are from Numbeo and property figures are from Finder.
Disclaimer: We make every effort to ensure that content is correct at the time of publication. Please note that information published on this website does not constitute financial advice, and we aren't responsible for the content of any external sites.