As the cold weather creeps in, it's no surprise that more and more Brits are choosing to jet off for a weekend away. According to ABTA, 4.7 million UK travellers went abroad during the festive period in 2018 alone.
While many are searching for a bit of winter sun, others are after an authentic festive experience. With its huge variety in climate and destination options, Europe remains extremely popular with those looking to escape during the UK's dreariest months.
To help out those in need of a winter weekend getaway, we've delved into how much you're likely to pay on a budget-conscious trip to Europe's most popular city destinations.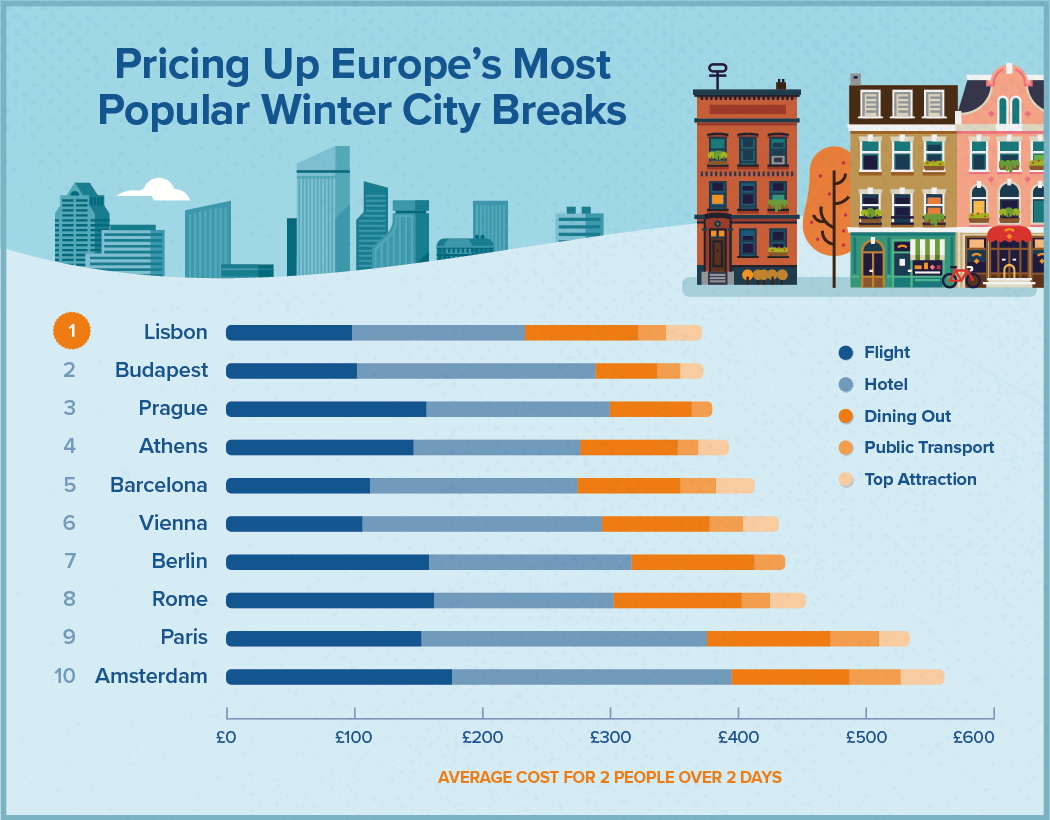 Our research showed that Lisbon takes the top spot for the best-value winter getaway at £371. With the reasonable flights, hotel rooms that don't break the bank and some of the cheapest public transport on the list, it has plenty going for it as a winter weekend away. Plus, it's a milder stay than others on the list with an average temperature of 12°C from December through February.
Budapest (£372) and Prague (£379) come in as a close second and third, rounding out a cost-cutting top three that spans Portugal, Hungary and the Czech Republic.
At the opposite end of the scale sits Amsterdam and Paris, both of which top £500 even with a cost-cutting itinerary. Our research found that they're costlier than the rest of Europe's top city destinations, especially when it comes to accommodation.
It's also worth noting that the top four in our ranking all come in at below £400 for a weekend away for two if you're a savvy traveller, which is enough to make anyone consider a winter excursion.
Food & Drink
If you're careful on your travels, you can save a lot of money by not splashing out on food. Our research looked at budget meal pricing from three top travel advice sites with 2018/2019 price data to average out the cost of three meals for two people over two days. This revealed that the top locations for affordable eating abroad were:
Budapest: £48
Prague: £64
Athens: £76
For the ultimate budget food destination, you'd be hard pushed to beat Budapest. With an average daily cost of £12 per person to have breakfast, lunch and dinner if you're careful with your cash – the capital of Hungary is number one for value.
Costs of Coffee, Wine & Beer
While our main comparison covers the basics, it's likely you'll want to treat yourself while away. If you're looking to add a morning coffee or a drink with dinner to your spending plan, here's what you can expect to pay, on average, from each of the locations organised by affordability.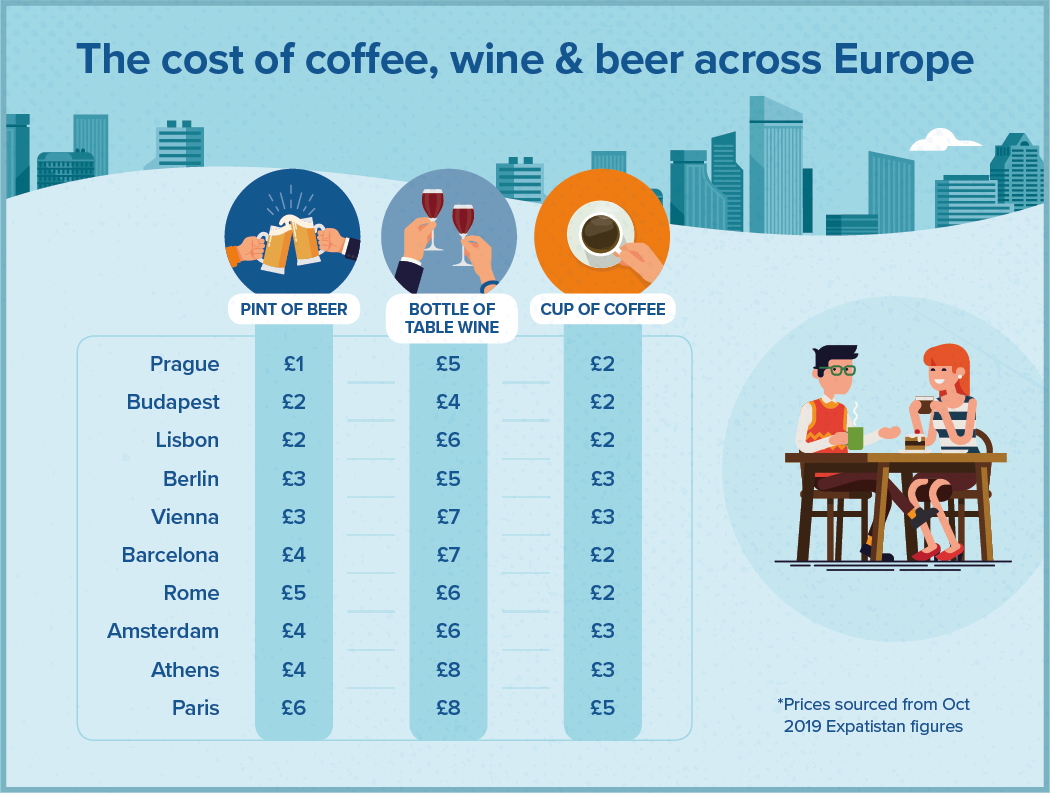 Unless you're planning a jaunt to Paris, these incidentals shouldn't add too much to your overall budget – especially if you're craving a pint in Prague! Budapest is the best place to add a bottle of wine to your meal, with a good quality table wine averaging a phenomenal £4 a bottle.
Alcohol aside, coffee prices across Europe shouldn't be too much of a shock if you're used to grabbing one from a chain on the way to work.
Flights & Transport
One of the most important aspects of a holiday - aside from relaxing, of course - is how you're going to travel from A to B. Whether that's from the UK to your destination or finding your way around when you're there – our research found out how much you can expect to spend.
Averaging direct return flight costs from UK airports over the winter months via Skyscanner, we found the most affordable destinations were:
Lisbon: £49pp
Budapest: £51pp
Vienna: £53pp
When it comes to getting around internally, there are usually tourist-focused tickets available for two days upwards to help you save while using public transport. The best value examples of this are:
Athens & Prague: £8pp
Budapest: £9pp
Lisbon & Rome: £11pp
At the opposite end of the scale, you might be able to save some money by getting your walking boots on in Amsterdam which charges £40 for a pair of 48-hour travel passes.
Hotels
Aside from flights, accommodation is likely to be the largest expense of your trip, however, this doesn't mean you have to break the bank to find a comfy base camp for your European city adventure.
Our hotel prices are based on the Trivago Hotel Index, which collates the prices of an average hotel room in the world's most popular destinations. Using their winter 2018 data (averaging room prices across December, January and February) we were able to work out what you can expect to shell out for a weekend winter getaway.

To help give you an idea of the accommodation prices in Europe's most popular city break destinations, here are the most reasonable rates for an average two-night weekend stay:
Athens: £130
Lisbon: £135
Rome: £140
Make sure you check around trusted hotel comparison sites before settling on a place to stay to ensure that you get the best deal for your winter weekend away.
Most Popular Attractions
As part of our costings for the best-value winter weekends across Europe, we factored in the top attraction of each city – the one thing you simply have to see if you're visiting.
Based on TripAdvisor's user reviews, here is the most popular activity in each of the destinations from our study organised by price:
Prague - Staroměstské náměstí: FREE
The famous 'Old Town Square' in Prague is the main draw for visitors to the city with its combination of Gothic and Baroque structures offering an insight into the Czech capital's rich history.
Berlin - Reichstag Building: FREE
This historically significant structure has stood – despite being severely damaged by both fire and air raids since – since 1894 and draws tourists from all around the world looking to learn more about German history.
Budapest - Hungarian Parliament Building: £9pp
Sat on the Pest side of the Danube, Hungary's Parliament Building is a must-see attraction for those looking to gain some insight into the history of Budapest's formation and fans of beautiful architecture.
Paris - Musée d'Orsay: £12pp
Forget the Eiffel Tower and the Louvre, TripAdvisor's number one attraction in Paris as of 2019 is the famed Musée d'Orsay, one of the largest art galleries in Europe, which houses the work of iconic artists from Monet to Van Gogh.
Athens – Acropolis of Athens: £12pp
Containing some of Greece's most significant historical structures including the Parthenon, it's no surprise that the Acropolis of Athens is such a sought-after attraction. Its stunning hilltop views overlooking the city are just an added bonus.
Lisbon - Oceanário de Lisboa: £14pp
The largest aquarium in Europe, the Oceanário de Lisboa is home to a huge variety of species from sunfish and sharks to penguins and sea otter. The structure itself is a sight to behold, design by famed oceanarium architect Peter Chermayeff.
Rome - The Colosseum: £14pp
Taking the top spot for the most popular tourist attraction worldwide in 2018, the Colosseum in Rome is easily one of the world's most iconic structures – standing the test of time since AD 80.
Vienna - Schönbrunn Palace: £14pp
Famous for its beautiful architecture and sprawling gardens, Schönbrunn Palace has been a major draw for visitors to Vienna since opening to the public in the 1950s. With 300 years of history in its thousands of rooms, it's an essential stop in the Austrian capital.
Barcelona - Basílica de la Sagrada Família: £15pp
The world-famous unfinished structure from the mind of acclaimed architect Antoni Gaudí combines Gothic with Art Nouveau into something totally unique. While there's plenty more of his work to find in Barcelona, the Sagrada Família is considered the stand-out example.
Amsterdam – Rijksmuseum: £17pp
Combining an impressive collection of art with fascinating exhibits on the history of Amsterdam, it's an unmissable attraction in the Netherlands' vibrant capital.
If you're looking to get your money's worth, Prague's Staroměstské náměstí (Old Town Square) and Berlin's Reichstag Building offer fascinating insights into each city's history completely free of charge.
Barcelona and Amsterdam's top attractions are pricier, topping £30 for a pair of visitors so make sure this is factored into your budget when planning a visit to either of these popular city break destinations.
For more advice on how to make your money go further, check out the Ocean Finance blog.
Disclaimer: We make every effort to ensure that content is correct at the time of publication. Please note that information published on this website does not constitute financial advice, and we aren't responsible for the content of any external sites.