Indie film lover, craft beer drinker or wannabe yogi? Maybe you're an alternative cinema fan or have a specialty coffee order that only one barista gets right.
If that sounds like you, look no further, as our study uncovers the culture capital of the UK.
Ocean Finance totalled 6,587 trendy activities across 50 cities and towns, including:
Yoga centres
Farmers' markets
Breweries
Independent cinemas
Independent coffee shops
We then ranked each location by the number of on-trend events per square mile to reveal the UK's trendiest areas. Each location could score up to 50 points per activity, totalling 250 points maximum. Read on to find out if you live in a culture hotspot, plus the cost of living for each area.
Birkenhead is Britain's top trendsetting town
Our data reveals that Birkenhead takes the top spot for the trendiest area in the UK, scoring a huge 231 out of 250 points in our index.
Breaking down the research, Birkenhead is the number one area for indie coffee shops and cinemas per square mile. The town also comes second place for yoga centres and third for farmers' markets.
As the 10th cheapest place to live in our study, costing around £1,062 per month for a single person (taking rent, bills, food and transport into account), Birkenhead is an affordable choice for any trendsetter.
Mapped: UK's top 10 trendiest areas
Cambridge crowned as UK's second culture hotspot
Following Birkenhead in second place overall is Cambridge, scoring 227 out of 250 points in our index. Well known for being home to one of the world's most prestigious universities, Cambridge is also the second-best area for farmers' markets per square mile.
However, it's one of the most expensive cities to live in, costing around £1,981 per month – almost twice as much as Birkenhead.
Edinburgh is the third trendiest city in the UK
Unsurprisingly, Edinburgh is the third trendiest city in our index. Famous for The Fringe, the world's largest arts festival, Scotland's capital also has the second-most indie cinemas per square mile.
If you can afford to pay an eye-watering £1,927 per month to live there, Edinburgh is the perfect place for performance lovers.
UK's top 10 trendiest areas, ranked by yoga, farmers' markets, breweries, plus indie cinemas and coffee shops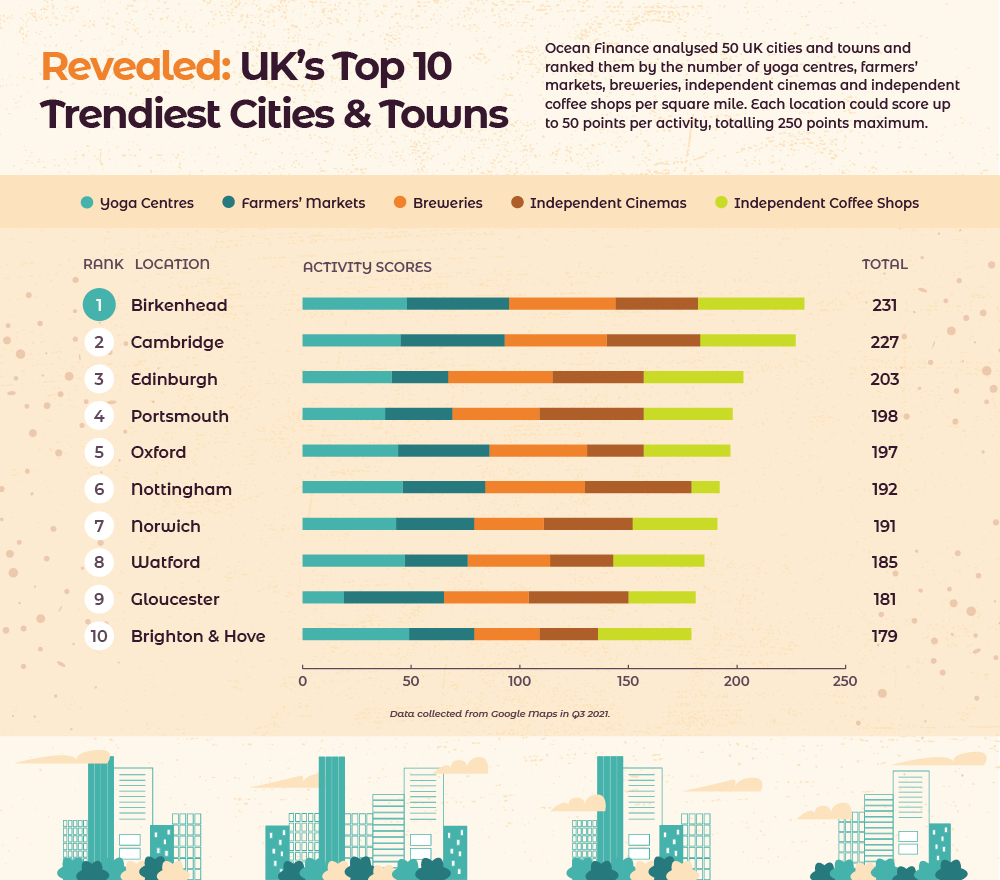 Britain's best places for yoga, markets, beer, cinema and coffee, per square mile
Even if they didn't make the 10 trendiest areas overall, other cities and towns did take the top spots for individual activities. We break down our data to reveal the best of the rest per square mile and how much each location costs to live in.
Yoga centres - Brighton & Hove
Farmers markets - Blackpool
Breweries - Nottingham
Independent cinemas - Birkenhead
Independent coffee shops - Birkenhead
Uncovering the UK's 10 least trendy areas per square mile
From the 50 locations analysed, we also uncovered the 10 areas with the least number of on-trend activities per square mile. Our research reveals which locations are behind the times, based on the cities and towns which received the lowest score out of a maximum 250.
| | | |
| --- | --- | --- |
| Location | Total Score /250 | Monthly Cost of Living per Person |
| 1. Sunderland | 19/250 | £1,371 |
| 2. Leeds | 28/250 | £1,474 |
| 3. Aberdeen | 31/250 | £1,497 |
| 4. Bolton | 32/250 | £906 |
| 5. York | 42/250 | £1,562 |
| 6. Sheffield | 47/250 | £1,113 |
| 7. London | 51/250 | £2,833 |
| 8. Milton Keynes | 59/250 | £1,222 |
| 9. Stoke-on-Trent | 60/250 | £1,516 |
| 10. Reading | 61/250 | £1,934 |
Sunderland revealed as the UK's least trendy city
The North East port city has its highlights, from hosting an annual international air show to its underground music scene. However, Sunderland loses out due to its lack of farmers' markets, breweries and indie cinemas. Because of its large city centre, the city scores just 19 out of 250 points, coming last place in our index.
London is the seventh-least trendy city size per square mile
While you might expect to see England's capital taking the top spot for the trendiest city, London ranks much lower than you might think, coming 44th out of 50 locations.
Although there are plenty of yoga centres, breweries and indie coffee shops, London's size means it can't compete for trendy activities per square mile. As the most expensive city at £2,833 per month to live in, it's a high price to pay when you consider the travel needed for a culture fix in the capital.
High-priced cities like Leeds, Aberdeen and York come last as trendsetters
You might be surprised by some of the other cities at the bottom of our trendiest areas index - such as Leeds, coming 49th out of 50 and costing £1,474 per month to live in. Aberdeen follows in 48th place, costing £1,497 per month. Again, these locations may rank lower because of the size of each city.
York is another high-priced place that didn't rank well per square mile, costing £1,562 a month but coming 46th out of 50. It might not be bustling with indie cinemas and yoga centres, but with York Minster and the many shops of the Shambles, the city is still jam-packed with culture.
Find more money-saving research and tips in the Ocean Finance blog, featuring the best-value burger cities, top side hustles and the beginner's guide to upcycling.
Methodology
Ocean Finance analysed 50 UK cities and towns and ranked them by the number of yoga centres, farmers' markets, breweries, independent cinemas and independent coffee shops per square mile. Each location could score up to 50 points per activity, totalling 250 points maximum.
Data was collected using Google Maps. Cost of living statistics are from Expatisan and LivingCost.org, with any conversions made using Google's converter. The largest UK cities and towns were gathered from The Geographist, however, if there was no reputable source for the location's square mile, it was omitted from the study. All data was collected in Q3 2021.
Disclaimer: We make every effort to ensure that content is correct at the time of publication. Please note that information published on this website does not constitute financial advice, and we aren't responsible for the content of any external sites.