It's official, the UK is burger crazy. Since the mid-2010s, countless eateries, bars and gastropubs have beefed up their menu to cash in on the nation's obsession with quality patties.
More recently, burgers have found themselves at the centre of the conversation about plant-based meat alternatives. Brands like Impossible Foods and Beyond Meat are giving vegetarians and vegans the opportunity to enjoy the gourmet burger experience alongside their meat-eating pals.
So, where is the best place to get yourself an affordable, tasty burger in the UK? We've researched the most popular places to grab one across Britain's biggest cities based on TripAdvisor's user scores – getting the prices of 1,380 menu items from 345 of Britain's burger joints, pubs and restaurants.
With this data, we've found out where you can save the most cash, giving you an inside track on the best value burger joints in each city. Our study also uncovered which cities are ideal for a meat-free burger fix and where's best to avoid if you don't fancy taking out an overdraft to afford a plate of posh fast food.
The hunt for the UK's best-value burger city
To find out where the best places to get your hands on a great gourmet burger (or a meat-free alternative) take a look at our map below.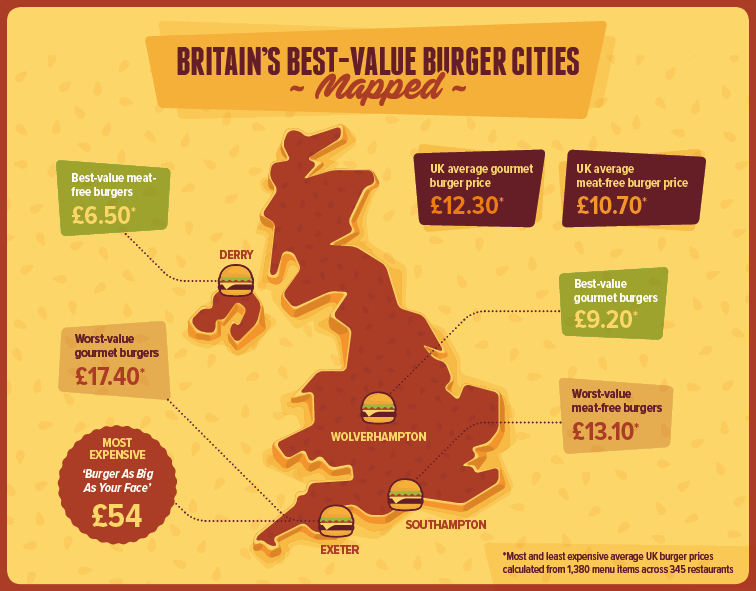 As you can see, there's a significant disparity in how much you'll have to fork out for a burger depending on where in the country you live. In fact, there's a difference of over £8.00 between the highest and lowest average costs by city, making it almost twice as expensive if you happen to live in Exeter as opposed to Wolverhampton.
Key Takeaways
Exeter is the priciest city for a burger, with the average price coming in at £17.40 while Wolverhampton is a frugal burger lover's paradise with the lowest average burger cost at £9.20, a 87% difference in price.
Derry is home to the most reasonable meat-free burger, on average, at £6.50 while in Southampton you'll have to shell out £13.10, which is more than twice the price.
The average gourmet burger in the UK is now 4x as expensive as a Big Mac.
You could save, on average, 14% on your bill by switching to a veggie burger alternative.
Despite the growing plant-based meat market, 48% of the restaurants in our study didn't offer an on-menu vegan burger alternative.
UK burger price leaderboard
Now that we've covered the highlights of the study, it's time to dig a little deeper into where you'll find the UK's best and worst places for an affordable burger. Take a look at the leaderboard below for the five most and least expensive locations for both standard and meat-free burgers.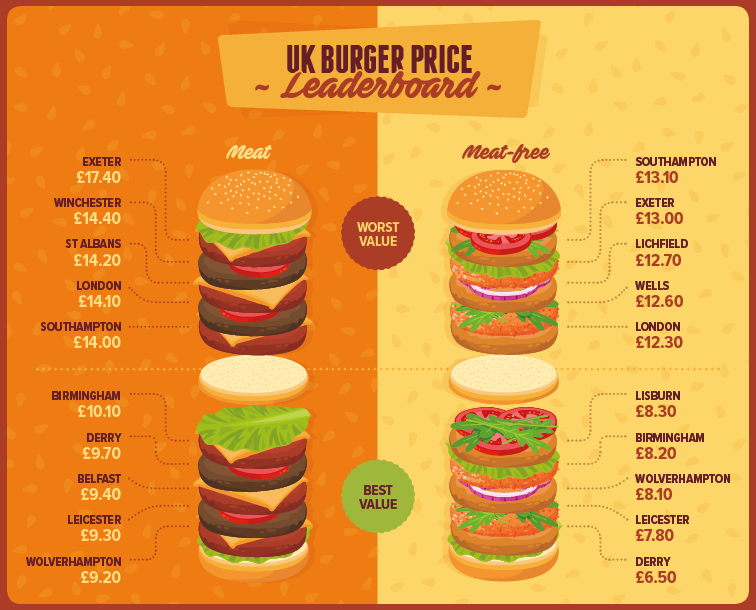 The slow progress towards meat-free burgers
Despite the availability of workarounds to create a burger geared towards vegetarians and vegans using replacement ingredients like portobello mushrooms (v, vg) or grilled halloumi (v), our study found that 48% of the restaurants in our study weren't providing an on-menu vegan burger.
Vegetarian options were much more common, with meat-free burgers like spicy bean patties a common feature on the menus we studied, however, almost half of the places we studied would require a diner to request changes to the menu in order to enjoy a vegan alternative.
The North East leads the way with the most vegan burgers in its top-rated restaurants according to the data we gathered. In terms of specific cities, Newcastle and Southampton came out on top with all of the locations we looked into having a vegan burger alternative on their menu.
With around 600,000 vegans in the UK as of 2018 according to The Vegan Society and almost 1 in 3 Brits reducing or cutting out their meat intake, restaurants will need to seriously consider what burger options they're offering to keep up with the UK's evolving dietary and lifestyle choices.
Want to learn more about how to make your money go further? Check out the Ocean Finance blog for more advice on everything from saving on bills to adding value to your home.
Disclaimer: We make every effort to ensure that content is correct at the time of publication. Please note that information published on this website does not constitute financial advice, and we aren't responsible for the content of any external sites.